TRI University 2011-2012 Pilot Projects
George Washington University
Three student groups at George Washington University did their Masters Capstone projects with the TRI University Initiative.
Students from GWU's Environmental Resource Policy Program developed recommendations to make TRI data more meaningful and easier for communities to use. View the full report: TRI Communities
A second group from GWU's Environmental Resource Policy Program identified recommendations for enhancing the comparability of data from TRI-like programs (known as Pollutant Release and Transfer Registers) around the world. Read the full report: Enhancing PRTR Comparability to Address Global Sustainability.
Undergraduates from GWU's Department of Chemistry focused on exploring the usefulness of TRI data as a way to identify the extent to which facilities or industry sectors have implemented green chemistry and other sustainability practices.
Sample recommendations from one of the GWU projects:
Identify chemical classes and or industry sectors to compare across countries with existing Pollutant Release and Transfer Registers (PRTRs).
Develop standard guidelines for countries that are about to develop their own PRTR.
Establish a global PRTR system.
---
Cornell University
Capstone Fellows at the Cornell Institute for Public Policy researched potential uses of TRI data by EPA and other stakeholders. Students conducted research in three communities in central New York: Binghamton, Syracuse and Ithaca.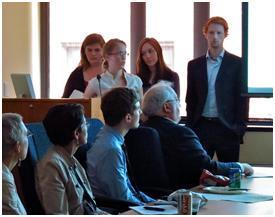 The Public Awareness and Use of the Toxics Release Inventory: Program and Community Engagement Recommendations in Three New York Communities report includes analysis of different types of TRI communities-stakeholders who could use, contribute to or be affected by TRI data- and community engagement recommendations based on local context. The report also outlines replicable methodologies for analyzing TRI user needs in communities.
Sample recommendations from Cornell:
Work with intermediaries to improve community engagement.
Simplify and visualize TRI website.
Use GIS to locate facilities and make TRI data analysis tools more interactive.
---
Note: The reports, conclusions and recommendations created by academic institutions on this page do not necessarily represent the views of the TRI Program nor the U.S. EPA. EPA is providing these materials for informational purposes only. EPA cannot attest to the accuracy of information provided by the academic institutions. Providing these materials does not constitute an endorsement by EPA or any of its employees of the sponsors of the materials.