Zero Waste Case Study: Austin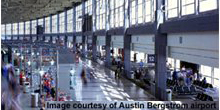 On this page:
Partnerships
In 2005, the City of Austin, Texas, signed the Urban Environmental Accords (PDF)(5 pp, 135 K, About PDF), which committed the city to achieve zero waste by 2040. In 2009, the city adopted the first Zero Waste Strategic Plan (PDF)(55 pp, 1.2MB, About PDF) in the state of Texas. The Zero Waste Strategic Plan indicated that the value of materials sent to landfill and lost to the local economy was over $40 million annually.
In December 2011, the City Council adopted the Austin Resource Recovery Master Plan to help implement the Zero Waste Strategic Plan. The Master Plan calls for the City to move from 38% waste diversion to 75% by 2020 and 90% by 2030. This ambitious goal is being implemented in collaboration with residents and businesses, including many local private hauling, recycling, and composting service providers.
Contractual Arrangement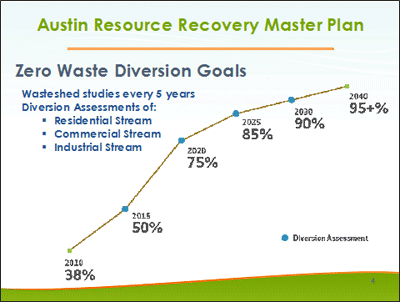 The primary Austin Zero Waste Master Plan strategy is to build on existing private sector services to accomplish its goals and not to expand the city's municipal services beyond its current Circle of Control.
Circle of Control refers to services that the city provides, mostly to residential customers, which the city can adjust on its own, while Circle of Influence in Austin refers to the multifamily and commercial generator sectors that are responsible for arranging their own recycling, composting, and garbage services. The Master Plan calls for the city to influence the multifamily and commercial sectors as well as private service providers through the adoption of new rules and incentives.
The Austin Resource Recovery Department collects solid waste and recyclables weekly from households and selected commercial accounts, including: multi-family dwellings of four units or less, small city facilities and small businesses utilizing carts in residential areas. In 2011, the city contracted with two companies to each process about 50% of the recyclables collected in Austin. Most large multifamily complexes and commercial generators contract with their choice of private hauler for garbage, recycling and organics (compost) collection. The city also contracts with another hauler to collect garbage from businesses and residents in the congested Central Business District.
The city operates a household hazardous waste facility and drop off center for recyclables. There are three private landfills and two publically owned landfills within 10 miles of Austin. City collection trucks haul garbage to a landfill south of the city. The city's publicly owned landfill closed in 2010.
Strategic Planning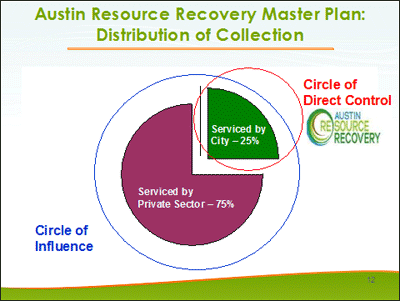 During the Zero Waste Strategic Plan process, zero waste policy and program options were identified in the following categories:
Upstream: Advocate for Extended Producer Responsibility (EPR) legislation and programs.
Downstream: Reduce, reuse, recycle and compost all discarded materials for their highest and best use.
Green Business, Green Buildings and Jobs: Reinvest discarded resources into the local economy with incentives and support for green, sustainable, and zero waste businesses.
Residuals Management and Regional Coordination: Stop or regulate the flow of wastes from outside the area into Austin area landfills as the region reduces its reliance on landfills.
Policies and programs were organized into three additional categories:
Voluntary, Education & Incentives: May be the easiest to implement, but may not achieve goals by themselves. Most of these options complement other policies and programs.
New Rules & Advocacy: May be done with virtually no additional city funding required, except for initial education and ongoing enforcement staffing. These options may also require the largest investment of political capital. New rules at the state or local level could shift funding for zero waste programs to those currently benefiting the most from the sale of products and packaging, and/or those providing collection or processing services.
New City Programs: Would generally require the most financial capital and significant political capital. Whether the city provides the services itself or contracts for services, it would need to budget for those services and plan for ongoing expenses.
New Rules and Incentives
The new rules adopted by the city and identified in the Master Plan have resulted in the development of extensive private sector collection and processing infrastructure, including construction and demolition materials (C&D) processing, food scrap composting, and recyclables processing. The ordinances and proposed policies included:
Universal Recycling and Composting Ordinance: Austin's Universal Recycling and Composting Ordinance requires all properties will be required to provide recycling services to their tenants and employees by October 1, 2017. The ordinance phases in recycling and composting in all multi-family dwellings, office buildings and institutions. The ordinance will also phase in retail, restaurants and industrial generators as well as collection of compostable organics.
Single Use Products and Packaging Ordinances: In 2012, the City Council adopted an ordinance that regulates single-use carryout paper and plastic bags. Future actions may target reduction of non-recyclable takeout containers and single-use beverage containers.
Construction and Demolition Recycling Ordinance: In 2015, the City Council adopted an ordinance requiring building projects for more than 5,000 square feet of new, added, or remodeled floor area to reuse or recycle at least 50% of the construction debris or dispose of no more than 2.5 pounds per square foot.
Extended Producer Responsibility (EPR) Initiatives: The city plans to adopt an EPR policy, support the Texas Product Stewardship Council, support the development of EPR framework legislation for state agencies, consider a local EPR Ordinance and participate in state and national EPR advocacy.
Takeback Ordinance: If the State of Texas does not adopt an EPR framework or product-specific legislation, Austin will consider requiring brand owners to take back non-recyclable, non-compostable or hard to handle products such as particularly pharmaceuticals, sharps, batteries and fluorescent bulbs.
Hauler Registration Ordinance: Nonprofit and private service providers will register with the city and report service levels, diversion and disposal tonnages. Fees will cover monitoring and enforcement costs. City will provide technical assistance to commercial generators.
Refundable Deposit (Bottle Bill): The city supports a statewide bill that provides financial incentives and convenient redemption centers.
Advantages
Efficient Contracting: By focusing on influencing the private sector, the city has minimized its need to develop new programs and has expanded private sector investments.
Phased-in Implementation: This approach provides time for all stakeholders to learn the new rules and the roles. It also enables the city to demonstrate early success and work out the details to improve implementation during subsequent phases.
---