Zero Waste Case Study: Renton
On this page: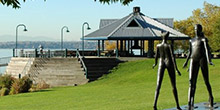 Partnership
The City of Renton and Waste Management pioneered an innovative contract that cost-effectively transitioned the community from weekly collection of recycling and garbage to every other week collection of recycling and garbage and weekly collection of compostable materials.
In 2008, the city, which had not adjusted garbage rates since 2000, was facing a potentially large rate increase. Residents had manual collection of garbage from customer-provided containers and small source-separated crate (three-bin system) recycling.
The community wanted uniform, cart-based collection, expanded recycling and curbside compost collection that included food scraps. The city and Waste Management reduced overall system costs by transitioning to every other week collection for recycling and garbage, and weekly collection of compostable materials. In addition, the system reduced truck traffic, associated greenhouse gas emissions, and wear and tear on the roads and collection vehicles.
From 2008 to 2010, residential recycling tons increased 27%, organics tons increased 44% and garbage tons decreased 18%.
In addition, Waste Management partnered with Renton to provide collection services with 19 new clean air trucks, powered by compressed natural gas for a smaller carbon footprint. The trucks produce nearly zero air particulate and 23% fewer greenhouse gas emissions. The engines also run quieter than traditional diesel engines, resulting in less noise in neighborhoods and business districts.
Contractual Arrangement
Under the contract, the City of Renton sets the rates for service, and contractor compensation is based on an initial cost of service proposal plus an annual compensation adjustment. Compensation adjustments are indexed for inflation using the Consumer Price Index. In addition, performance fees may be deducted from compensation for service delivery omissions.
Services covered under the contract include:
Single-Family Residential Collection:

Garbage and recycling collected every-other-week
Yard trimmings and food scraps collected weekly
New wheeled carts: 20-, 35-, 45-, 64- and 96-gallon sizes for garbage and 35-, 64- and 96-gallon sizes for recycling and organics

Multifamily Collection:

Garbage and recycling collected weekly
Yard trimmings and food scrap collection available by subscription

Commercial Collection:

Garbage and detachable container/cart-based recycling collected weekly
Commercial recycling volume of up to 200% of the garbage volume at no extra cost
Food scrap collection available by subscription

Other Services:

Conversion of collection vehicles to compressed natural gas and biodiesel
Addition of two recycling events and one reuse event per year
Public garbage can collection
Advantages
Reduced Collection Costs and Emissions: Every other week collection of garbage and recycling collection and weekly compostables collection resulted in higher diversion, reduced system costs, as well as reduced pollution and greenhouse gas emissions.
Simple Rate Setting: Compensation is based on the initial cost proposal plus an escalator with penalties for service omissions. This reduces city and contractor time and money spent on rate review processes. The flat monthly franchise fee plus escalator structure provides certainty to both parties.
Cleaner Collection Vehicles: The contract specified conversion to alternative fuel vehicles that produce less noise and pollution, including significantly lower greenhouse gas emissions.
---