Zero Waste Case Study: San Diego International Airport (Detailed)
A less detailed San Diego International Airport Case Study is available here.
On this page: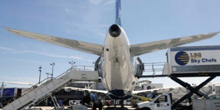 Goals and Planning
The San Diego County Regional Airport Authority (Airport Authority) is the managing body of the San Diego International Airport (Airport or SAN). Serving more than 25 million travelers in 2019 and with over 9,000 employees, the Airport strives to find creative and efficient solutions to manage waste produced in the terminals, during flights, and in office spaces.
The Airport's Sustainability Management Program comprises seven overarching plans that support the Airport's Sustainability Policy. Through the policy and plans, the Airport has a formal commitment to sustainability and Zero Waste.
In 2019, the Zero Waste Plan (PDF)(80 pp, 5 MB, About PDF) was accepted by the Authority Board as part of the larger Sustainability Management Program. The Zero Waste Plan provides an organized framework for reducing waste generation and responsibly managing materials produced at SAN. This strategy will guide SAN to achieve Zero Waste and aligns with the City of San Diego's waste goals.
The three main aspirational goals of the Zero Waste Plan are to:
reduce waste generation,
increase waste diversion from landfill, and
demonstrate regional and industry leadership in Zero Waste.
The Airport aims to achieve a 10 percent reduction in discarded material per passenger, a 90 percent diversion rate, and TRUE Zero Waste or equivalent third-party certification by 2035.
Related to the Zero Waste Plan, the Airport Authority's Procurement Department utilizes the Authority's Sustainable Statement & Resource Guide (PDF)(5 pp, 163 K, About PDF). This goal encourages the procurement of services and products to:
integrate fiscal responsibility and environmental stewardship,
reduce energy and water consumption,
reuse existing products or materials in produce or service life cycle,
implement, integrate and maximize durability and maintenance requirements,
conserve natural resources, materials and energy,
reduce toxicity, and
maximize recyclability and recycled content.
To achieve the policies and goals above, the Airport Authority enforces Rules and Regulations to ensure the safe and efficient operations of San Diego International Airport. These Rules and Regulations govern the general conduct of the public, tenants, employees, and commercial users of the Airport. During recent years, language was included in the Rules and Regulations that support the Airport Authority's sustainability goal -- including best practices related to effective waste management.
Partnerships
The Airport Authority has a longstanding commitment to environmental sustainability and effective waste management. To facilitate programs, the organization relies on partnerships with the City and County of San Diego; and the Airport's waste hauler, janitorial service, other contractors, concessionaires, logistics team, airlines, and the airlines' business partners.
Contractual Arrangement
The Airport Authority contracts with Republic Services to haul the Airport's waste to the Miramar Greenery, material recovery facilities, or landfills. The Authority contracts with Flagship Facility Services to collect and dispose of waste throughout public, Airport employee, and Airport Authority staff spaces. For concessionaire logistics, the Airport Authority contracts with Bradford Logistics to deliver and remove supplies from terminal concessions. Other waste management programs require the Airport Authority contract with Ocean Blue Environmental, I Love a Clean San Diego, Secure E-Waste Solutions, Goodwill Industries, and also utilize services by Terracycle, Sharp, RMG Recycling and others. Additionally, some third-party tenants utilize their own contracts with groups like waste haulers, special recyclers, and janitorial services.
SAN Operations
The Airport as a whole is a large organization that produces a large amount of waste that needs to be effectively monitored and managed. Waste at the Airport is produced by passengers inside the terminals and on the planes, by tenants and contractors, and by Airport Authority employees. Many of the tenants' waste disposal containers are owned by the Airport Authority and hauled through the Airport's waste hauling agreement; and a few facilities maintain their own containers and waste hauling contracts.
In most locations, recycling bins, compactors, and dumpsters are co-located with landfill containers. There are more than 30 "behind the scenes" locations in which waste is either collected or stored on the airport campus. In the terminals, there are hundreds of trash and recycling bins, along with hundreds of bins in Airport Authority office spaces.
Waste Reduction
Zero Waste Cart provides reusable plate-ware for all 450 Airport Authority employees to use during their meetings, and in 2019, the Zero Waste Cart served more than 600 people.
Zero Waste Event Results | Click to Enlargefirst prevent waste and has implemented a variety of programs that ultimately reduce the amount of waste produced by operations within the Airport Authority's control. A
For large Airport Authority events, the Zero Waste spirit is also embraced. Upwards of 500 people at a time are fed using reusable or compostable supplies, leftovers are donated, and food waste is composted. While it may not be the most convenient thing to feed almost 500 people outside with reusable cups, utensils, and napkins, the 2019 Employee Appreciation Event produced only three bags of trash to send to landfill.
Other Airport Authority waste reduction efforts include providing reusable plate ware options in staff breakrooms, preferring electronic communication over paper, and landscape xeriscaping. It's estimated that 80 percent of Airport landscaped property uses drought-tolerant California-native plants that require less water and produce less green waste (a point that's emphasized in the Airport Authority's Biodiversity Plan).
Finally, a recent addition to the Airport's waste reduction efforts includes the installation of an unattended donation center that allows Airport Authority employees to donate unclaimed passenger Lost and Found items and personal household goods. In the first few months of the program, more than 1,000 pounds -- or hundreds of items -- were sent to Goodwill for reuse rather than to landfill.
Some of the Airport's airline and concessionaire tenants also implement waste reduction programs. During a recent study conducted with SAN airlines and their contractors, 69 percent reported they reuse materials in their operations -- from uneaten, unexpired snacks and laundered pillows and blankets to large pallets and shipping containers.
Surfrider Foundation's Ocean Friendly Restaurant (OFR) program. SAN is the first airport in the world to have a restaurant certified as OFR. Qualifications for program certification include, proper recycling, reusable foodware available for onsite dining, no plastic bags, providing no Styrofoam and offering paper straws upon request only to help reduce waste. Also related to concessions, the Airport's Central Receiving and Distribution Center, operated by Bradford Logistics, is responsible for delivering and removing supplies to our retail and food and beverage concessions. At this facility, staff sends concessions' pallets, totes, crates, and kegs back to manufacturers and distributors so they can be reused. Additionally, through this facility, uneaten, edible food from concessions is donated to the onsite USO or to the community. In 2019, Airport concessions donated the equivalent of more than 134,000 meals.
From the concessions side of operations, in 2019 two concessions were certified through the
Diversion
As a large organization, SAN creatively finds reuse or recycling programs for large quantities of waste to increase diversion. In 2019, the Airport Authority diverted almost 60,000 tons of material -- an 87% diversion rate when incorporating construction and demolition (C&D) waste. The Airport Authority has successfully implemented multiple measures to ensure that the largest amount of waste possible is recycled and reused, in other words, being diverted from local landfills.
The Airport has been dedicated to effective recycling and sustainable materials management for many years. The Airport Authority currently collects materials accepted by the City of San Diego in a commingled recycling stream: paper, paper products, cartons, cardboard, rigid plastics, metal, cans, aluminum foil, and glass. However, the Airport Authority has expanded its recycling program to include materials not accepted within the commingled stream. Other materials collected separately and appropriately recycled, composted, or donated include: cardboard, cigarette butts, C&D waste, electronic waste, food waste, grease, green waste, hazardous waste (paint), ink cartridges, larger metal pieces, plastic shrink wrap, surplus computer equipment, wood, unclaimed Lost and Found items, and universal waste (lights and batteries).
Of special note, the Airport Authority's extensive organics program comprises both food waste collection and composting, and food recovery and donation. All SAN concessions are required through the Rules and Regulations to participate in the food waste composting program. In each kitchen, concessions have green buckets for food waste, coffee grounds and filters, napkins, and paper towels. In 2019, over 400 tons of food waste were sent to the Miramar greenery where it was turned into compost—ultimately reducing greenhouse gas production at local landfills. Since 2013, the Airport Authority has participated in the City of San Diego's Commercial Food Waste pilot program and has expanded its involvement year over year.
While the organics management program is conducted all back of house, some diversion programs are more visible or related to passengers. The Airport offers recycling bins throughout the facilities, most of which are paired one-to-one with landfill containers. Passengers additionally have access to liquid collection units (dump sinks) at every checkpoint where they can dump liquid before they fly and refill containers post-security. These dump sinks help the Airport reduce recycling contamination and the total weight of hauling. Approximately 500 tons of liquid captured each year from seven units saves the Airport Authority anywhere from $14,000 to $33,000 a year in tipping fees due to bottles being empty and therefore, weighing less.
In order to get a more detailed understanding of the Airport's waste, the Airport Authority and its waste hauler conduct an annual waste characterization study to identify which groups are throwing what materials away and how the Airport as a whole can do better. In 2019, the Airport found that that 38 percent of the material sent to landfill is recyclable and 13 percent of material sent to the material recovery facility should have been sent to landfill. Conducting and understanding the annual waste characterization study helps the Airport Authority identify room for improvement.
Environmentally Preferable Products
The Airport Authority's Procurement Department strives to purchase products that maximize recyclability and recycled content, reduce toxicity, and conserve natural resources, raw materials, and energy. They do this by adhering to their "Sustainable Statement & Resource Guide," which requires the consideration of a product's potential impacts on human and environmental health. The environmentally preferable purchasing process takes into account a product's lasting potential on the environment and human health, cost, quality, and performance. For breakroom supplies for example, the Airport Authority purchases sustainable and biodegradable kitchen supplies and delivers office supplies to one location to decrease trips and packaging waste. In about a year's time, the Airport Authority ordered 4,581 pounds of sustainable breakroom supplies.
The Airport Authority staff also utilizes criteria such as ENERGY STAR, Green Seal, LEED, and EPA Eco Purchasing Guidelines to identify environmentally preferable products. Staff can purchase these products when they perform efficiently, do not compromise safety, quality, or effectiveness, and are economically feasible. When soliciting professional services, sustainable business operations are also taken into consideration (i.e. environmentally friendly vehicles, recycled copy paper usage).
Regional and Industry Leadership
The Airport's commitment to Zero Waste and effective waste management is part of the organization's goal to be a trusted community partner. In the San Diego region, the Airport Authority has consistently received an annual Waste Reduction and Recycling Award from the City of San Diego for its efforts.
To engage the local San Diego community, the Airport Authority maintains a variety of social media platforms, events, and publications. The Airport Authority also publishes monthly blog posts focused on the Airport's recent environmental pursuits. Additionally, the Airport Authority partners with a local nonprofit, I Love a Clean San Diego, to sponsor two community cleanup events a year. At these events, Airport employees host a site for community members to clean up—typically picking up more than 100 pounds of debris from the natural environment each time.
When it comes to the topic of Zero Waste, in 2020 the Airport Authority utilized its Innovation Lab to discover solutions that may work in an airport setting. The spring 2020 cohort of innovators include firms or individuals that bring innovative ideas and/or solutions that will support the Airport Authority's efforts in decreasing waste volume and improving the reuse of widely used food/beverage containers at the Airport. The Innovation Lab offers a unique setting for innovators to overcome challenges in the airport industry. After at least six weeks in the Lab, successful participants will be able to test their Zero Waste solutions in an airport environment. The Innovation Lab cohorts are usually four months long but due to the impacts of COVID-19 pandemic, the 2020 cohort will last longer.
One of the most important factors of the Airport Authority's waste management program is employee engagement and education –the Airport Authority's own employees, and those of tenants and contractors -- ensures that sustainability efforts don't go to waste.
The Airport provides custom "What Goes Where" signage in all back of house spaces and have color coded waste containers and their liners to help individuals dispose of material correctly. Additionally, Airport Authority staff provide "What Goes Where" training to any interested parties—presentations have been made to more than 600 people in the last three years. Specifically for 80 plus Airport concessions, the Airport Authority conducts annual recycling check-ins and weekly janitorial walks to ensure they have recycling and compost bins and are using them properly.
For the Airport's airlines, the Airport Authority also conducts annual recycling check-ins and recently conducted a waste management survey with each airline and their contractors (38 groups were interviewed for the survey). For the Airport Authority's own employees, everyone is required to take annual environmental stewardship training with a "What Goes Where" component. Authority employees also have a small trash can and large recycling bin at their desks, have access to quarterly environmentally-focused Lunch and Learns, and have the opportunity to win a "Sustainability Champion of the Year" award that goes to an employee who is going above and beyond while implementing sustainability projects. Each month, the Authority send outs a Green Flash e-newsletter to all stakeholders to educate employees on best practices as it relates to waste and other sustainability fields. The Airport Authority also hosts biannual Sustainability Fairs where employees recycle electronic and universal waste for free and learn how to "go green" from local community groups that have booths at the Fairs.
Recognizing the need for professional development internally and continuing education in the field of Zero Waste, in 2019 four Airport Authority staff members received the TRUE Advisor certification through U.S. Green Building Council as a preamble to ultimately pursuing a TRUE Zero Waste certification or equivalent program described in the Zero Waste Plan. The TRUE Advisor certification provides a comprehensive curriculum for an individual who wants to learn about Zero Waste policies and programs and contribute subject matter expertise on projects participating in TRUE Zero Waste certification.
Finally, the Airport aspires to be a leader in the aviation industry and sustainability field by engaging third party tenants to be better stewards of the environment as well. It is important to work with each tenant at SAN to ensure a proper recycling program is in place. For example, in 2019 the Authority worked with two key tenants to improve their recycling programs and to educate their employees on proper diversion practices. The Air Traffic Control Tower and ACE Parking both developed comprehensive recycling programs that included posting waste signage in breakrooms, copy rooms, and high traffic areas, deploying more recycle bins for one-to-one bin pairing, and educating key stakeholders on proper recycling practices so they could monitor the progress of employees. In the aviation industry, the SAN Green Concessions Program sets a good example for how to engage concessions on the Airport Authority's waste management (and overall sustainability) goals.
To move the needle with green business practices, the voluntary rewards and recognition program requires concessions go through a checklist to receive points for actions like using green cleaning supplies, selling reusable products, or training their staff. In early 2020, 75 percent of the Airport's concessions were certified SAN Green Concessions. Education and engagement with tenants is key to reduce waste and increase waste diversion from landfills.
Advantages
Compliance with regulations: A comprehensive Zero Waste Plan and effective waste management program allows the San Diego County Regional Airport Authority to maintain compliance with state and local regulations and climate targets.
Cost savings: An effective waste management program allows the Airport Authority to consider costs of disposal for different material streams and to take advantage of incentives, rebates, and material hauling costs. The less material produced, the less the Airport Authority spends on waste management. For some types of material, the cost of hauling and tipping into recycling facilities costs less than hauling and tipping into the region's landfills.
Environmental benefits: Sustainable materials management reduces the Airport's environmental impact and supports the waste management industry.
Infrastructure development: An effective waste management program helps achieve Zero Waste goals, contributes to the Zero Waste movement, and supports development in appropriate waste technologies and industry.
Training and education: Training programs develop awareness among employees and passengers and promote participation in achieving Zero Waste.
Metrics and reporting: Measurement allows for quality waste data, a better understanding of the Airport's environmental impact, and identification of areas needing improvement.
Leadership and influence: Allows for exchange of ideas and best practices between large venues, other airports, and the aviation industry.
Disadvantages/Omissions
Reuse capacity: The Airport Authority cannot donate items that were purchased with Authority funds without permission from its Board. As a government agency, the Airport Authority must be conscious of spending funds on an item and donating it to an organization, as it may be considered a gift of public funds.
Third party tenants: While language to manage waste appropriately is included in the Rules and Regulations, lease agreements, and contracts, implementation is the responsibility of the third party. For example, waste generated on the planes is managed by airline or their contractor employees. This means there are many stakeholders to educate, engage, and rely on for effective waste management. This is especially challenging considering employee turnover and the sheer scope of airport operations. Additionally, some companies do not currently have separation policies or programs.
Contamination: After a passenger or employee throws material away, there is no additional sorting of recyclables. This means that if a passenger or employee does not know what material to throw into which bin, SAN's diversion rate, contamination rate, and recycling opportunity rate are easily affected. Due to lack of passenger knowledge on food waste disposal, there is no organics program available in the front of house.
Convenience & Single Use Items: The Airport Authority's mission is to plan for and provide air transportation services to the region with safe, effective facilities, and the organization aims to make trips in and out of San Diego enjoyable and convenient. However, the nature of a large transportation hub produces large amounts of waste. With passengers on the go, single use items are prevalent in the terminal spaces even though they are typically provided in self-serve stations. Additionally, a lack of dishwashing infrastructure in the terminals has prevented some concessions from switching from single use items to reusables. Finally, the Airport Authority will monitor the Center for Disease Control's guidance on disposable and reusable cutlery and plateware as it relates to the COVID-19 virus.
Recycling and Composting Markets: SAN is limited to recycling only the materials accepted by the Airport Authority's waste hauler, and the local material recovery facility and composting facility. Despite the Airport Authority's robust Zero Waste Plan, if the market doesn't provide demand for certain materials, there is no avenue to reuse or recycling.
---