Zero Waste Case Study: San Diego International Airport
A more detailed San Diego International Airport Case Study is available here.
On this page: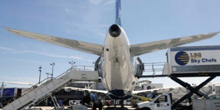 Strategic Planning
To reduce waste, increase diversion from landfill and demonstrate leadership, the San Diego County Regional Airport Authority (Airport Authority), the managing body of the San Diego International Airport (SAN), adopted a Zero Waste Plan (PDF)(80 pp, 5 MB, About PDF) in 2019. This plan provides a framework for reducing waste generation and responsibly managing materials produced in the terminals, during flights, and in office spaces by the more than 9,000 employees and 25 million travelers.
In 2019, the Airport Authority diverted almost 60,000 tons of material -- an 87% diversion rate when incorporating construction and demolition (C&D) waste.
SAN aims to achieve a 10% reduction in discarded material per passenger, a 90% diversion rate, and third-party certification of zero waste by 2035.
New Rules and Incentives
To achieve these goals above, the Airport Authority enforces Rules and Regulations to ensure the safe and efficient operations of San Diego International Airport by governing the general conduct of the public, tenants, employees, and commercial users of the airport. In recent years, language was added to the Rules and Regulations that support the Airport Authority's sustainability goal -- including best practices related to effective waste management.
Strategies
Waste Prevention
Reusable Plateware: Reusable dishes, coffee mugs and flatware are available in staff breakrooms and on a cart that can be used for employee meetings, replacing single use foodware.
Zero Waste Events: With a focus on using reusable and compostable supplies and donating unserved food, the Airport Authority minimizes waste from large events. The 2019 Employee Appreciation Event which included feeding 500 people resulted in only three bags of landfilled trash.
Xeriscaping: Drought-tolerant California-native plants that use less water and produce less green waste have been planted on 80% of the landscaped property has.
Donation Station: The Airport Authority installed an unattended donation station for employees to donate unclaimed passenger lost and found items and personal household goods. In the first few months of the program, more than 1,000 pounds – or hundreds of items – were sent to Goodwill for reuse.
Ocean Friendly Restaurants: Two concessions were certified through the Surfrider Foundation's Ocean Friendly Restaurants program.
Environmentally Preferable Purchasing: The Airport Authority's Procurement Department's "Sustainable Statement and Resource Guide," requires the consideration of a product's recycled content, recyclability, cost, quality, performance, and its potential impacts to human health and the environment.
Diversion
Recycling and Composting
Passenger Recycling and Liquid Collection: Recycling bins paired with every trash bin, and passengers also have access to liquid collection units at every checkpoint where they can dump liquid before going through security. These liquid collection units reduce recycling contamination and the total weight of hauling. Approximately 500 tons of liquid captured each year saves the Airport Authority between $14,000 to $33,000 a year because the empty bottles weigh less.
Expanded Recycling Program: The Airport Authority expanded its recycling program to include materials, including plastic shrink wrap, used electronics, larger metal pieces, and construction and demolition debris, which are not accepted within the City of San Diego's commingled recycling stream.
Required Composting: All SAN concessions are required to participate in the food waste composting program. In each kitchen, concessions have green buckets for food waste, coffee grounds and filters, napkins and paper towels. In 2019, over 400 tons of food waste and food soiled paper were sent to the City of San Diego's Miramar Greenery where it was turned into compost.
Signage and Training: In all back of house spaces, the airport has color coded waste containers with clear "What Goes Where" signs. Additionally, the Airport Authority provides training presentations and conducts regular check-ins with the 80 plus airport concessions and janitorial walks to ensure recycling and compost bins are being properly used.
Annual Waste Characterization: The Airport Authority works with its waste hauler to conduct an annual waste characterization study to what materials are being thrown away how specific groups and the Airport as a whole can do better.
Innovation Lab: In 2020, the Airport Authority began using its Innovation Lab to support innovators bringing ideas and solutions to reduce waste at SAN.
Advantages
Compliance with Regulations: A comprehensive Zero Waste Plan and effective waste management program allows the San Diego County Regional Airport Authority to maintain compliance with state and local regulations and climate targets.
Cost Savings: An effective waste management program allows the Airport Authority to consider costs of disposal for different material streams and to take advantage of incentives, rebates, and material hauling costs. The less material produced, the less the Airport Authority spends on waste management. For some types of material, the cost of hauling and tipping into recycling facilities costs less than hauling and tipping into the region's landfills.
Environmental Benefits: Sustainable materials management reduces SAN's environmental impact and supports the waste management industry. 
Infrastructure Development: An effective waste management program helps achieve Zero Waste goals, contributes to the Zero Waste movement, and supports development in appropriate waste technologies and industry.
Training and Education: Training programs develop awareness and engage employees and passengers in achieving Zero Waste.
Leadership and Influence: An open dialog and commitment to Zero Waste, facilitates an exchange of ideas and best practices between large venues, other airports, and the aviation industry.
Metrics and Reporting: Measurement allows for quality waste data, a better understanding of the airport's environmental impact, and identification of areas needing improvement.
Disadvantages/Omissions
Reuse Limitations: The Airport Authority cannot donate items that were purchased with Authority funds without permission from its Board. As a government agency, the Airport Authority must be conscious of spending funds on an item and donating it to an organization, as it may be considered a gift of public funds.
Third Party Tenant Coordination: While language to manage waste appropriately is included in the Rules and Regulations, lease agreements, and contracts, implementation is the responsibility of the third party. For example, waste generated on the planes is managed by airline or their contractor employees. This means there are many stakeholders to engage and rely on for effective waste management. This is especially challenging considering employee turnover and the sheer scope of airport operations.
Single Use Items: The nature of a large transportation hub produces large amounts of waste. With passengers on the go, single use items are prevalent in the terminal spaces even though they are typically provided in self-serve stations. Additionally, a lack of dishwashing infrastructure in the terminals has prevented some concessions from switching from single use items to reusables. Finally, the Airport Authority will monitor the Center for Disease Control's guidance on disposable and reusable cutlery and plateware as it relates to the COVID-19 virus.
Recycling Markets: SAN is limited to recycling only the materials accepted by the Airport Authority's waste hauler, and the local material recovery facility. Despite the Airport Authority's robust Zero Waste Plan, if the market doesn't provide demand for certain materials, there is no avenue to recycling.
Contamination: After a passenger or employee throws material away, there is no additional sorting of recyclables. This means that if a passenger or employee does not know what material to throw into which bin, SAN's diversion rate, and contamination rate are impacted. Due to lack of passenger knowledge on food waste disposal, there is no organics program available in the front of house.
---