Zero Waste Case Study: San Jose
On this page: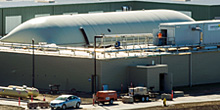 Partnership
San Jose is a nationally recognized leader in waste management and boasts one of the highest diversion rates in the country at 74%. In the 1980s, San Jose worked to adopt a comprehensive Waste Reduction Strategy, implemented community-wide curbside recycling, and expanded landfill capacity. In the 1990s, loose-in-the-street yard trimmings collection boosted diversion and the variable rate structure encouraged residents to recycle more.
The city adopted a Zero Waste Strategic Plan in 2008. Based on the criteria in the Plan, San Jose opened the first commercial-scale dry fermentation anaerobic digestion and in-vessel composting facility in the U.S. in 2013.
Contractual Arrangements
San Jose pioneered the use of contractual rates, fees, taxes, and contractor compensation to provide incentives for generators, waste haulers, recyclers, composters, and even landfill operators to focus first on reducing and reusing materials, then recycling, digesting and composting the rest.
The city released a Residential Garbage and Recycling Collection Request for Proposals (RFP) in 1991 that split the city into three districts of unequal size, allowing both large and small companies to submit proposals. To meet the city's goals, companies were encouraged to partner with each other and with area nonprofit organizations and to form new companies.
In 2010, San Jose released RFPs to change its commercial waste collection system to an exclusive format that included collection and processing services. The city's system now consists of Republic Services collecting wet-dry separated material, processing material at their state-of-the-art MRF, sending organics to be anaerobically digested, and providing for the disposal of residues. No material collected goes directly to landfill. San Jose contracted with the Zero Waste Energy Development Company to process all of the commercial organic waste at their anaerobic digestion and in-vessel composting facility.
Innovative Aspects of San Jose's Overall System
Recycling Incentive Payments: One of the mechanisms used to encourage recycling in the San Jose residential system is a tiered incentive payment for levels of diversion achieved in excess of 40%. The recycling contractor receives approximately $5.40/household for diversion between 40%-42%, $6.50/household for diversion between 42%-44%, $8.30/household for diversion between 44%-46%, and $9.20/household for diversion of at least 46%.
The recycling RFP included a major new compensation structure requiring proposers to structure their proposals to make more money from recycling than landfill disposal. A recycling incentive payment was developed to help offset contractors' costs to manage hard-to-market materials, such as textiles, and help ensure that these materials were actually being sold to market. Also, as part of the recycling contracts, the recycling contractors keep all revenue from sale of recyclables.
San Jose's 2010 commercial system Requests for Proposals (RFPs) restructured the system so the city received a flat rate for franchise fees instead of linking city funding to the amount of material sent to landfill. This meant sending less material to landfill did not erode the city's financial sustainability. City RFPs have also included high diversion requirements, exclusive rights to tons, and long-term contracts that incentivized infrastructure development to move the city toward zero waste and create jobs.
Clean Feedstock and Diversion Incentives: The San Jose commercial system agreements establish performance measures and minimum diversion requirements. Each truckload of organics feedstock delivered for anaerobic digestion and composting is classified based on a threshold level of non-organic contaminants (i.e., plastic, glass), and the organics contractor is paid more by the collection contractor for dirtier material streams. This encourages the collection contractor to deliver cleaner material. Waste characterization studies are used to encourage maximum recycling and ensure appropriate compensation. The collection contract also provides an incentive for exceeding diversion requirements.
Pay As You Throw (PAYT): PAYT rate structures establish rates that reduce the cost of service when less material (e.g., using smaller bin or having a lower weight) is discarded. It makes paying for waste disposal services similar to other utilities -- the more you use, the more you pay.
After the first year of 'Pay As You Throw' implementation, recyclables increased by 149% and yard trimmings by 45%.
San Jose transitioned from a flat-rate, unlimited collection system to a near-linear PAYT rate structure using automated collection trucks in 1993. Residents paid for a specific sized garbage cart and could recycle an unlimited volume of single stream recyclables. The city allowed excess materials to be placed in additional bags and collected for a fee. The PAYT rate structure covers weekly garbage service at 32-gallons, 64-gallons and 96-gallons. Significantly, approximately 86% of all households currently subscribe to 32-gallons.
Innovation - Technology Development and Pilot Studies: The residential yard trimmings contract enables the city to direct up to 6,000 tons per year of any combination of unders, ground overs, or the pre-processed organics fraction of organic material for the purpose of conducting pilot test programs related to conversion technologies. The commercial contracts also allow the city to redirect material for pilot studies.
Alternative Daily Cover Restriction: Included in its residential yard trimmings agreement is a clause that disallows recovered materials be used as Alternative Daily Cover (ADC) at landfills. In the 1980s San Jose was one of several communities in Northern California that initiated the use of such clauses. Today ADC does not count as diversion in any of the city's waste management contracts.
Index Rates: Some city contracts use the Refuse Rate Index. Rather than relying on a single index (such as the Consumer Price Index) to make annual contract adjustments, the Refuse Rate Index uses five indices published by the U.S. Bureau of Labor Statistics. These indices reflect national cost changes for labor, fuel, vehicle replacement and vehicle maintenance, and for other miscellaneous costs.
Advantages
Cost Savings: Provided a more competitive marketplace for garbage collection and recycling services, which constitute 80-90% of the overall system costs.
Innovative Payment System: San Jose pioneered the structure of rates, fees, taxes, and contractor compensation to provide incentives for generators, haulers, recyclers, composters, and even landfill operators to focus first on reducing and reusing materials, then recycling and composting the rest.
High Diversion: Providing incentives that resulted in infrastructure development quickly increased diversion levels and created jobs.
---