The Clean Water Act and Trash-Free Waters
The Clean Water Act (CWA) provides regulatory tools for states and local governments to address aquatic trash. This page provides examples of communities using these Clean Water Act tools to keep trash out of waterways. The Clean Water Act does not mandate use of these regulatory mechanisms for trash, however; they are tools that localities may use in conjunction with other non-regulatory measures to reduce trash loadings into water. 
Under the Clean Water Act, Municipal Separate Storm Sewer System (MS4) permits can be written to set standards to limit the amount of trash released from stormwater outfalls into municipal rivers and streams. In addition, a small number of municipal governments have set Total Maximum Daily Load (TMDL) limits for trash entering water bodies, to comply with state and regional water quality standards. The Clean Water Act does not mandate the use of these regulatory mechanisms for trash, but they are tools that localities may use together with other non-regulatory measures to reduce trash entering local waters.
On this page:
Clean Water Act Tools for Trash
Clean Water Act tools for addressing trash in waters include:
303(d) Listings for Trash Impairment
Over 200 individual water body reaches in 7 states including Alaska, California, Connecticut, District of Columbia, Hawaii, Maryland, and New York have been listed for trash, debris or floatables since 1996.
Trash is a pollutant. Trash in waters can prevent beneficial uses, degrade habitats and harm wildlife, and may endanger people's health. The Clean Water Act requires all states to submit a Section 303(d) list to EPA every two years. This list identifies water bodies where current pollution controls are insufficient to attain water quality standards. The 303(d) listing identifies the impaired and threatened water bodies and the pollutant or pollutants of concern for that water body.
The term pollutant is defined in
CWA section 502(6)
and defines pollutant very broadly and includes any type of industrial, municipal, or agricultural waste (including heat) discharged into water. For regulatory purposes, pollutants are grouped into three categories: conventional, toxic, and nonconventional.
EPA does not have published water quality criteria for trash or approved testing methodologies for trash to be evaluated as a pollutant, but does not prohibit local jurisdictions from establishing criteria and listings for trash. Water bodies around the U.S. have been listed as being impaired for trash and/or floatables and debris. Listings can be a crucial first step in identifying and prioritizing waters polluted with trash. EPA policy allows states to remove water bodies from the 303(d) list after they have developed a Total Maximum Daily Load (TMDL) or after other measures have been taken to meet water quality standards.
Total Maximum Daily Load (TMDL) for Trash
Each state's 303(d) list helps establish priorities for the development of TMDLs or other measures to clean up waterways as a TMDL is not necessarily required. A TMDL is like a pollution budget for a system. In a TMDL, all of the sources of a pollutant are identified and each source is assigned a maximum amount of the pollutant is allowed to release. TMDLs are typically written for single pollutant, require a costly in depth study and can take many years to establish and get all final approvals. TMDLs have been established for trash in four states and territories including Alaska, California, Maryland, and the District of Columbia (see Existing Trash TMDLs and Stormwater Permits below).
A TMDL can assign portions of the pollutant load to both point sources and nonpoint sources. The term "nonpoint source" is defined to mean any source of water pollution that does not meet the legal definition of "point source" in the Clean Water Act, which means any discernible, confined and discrete conveyance, including but not limited to any pipe, ditch, channel, tunnel, well, container, concentrated animal feeding operation, or vessel or other floating craft, from which pollutants are or may be discharged. Whenever point sources are identified as a pollutant source in a TMDL, then a NPDES discharge permit must include provisions to achieve targeted reductions for that pollutant as specified in the TMDL.
National Pollution Discharge Elimination System (NPDES) Stormwater Permits for Trash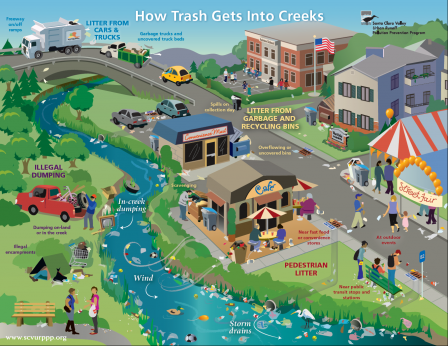 How Trash Gets Into Creeks: litter from cars & trucks, including garbage trucks and uncovered truck beds (especially near freeway on-ramps); illegal dumping and homeless encampments near waterways; litter from garbage and recycling bins caused by spills on collection day, overflowing/uncovered bins, and scavenging; pedestrian litter near transit stops/stations, outdoor events, and near fast food or convenience stores. (Image courtesy of the Santa Clara Valley Urban Runoff Pollution Prevention Program | PDF of MapExit)Stormwater is water collected from runoff, typically from streets and parking lots, which often carries with it trash and other pollutants. In areas with combined sewer and stormwater systems, this runoff is sent to a treatment plant before being discharged into local water bodies. In contrast, in areas with separate stormwater systems, known as Municipal Separate Stormwater Systems (MS4), the stormwater collection system discharges runoff to waterbodies without going through a treatment plant. In high trash generating areas, MS4 can be a major conduit for trash.
Studies support that 80% of trash is generated on land and then transported to a receiving water body. The diagram at right demonstrates the various ways trash is transported into receiving waters which includes stormwater, a point source, as well as wind and direct dumping which are considered nonpoint sources. In urban areas with MS4, stormwater is considered to be the main contributor of trash to receiving waters, however nonpoint sources may be significant sources in both rural and urban areas. Additionally, during heavy rain events combined sewer and stormwater systems may overflow and release untreated waste water which may contain trash.
While most MS4 permits across the country will contain specific language about trash, floatables or debris, the Los Angeles River Trash TMDL (see below) was the first to include stormwater as a source and thus require a local NPDES permit to address trash with a specified timeline and reduction milestones. Since TMDLs can take years to establish and may have significant costs, other jurisdictions have written detailed enforceable trash provisions directly into stormwater permits to require measurable reductions in trash discharge based on 303(d) listings without being required by a TMDL. Using NPDES stormwater permits to address trash may significantly reduce the amount of trash reaching streams, rivers, lakes, estuaries and oceans.
Existing Trash TMDLs and Stormwater Permits
The following are a few examples of jurisdictions actively addressing trash through TMDLs and/or stormwater permits:
Los Angeles River Trash TMDL (California)
Goal: 0% trash by 2016
Area: 834 Square Miles
Population: 5 million people
Baseline trash load: 5 million pounds per year
Links: LA River TMDL (PDF) | Los Angeles County MS4 Permit (PDF) Exit
The Los Angeles region has been a pioneer in using Clean Water Act tools to address trash. It began with adding water bodies to the 303 (d) list for trash impairments in 1996. Today, there are more than 10 trash TMDLs in the region. The Los Angeles River had one of the nation's first trash TMDLs when it was established in 2001. This TMDL affects the largest area in the LA region (see map outlining the LA River Watershed). Storm drains were identified as the major source of trash in the river, and specific baseline loads were assigned to each of 42 municipalities and the transportation department. Non-point sources were not included, but a list of specific parks and public areas were directed to establish a minimum frequency of litter cleanups and an assessment program to eliminate trash washing off their sites.
For stormwater permittees to reach the targeted 100% trash load reduction by September 2016, permittees can use full trash capture devices or partial capture devices and institutional controls such as street sweeping, litter law enforcement, etc. Partial capture devices and institutional controls require monitoring to measure effectiveness. Many jurisdictions have used full trash capture devices because it's the most straightforward approach.
For example, the City of Los Angeles, responsible for about 2.5 million of the annual 5.4 million-pound baseline load, reached compliance almost exclusively using trash capture devices, spending $75 million to retrofit over 38,000 catch basins and about 15 large in-line devices. Read more about these devices under Trash Capture and Removal Technologies.
Draft MS4 Map of New York City | Click to enlarge
Goal: Establish the loading rate of trash, debris, floatables and settleables in the receiving waters
Area: 304.6 Square Miles
Population: 8.4 million people
Baseline trash load: TBD 2020
Links: State Pollution Discharge Permit (PDF) Exit
Under New York City's 2015 MS4 permit, the city is developing a floatable and settleable trash and debris management program as part of its Stormwater Management Program Plan. The goal is to develop a methodology to determine the loading rate of floatable and settleable trash and debris, including land-based sources, from the MS4 to water bodies listed as impaired, conduct a loading rate study, and adopt strategies to reduce floatable and settleable trash and debris. Additionally, NYC will implement an interim floatable and settleable trash and debris education media campaign to further educate the public on trash and debris control issues.
---
San Francisco Bay Stormwater Permit (California)
Goal: 0% trash by 2022
Area: 2,576 Square Miles
Population: 7 million people
Baseline trash load: ~1.3 - 2.5 million pounds per year
Links: 2009 Municipal Regional Permit (PDF) | 2015 Municipal Regional Permit Exit
In the San Francisco Bay Area, portions of the Bay and most of its tributaries had been 303(d) listed for trash. Rather than establishing individual TMDLs, in 2009 trash provisions were included in the Phase 1 Municipal Regional Stormwater Permit, which covers 76 MS4 permittees. Using land use data, areas were categorized into 'Low' 'Medium', 'High' and 'Very High' trash generating areas on the basis of gallons of trash produced (for example, Medium Trash Generation areas produce 5-10 gallons/acre/year). Permittees are required to implement trash controls in all areas, except 'Low' trash generating areas, using a combination of trash capture devices and institutional controls.
The permit requires at least 5,700 acres to be treated by full capture devices. By 2015, over 25,000 acres were covered by these systems, demonstrating that trash capture can be an effective solution. A unique feature of this permit is a 'hotspots' requirement that applies to creek or shoreline areas with the most trash. Each permittee must identify one 'hotspot' for every 30,000 residents, and do at least one cleanup of each hotspot every year. Hotspot cleanups are particularly effective in removing trash from non-point sources such as illegal dumping. In addition, permittees may claim percentage reductions for reducing the sources of trash through measures like street-sweeping.
---
California Statewide Trash Policy
Goal: 0% trash by 2030
Area: 164,000 square miles
Population: 39 million people
Baseline trash load: Unknown
Links: Policy Document | Video Exit
Statewide, 73 water bodies are listed for trash or debris impairments. Based on lessons learned in Los Angeles and the San Francisco Bay Area, California adopted a statewide policy to address trash uniformly in areas without trash TMDLs and/ or permits. The policy establishes a narrative water quality standard for trash that applies to all state waters and requires all stormwater permits to be modified or reissued to include trash provisions. Stormwater permittees, like cities and counties, will create a trash implementation plan to reach zero trash within 10 years of the newly adopted permits, but no later than 2030.
Each plan must address high trash-generating areas such as 1) high-density residential areas (10+ dwelling/acre), 2) industrial and commercially-zoned land, 3) mixed urban, 4) public transit corridors, 5) on- and off- ramps in high trash areas, and 6) rest areas and park-and-rides. The policy will apply to approximately 17,000 permittees and will require treatment and control of trash for more than 600 square miles. Compliance may be demonstrated through either 1) use of trash capture devices on an entire stormwater system, or 2) some combination of trash capture devices and institutional controls like street sweeping, sufficient to reach reductions equivalent to full capture. The policy also allows local regulators the option to require trash controls for non-point sources of trash, such as heavily used campgrounds, picnic areas, beaches and marinas. This approach is more efficient since it doesn't require a TMDL for each water body, which can be time consuming and expensive. It does require immediate action for controlling stormwater sources of trash, which are the main transport pathway.
---
City and County of Honolulu Stormwater Permit (Hawaii)
Goal: 0 % trash by 2034
Area: 2,128 square miles
Population: 1 million people
Baseline trash load: TBD 2017
Links: MS4 Permit (PDF) Exit
In 2012, trash provisions were added to the stormwater permit for the City and County of Honolulu (CCH). The 2012 permit directed CCH to create baseline estimates, a long term and short term reduction plan, and target dates to reach 50% and 100% reduction. The short term and long term plans, which included proposed methods for baseline calculations, were submitted in 2014. The baseline calculations are scheduled to be completed in 2017. The goals are to reach and 50% reduction by 2023 and 100% reduction by 2034.