Science & Case Studies
On this page:
EPA conducts analysis and research to address important issues related to the potential health, ecological, and socio-economic impacts of trash and debris in the aquatic environment.
Microplastics Expert Workshop Report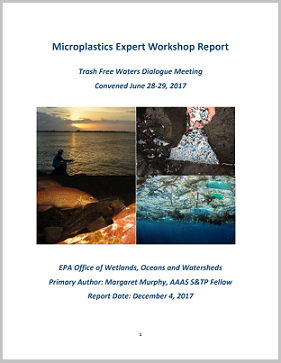 The EPA Trash Free Waters program convened a Microplastics Expert Workshop (MEW) on June 28-29, 2017 to identify and prioritize the scientific information needed to understand the risks posed by microplastics to human and ecological health. The workshop gave priority to gaining greater understanding of these risks, while recognizing that there are many research gaps needing to be addressed and scientific uncertainties existing around microplastics risk management.  The workshop participants adopted a risk assessment-based approach and addressed four major topics: 1) microplastics methods, including deficits and needs; 2) microplastics sources, transport and fate; and 3) the ecological and 4) human health risks of microplastics exposure.  Workshop participants recommended developed detailed conceptual models to illustrate the fate of microplastics from source to receptor and assess the ecological and human health risks of microplastics, the degree to which information is available for each, and the interconnections among these uncertainties.  The expert panelists did not provide recommendations for specific regulatory or non-regulatory actions to be taken. This document presents a summary of the expert panel discussion.
---
State of the Science White Paper: A Summary of the Effects of Plastics Pollution on Aquatic Life and Aquatic-Dependent Wildlife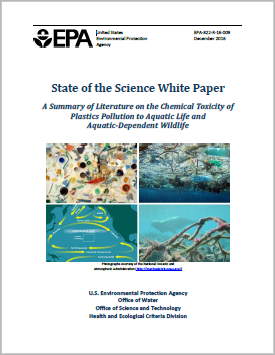 Download the ReportPlastics have become a pervasive problem in oceans, coasts, and inland watersheds. Recent estimates suggest that 4.8 to 12.7 million metric tons of plastic waste entered the global marine environment in 2010. Areas of accumulation of plastic debris include enclosed basins, ocean gyres, and bottom sediments. Plastics in the aquatic environment primarily originate from land-based sources such as littering and wind-blown debris, though plastic debris from fishing activities may be a key source in some areas. Plastic particles are generally the most abundant type of debris encountered in the marine environment, with estimates suggesting that 60% to 80% of marine debris is plastic, and more than 90% of all floating debris particles are plastic. This document is a state-of-the-science review – one that summarizes available scientific information on the effects of chemicals associated with plastic pollution and their potential impacts on aquatic life and aquatic-dependent wildlife.
---
Summary of Expert Discussion Forum on Possible Human Health Risks from Microplastics in the Marine Environment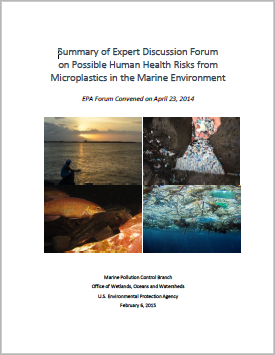 Download the ReportThe EPA Trash Free Waters program convened a panel of scientific experts on April 23, 2014. The purpose of the forum was to discuss available data and studies on the issue of possible human health risks from microplastics in the marine environment. The participating subject matter experts were asked to provide insights on the current scientific basis for determining human health risks, based on a review of scientific research done to date. The experts also were asked to identify data gaps and make suggestions for further study. The expert panelists did not provide recommendations for specific regulatory or non-regulatory actions to be taken. This document presents a summary of the expert panel discussion.
---
Tern Island Preliminary Assessment and Technical Support Document
In September 2014, EPA and the U.S. Fish and Wildlife Service released an initial assessment of contamination at Tern Island, a remote island in the chain of Northwestern Hawaiian Islands (NWHI). The results show that there have been releases of hazardous substances such as polychlorinated biphenyls (PCBs) and lead from military wastes buried on the island between World War II and 1979, and further action is warranted.