Source Reduction Projects
On this page:
Coyote Creek Trash Reduction Project
Project Champion: City of San Jose, Environmental Services Department
EPA Funding: $680,000  Recipient Match: $382,417
Funding Program:  San Francisco Bay Water Quality Improvement Fund
Project Period: 2011- 2016
Project Description
The City of San Jose is working with community partners like Downtown Streets Team, Destination Home, Santa Clara Valley Water District, and eBay to improve water quality in Coyote Creek by addressing trash at its source: litter, illegal encampments and illegal dumping. One of the most chronic and significant causes of trash impairment on Coyote Creek has been homeless encampments.  San Jose staff have worked with the surrounding neighborhoods to prevent litter and eliminate illegal dumping sites through environmental education and outreach events which have developed local stewardship groups that maintain public accessibility of creekside trails. San Jose also worked with partners Downtown Street Team and Destination Home on peer to peer outreach to homeless individuals living along Coyote Creek. The project has resulted in permanent housing for 50 individuals who formerly lived in the targeted reach of the creek, and includes thousands of hours of community cleaning and monitoring of riparian areas, which enlisted many homeless individuals to form clean-up crews.
Successes
8 large scale illegal encampment cleanups
Install surveillance camera and eliminate 4 chronic dumpsites
2 public art projects
Create anti-dumping webpage
8 assessments to document change in trash
---
Hydration Refill Stations in New York and New Jersey State Parks
Project Champion: New York State Department of Environmental Conservation and New Jersey Department of Environmental Protection
EPA Funding:  $ 115,514 (EPA Region 2)
Project Period: 2016-2019

EPA Point of Contact:

 Josh Kogan, U.S. EPA Region 2, kogan.joshua@epa.gov
Project Description
In 2016, EPA Region 2 provided the New York State Department of Environmental Conservation and New Jersey Department of Environmental Protection with more than $115,000 in grant funds to implement projects that would reduce regional aquatic plastic pollution. They decided to tackle single-use plastic bottle pollution by installing reusable bottle refill water fountains in public parks. Their goal was to help reduce the use of single-use plastic bottles while visitors were recreating, therefore also reducing the potential for these items to escape into the local waterways as mishandled waste. This project highlights sustainable materials management education, drinking water infrastructure, and public health through clean water access – providing multiple benefits to the affected communities.
Successes
By mid-2019, a total of 16 fountains were installed in New Jersey State Parks. By the same time, 32 fountains were installed (11 indoor, 21 outdoor) in New York State Parks. In each case, NY parks were selected based on the number of visitors and the potential for the greatest reduction in disposable plastic bottle pollution. In New York, eleven parks spanning from Bear Mountain State Park on the Hudson River to Robert Moses State Park on Long Island were outfitted with at least one hydration refill station.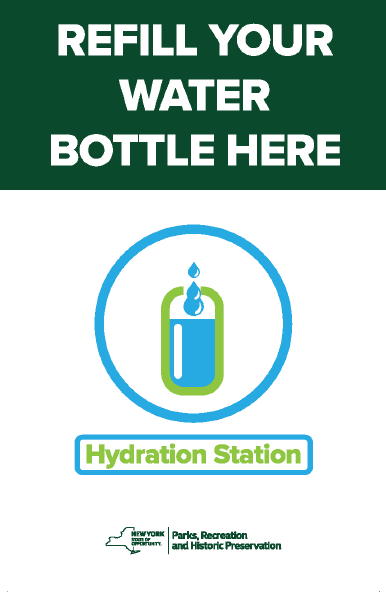 Hydration station refill posterNiagara Falls State Park is estimated to have reduced the highest number of single use plastic bottles over the study period of September 2017 to June 2019. For example, within the yearlong span of June 2018 to June 2019, the two most utilized stations in Niagara Falls State Park (one located inside the visitor center and one located outside) saved an estimated total of 129,765 bottles from being consumed.
From installation through June 2019, a total of 349,189 bottles were saved by providing the 32 total hydration stations installed within the 11 selected New York State Parks. Due to this project, hydration stations have gained popularity in state parks and the NY Office of Parks, Recreation, and Historic Preservation (OPRHP) is now allocating more funding toward installing an additional 42 stations to meet the growing demand. New York's Parks Department designed two signs to help advertise the hydration station initiative, seen below. The "Refill Your Water Bottle Here" poster was installed adjacent to stations to encourage their usage and the "Don't Let Our Beaches Look Like This" poster was placed on bulletin boards around parks.
---
The "Don't Trash Long Island Sound" Campaign
Project Champions: Long Island Sound Study and the Peconic Estuary Program
Project Period: 2017-2019 (summers)
EPA Point of Contact: Josh Kogan, U.S. EPA Region 2, kogan.joshua@epa.gov
Project Description
The third year of Long Island's 2019 #DontTrashLISound social media campaign ran from August through September 20, 2019. The primary message of the campaign was to "Break the Single-Use Plastic Habit" in order to protect the watershed's wildlife. The Long Island Sound Study, local environmental groups, and municipalities in the watershed worked to engage Long Island Sound residents in the plastic problem. Stickers depicting native species such as the harp seal, tautog, and American oyster catcher were distributed widely, and people were encouraged to post photos of their reusable water bottles displaying the stickers. The campaign not only worked to encourage behavior change but also highlight progress being done in the space to improve water quality and help protect native wildlife. The 2019 campaign sponsors included the Long Island Sound Study, Connecticut Sea Grant, Mystic Aquarium, Connecticut Fund for the Environment's Save the Sound Program, The Nature Conservancy, Audubon Connecticut, and Soundwaters.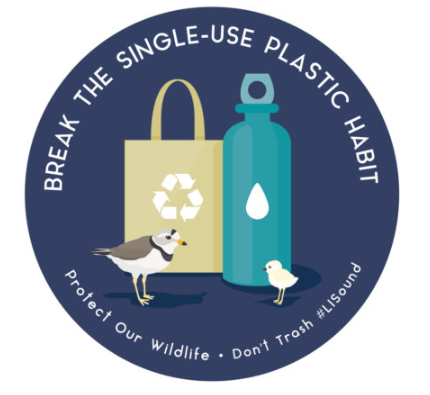 Examples of Don't Trash Long Island Sound stickers
Successes
The Summer 2019 campaign generated 135,000 Facebook and Twitter impressions. The campaign also worked with partners to hold beach cleanups along Long Island's shores, with awareness boosted through creative local print, radio, and TV coverage. The campaign kickoff cleanup on August 8th, 2019 elicited the help of dozens of volunteers, ages 4 to 70, to collect over 100 pounds of litter from Lighthouse Point Park. The Long Island Sound Study, with the Peconic Estuary Program, South Shore Estuary Reserve and Friends of the Bay, and the Waterfront Center, hosted Estuary Day 2019, on Saturday, September 14 in Oyster Bay, NY which signified the end of the campaign. Estuary Day activities emphasized preventing marine debris and included a beach cleanup, beach seining, beach combing, children's activities, and crafts. To view photos from the campaign, check out #DontTrashLISound on Facebook, Twitter, and Instagram or the ExitLong Island Sound media center.
---
Trash Free Piscataqua Watershed Planning
Project Champion: Piscataqua Region Estuaries Partnership (PREP)
EPA Contribution: In-kind support
Project Period: 2017-2018
Point of Contact: Abigail Lyon, Community Technical Assistance Program Manager at PREP, Abigail.Lyon@unh.edu
EPA Point of Contact: Jean Brochi, U.S. EPA Region 1, Brochi.Jean@epa.gov 
Project Description
The Piscataqua Region watershed encompasses 1,086 square miles and includes 42 communities in New Hampshire and 10 in Maine. Fortunately, there are many conservation and stewardship organizations actively engaged in reducing and removing debris in the watershed. Some groups, like the Blue Ocean Society for Marine Conservation, have been cleaning beaches in New Hampshire and southern Maine since 2001. At the time of this project, various river advisory committees, the Piscataqua Region Estuaries Partnership (PREP), and the Conservation Law Foundation also expressed concern about the debris along our estuaries and freshwater tributaries.
Trash Free Piscataqua was born from a conversation between senior leadership from the New Hampshire Department of Environmental Services and the Maine Department of Environmental Protection. Both organizations recognized a need to reduce the flow of trash in the Piscataqua River which separates New Hampshire and Maine. Thanks to support from the American Chemistry Council, a neutral facilitator was asked to design and guide a collaborative process to develop a short list of projects endorsed by the full range of area stakeholders.
Successes
Individuals and small groups were interviewed in late 2017 about policies, programs, technologies, and other efforts to control the flow of debris in the region. They represented government, conservation and stewardship groups, academia, and others well respected for their efforts to improve water quality. Through nearly 40 structured conversations, it became apparent that three waste streams were of greatest concern to local and regional leadership: 1) single use plastics, 2) derelict fishing gear, and 3) pet waste (in "disposable" baggies).
Trash Free Piscataqua served as an opportunity to better coordinate among existing partners and think creatively and strategically about how to move beyond trash cleanup and towards source reduction. This renewed interest in citizen action also refocused efforts from coastal remediation to an inland/upstream approach. Since those initial conversations, project partners have worked to ideate project ideas and develop action plans and funding prospectus's for addressing the above-noted priority waste streams and to keep them from entering our inland and coastal waters. In an effort to reduce the presence of single-use plastics in the environment (which had been partially attributed to open recycling containers), the Recycling Partnership supported the transition of three nearby towns from using 18-gallon open-air bins toward wheeled and covered 64 and 96-gallon carts.