Trash Capture Projects
On this page:
San Francisco Bay Area Trash Capture Demonstration Project
Project Champion: San Francisco Estuary Partnership
EPA Funding: $ 735,000 Match Funding: $4,265,000
Funding Program: American Recovery and Reinvestment Act through State Revolving Fund
Project Period: 2009-2014
Project Description
The purpose of this project was to facilitate funding to Bay Area municipalities for trash capture devices to help fulfill stormwater permit trash requirements while helping municipal staff gain knowledge of different device types and their appropriateness to different land uses. Purchasing and installing trash capture devices was helpful to many municipalities in meeting trash reduction goals of 40% by 2014, 70% by 2017, and 100% by 2022 as called for in the San Francisco Regional Stormwater Permit.
The project also developed the Bay Area Trash Tracker, a password-protected online resource for municipalities, which maps device installations and allows local staff to upload and download maintenance data. This tool is being expanded for public use by the state grant-funded project Tracking California's Trash. Exit
San Francisco Estuary Partnership is one of 28 National Estuary Programs authorized under Section 320 of the Clean Water Act. A more in-depth project description and final report is available on the San Francisco Esutary Partnership Exitwebsite. The State Water Resource Control Board, Association of Bay Area Governments, and 60 local municipalities were involved in project implementation.
Successes
Installed over 4,000 small to medium trash capture devices in more than 60 Bay Area jurisdictions
Installed 42 large trash devices
Created a password-protected online tool to assist municipalities in tracking maintenance of the trash capture devices
Examples of Devices Installed Under the San Francisco Bay Area Trash Capture Demonstration Project
The availability of a funding source to purchase and install trash capture devices was helpful to many municipalities in meeting their target trash reduction goals of 40% in 2014 and 70% in 2017.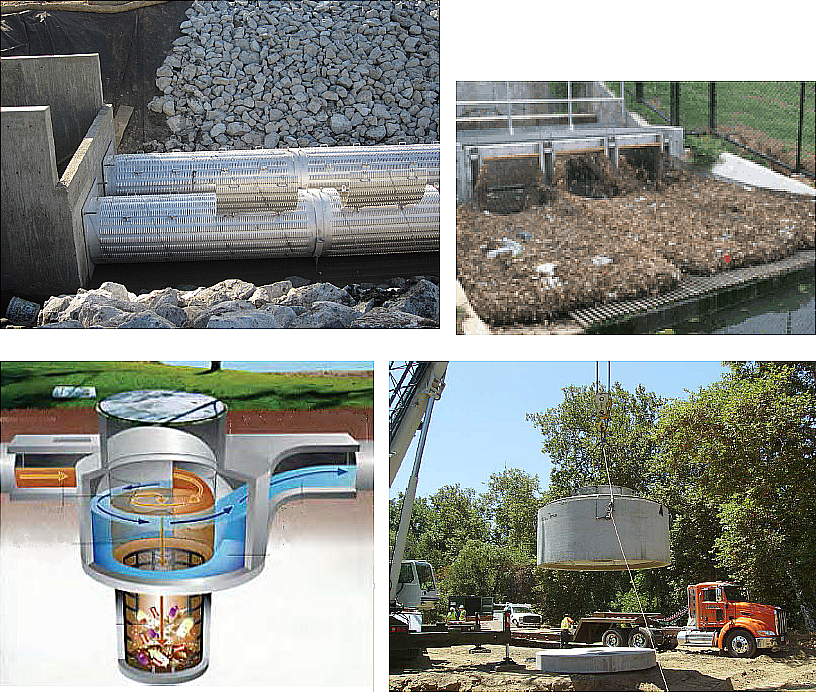 ---
Proctor Creek Trash Removal and Prevention
Project Champions: West Atlanta Watershed Alliance and the Proctor Creek Stewardship Council
EPA Contribution: Financial, technical, and contractor support
Project Period: 2015- ongoing
EPA Point of Contact: Cynthia Edwards, U.S. EPA Region 4, Edwards.CynthiaY@epa.gov
Project Description
EPA Region 4 has been working to advance Trash Free Waters in the Proctor Creek watershed since 2015. Proctor Creek primarily serves disadvantaged communities disproportionately impacted by the public health effects associated with poor water quality. Trash was determined one of the top 10 community priority challenges identified in a public awareness campaign conducted by EPA and a subsequent study conducted by the Georgia Institute of Technology. Early work in the watershed focused on remediation and outreach around illegal dumping of trash and tires. After convening local community stakeholders, three areas for project work were identified: 1) Installation and maintenance of trash traps to collect litter in Proctor Creek and its tributaries; 2) Workforce development for the collection of thousands of illegally dumped tires within the watershed communities; and 3) An outreach and education messaging program that would address the sources of trash in Proctor Creek and utilize area athletes and celebrities. Since initial conversations, the Proctor Creek TFW Initiative has grown into an impressive example of a successful community-driven public-private-philanthropic partnership. The Trash Free Waters program refers to this as "P4" project.
Successes
An Urban Waters Federal Partnership (UWFP) grant was awarded to Groundwork Atlanta, who with EPA representatives worked with Georgia Tech students and professors and the City of Atlanta to complete a feasibility study on trash trap installations in Proctor Creek. The students examined data on flow conditions to determine where on the creek and tributaries trash traps would be most useful. In 2018, EPA hosted a Proctor Creek Stakeholder Investment Meeting of government, foundation, non-profit and business leaders to identify needs for source reduction projects and find funding resources for the installation and maintenance of trash traps in the watershed. The Coca-Cola Company, the National Recreation and Park Association (NRPA), the City of Atlanta, West Atlanta Watershed Alliance, Groundwork Atlanta, Park Pride, and EPA Region 4 partnered to install several innovative trash-trap systems along Proctor Creek. Two catchment devises were selected: The "Bandalong" installed by Stormwater Systems of Cleveland, Georgia and "Litter Gitters" installed and maintained by Osprey Initiative of Fairhope, Alabama.
On September 19, 2019, partners held a kickoff event for the Coca-Cola World Without Waste Campaign, announcing their $350,000 donation to lease five additional litter gitters and one bandalong for installation in the watershed with a goal of collecting and reducing 80% of downstream litter.
As of March 31, 2020, EPA-supported trash capture devices within the Proctor Creek watershed have collected more than 900 pounds of trash.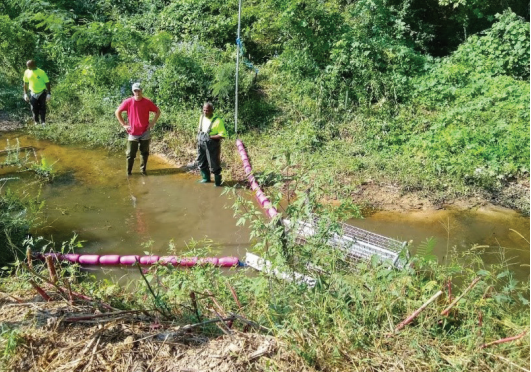 Installation of litter gitter in Proctor Creek. Photo courtesy of Mark Nuhfer.With the use of the Escaped Trash Assessment Protocol (ETAP), project partners are able to identify what percentages of the collected waste fall into different material types. For example, as of December 2019, existing data collection efforts from the EPA-supported trash capture sites within the Proctor Creek Watershed suggest that on average, 82% of the collected material is plastic. Of the plastic gathered, 22% were plastic beverage bottles and containers, 18% were plastic water bottles, 15% were various Styrofoam products, and 10% were plastic bags/film. Significant volumes of "legacy trash" (e.g., "pop top" aluminum cans and bottles, cans and wrappers that have long since ceased production) have been found.
The community engagement and outreach components of this initiative are critical to addressing the root cause of litter in the watershed. Educational signage near the Proctor Creek trash traps inform visitors about the litter catchment systems and provide easy takeaways on how to reduce litter by recycling and disposing of trash in receptacles. The litter gitters and bandalongs are placed in accessible and highly visible areas close to elementary schools, greenways, and pedestrian walking bridges where people can view first-hand the amount of in-stream trash being collected to motivate behavior change. EPA and its Atlanta-based partners want to improve the water quality of Proctor Creek and assist in providing safe, clean, livable places where residents and businesses can thrive and take pride in their communities.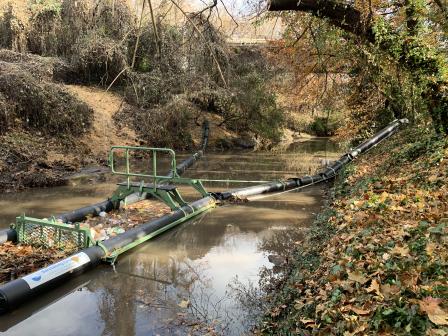 Bandalong Litter Trap hard at work, cleaning Proctor Creek. Photo courtesy of Storm Water Systems, Inc.
---
A Comprehensive Strategy for Creating TFW in Three Mile Creek (Mobile Bay)
Project Champion: Mobile Bay National Estuary Program
EPA Contribution: $ 531,711 ($25,000 TFW, $488,711 EPA Gulf of Mexico Program)
Project Period: 2018- ongoing
EPA Points of Contact: Chris Plymale, U.S. EPA Region 4, Plymale.chris@epa.gov; Calista Mills, U.S. EPA Gulf of Mexico Division, Mills.Calista@epa.gov
Project Description
The Mobile Bay National Estuary Program (MBNEP) is working on a Trash Free Waters (TFW) multi-phase litter abatement project in the Three Mile Creek Watershed. Stakeholders believe reductions in litter in this watershed require a comprehensive approach that includes changes to business practices to reduce waste streams, increases in community awareness to change personal behaviors, a concerted effort to remove legacy trash from streambanks, wetlands, and creek beds, and affordable installation and maintenance of devices.
The comprehensive strategy includes: (1) Deployment and maintenance of 10 "Litter Gitters," which are litter-trap devices for streams, (2) Development of litter profiles at each site using the EPA's Escaped Trash Assessment Protocol (ETAP), (3) Conducting single-pass tactical cleanups of shorelines throughout the watershed, (4) Development of a web-based publicly available litter collection/ETAP reporting system, and (5) Creating an alternative packaging program in the Three Mile Creek Watershed.
In 2018, EPA Headquarters and the EPA Gulf of Mexico Program provided funding to the Mobile Bay National Estuary Program (MBNEP) for the installation of Litter Gitter trash collection devices in the Three Mile Creek Watershed in downtown Mobile. The goal of the initiative was to reduce the amount of stormwater-borne trash and litter in the watershed by at least 4,800 pounds. Various City of Mobile partners granted permission for installations of litter traps at strategic locations. The Osprey Initiative designed, installed, and maintains the litter traps. Members of Mobile Baykeeper continue to provide device maintenance and ETAP evaluations of trash collected to assess the condition of water quality and habitat and determine weight, volume and probable sources of the recovered debris.
On March 21, 2019, EPA Region 4 staff and management, along with representatives from Mobile Bay NEP, the City of Atlanta, the West Atlanta Watershed Alliance, and Groundworks Atlanta, toured several TFW projects in Mobile, including installation of a Litter Gitter on the campus of the University of South Alabama. The tour also included the observation of a Bandalong trash-collection system and how it operates in comparison to the Litter Gitter system, as well as demonstrations on how to use the Escaped Trash Assessment Protocol tool.
Successes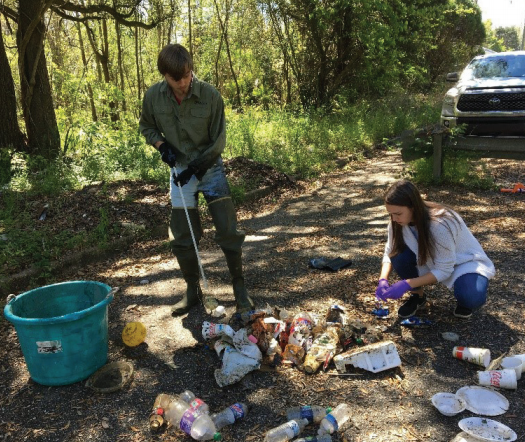 Osprey Initiative staff perform ETAP analysis after cleaning out a Litter Gitter in Three Mile Creek, Mobile, AL.
As of October 2019, the Three Mile Creek Trash Free Waters Project has removed 8,882 lbs (5,435 cubic feet) of litter, greatly exceeding the overall project goal of 4,800 lbs. Of the 8,882 lbs of waste collected, 1,622 lbs (1,424 cubic feet) of the material has been recycled. Five waterways within the Three Mile Creek Watershed show water-quality improvements in reduction of trash: One Mile Creek, Maple Street Tributary, Twelve Mile Creek, Three Mile Creek, and Toulmins Spring Branch. These measures will have the greatest impact on Three Mile Creek's downstream area, home to a large percentage of low-income, underserved, minority neighborhoods. Due to the project's success, litter gitters have been exported and installed in other watersheds to improve water quality and promote trash-free communities.
Click here Exitto view a video produced by the Mobile Bay National Estuary Program about the littering problem.
---
Bronx River Alliance's Project WASTE
Project Champion: Bronx River Alliance
EPA Contribution: $ 52,866 (EPA Region 2)
Project Period: 2016-ongoing
EPA Point of Contact: Josh Kogan, U.S. EPA Region 2, kogan.joshua@epa.gov
Point of Contact:Michelle Luebke, Bronx River Alliance
Project Description
The Bronx River Alliance serves as a coordinated voice for the Bronx River. It collaborates with over 100 partners to protect, improve, and restore the Bronx River corridor so that it can be a healthy ecological, recreational, educational, and economic resource for local communities. Project WASTE (Waterway and Street Trash Elimination) is the Alliance's community science trash assessment and source reduction program which addresses trash pollution in the Bronx River watershed through volunteer engagement and hands-on trash collection. Since the summer of 2016, with a grant from EPA Region 2, volunteers have been assessing floatable trash that is collected from two trash booms at different points in the Bronx River. The upper boom in Muskrat Cove catches trash flowing downstream from Westchester County into the Bronx, and the lower boom in Concrete Plant Park catches additional debris before it can pollute the East River and Long Island Sound. Due to the project's early successes, EPA provided additional funding for the continuation of Project WASTE in 2018.
Successes
By engaging more than 1,300 students, educators, and interested residents, the Bronx River Alliance has removed over 200,000 items (weighing over 3 tons) from the Bronx River. This citizen science stewardship project calls for volunteers to not only help count, assess and remove trash from the booms and tally what kind of floatable debris best categorizes it, but also take note of the quantity, toxicity, material, and brands of trash to help identify the sources of pollution and to inform communities, businesses and municipal officials. Almost 70% of the trash collected through Project WASTE as of 2019 is Styrofoam, with plastic making up an additional 22% (see pie chart figure below). The map located below is complemented with graphs depicting the total amount of trash removed and the total number of clean-ups that took place at each site within the Project WASTE initiative between 2016 and 2019. Information was compiled from over 200 cleanup events which took place along the river within the past 4 years.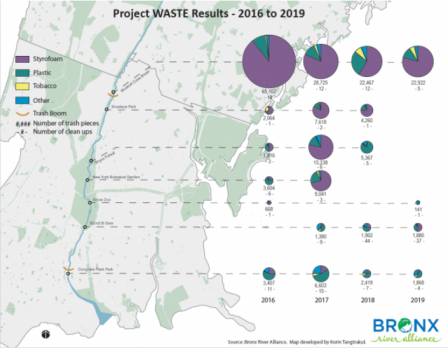 Project WASTE data visualization. Source: Bronx River Alliance.
During a related Bronx River Alliance outreach activity in the summer of 2019, students from Bronxville High helped collect and categorize litter along two local streets and found that tobacco products were the most common waste material collected. After this analysis, the students created a map of Bronxville litter and cigarette butt hotspots to inform more strategic placement of disposal infrastructure. They also hosted a storm drain art competition to raise awareness about the connection between mismanaged trash, stormwater systems and marine litter.
On June 21, 2019, the Bronx River Alliance was honored with an Urban Waters Learning Network Award for their community science and environmental education programming associated with the Project WASTE initiative. Click  here Exitto read more about the Bronx River Alliance's Project WASTE.
---
Hayward Youth-Based Trash Capture, Reduction, and Watershed Education Project
Project Champion: City of Hayward
EPA Funding: $ 800,000    Match Funding: $ 800,000
Funding Program: San Francisco Bay Water Quality Improvement Fund
Project Period: 2015-2018
Project Description
This project will capture trash and prevent it from polluting local watersheds, characterize and quantify the trash collected, and implement actions to engage the public, specifically youth, to prevent littering. Under the Bay Area stormwater permit, Hayward is one of more than 60 municipalities responsible for achieving a 100% reduction in trash discharges into San Francisco Bay by 2022.  Hayward is implementing a first-through-12th grade trash reduction curriculum in all Hayward schools during the project period in partnership with public and private schools and college interns. High school curriculum will include more sophisticated aspects of trash reduction, including trash capture design and attending trash capture device installation and/or clean-out. Hayward will use grant funding to install three new large capture devices treating over 1000 acres of the city's watersheds and preventing over 20,000 gallons of trash from entering San Francisco Bay per year. Project partners included: City of Hayward Schools Districts, private schools, local park districts, and local college interns.
Successes
Installed 3 large capture devices
Treated over 1,000 acres of high trash generating area
Prevented over 20,000 gallons of trash from entering the San Francisco Bay per year
Trash reduction curriculum to be taught in all schools in Hayward
City of Hayward Video - Saving the Bay: The Trash Capture Device Under Your Feet