Trash Capture Technologies
Many types of trash capture technologies are available. They have been rapidly evolving across the world in recent years to solve unique trash problems in waterways. Aside from the upfront capital costs of trash capture technologies, systems may also require ongoing maintenance to routinely remove accumulated trash and debris. Particularly in areas with heavy trash loads in urban runoff, trash capture devices can be an effective and efficient trash management practice.
The use of different trash capture technologies is heavily dependent on municipal budget and capacity for operation and maintenance, local hydrology, and many other site-specific considerations. Examples shown below include some that are generic and non-proprietary, while others are custom-designed for a specific location. They do not reflect any preference or endorsement by U.S. EPA.
Trash Capture Technologies can be deployed at different locations, including:
Storm drain inlets, the entry points to the stormwater system,
In-line, within the pipes or at the outlet of the stormwater systems,
Open-water, such as a floating boom in the receiving water body.
Click the links below to see descriptions of some of the trash capture technologies that are currently available:
Storm Drain Inlet Trash Capture Technologies
Curb Inlet Covers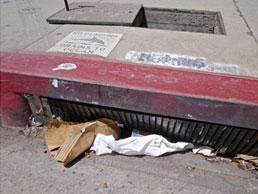 Trash screens are designed to keep trash on the street and stop trash from entering the stormdrain system. This way trash is kept on the street, so it can be swept up by street sweepers before it reaches the catch basin. The styles and sizes of openings differ, so these devices differ in their effectiveness.
Automatic retractable screens, as shown in the photo, open up once a certain force or pressure is created. This prevents flooding in case the screen gets clogged with trash.
---
Catch Basin Outlet Screens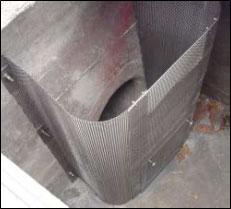 Catch basin outlet screens are installed inside stormdrains. These are screens or filters that block trash from entering stormwater intake pipes. Those with mesh size >5mm can be certified as 'full capture devices' in California. Often screen systems will release trash if overflows occur.
Reinforced models, have evolved through experience with local hydraulics in the Los Angeles County MS4 system. Curb inlet covers may be used in combination with catch basin inlet devices in areas with very high trash to act as a first line of defense and to prevent the need for more frequent clean-outs of internal catch basin devices.
---
Catch Basin Hoods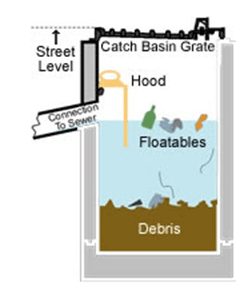 Catch basin hoods are installed within a catch basin in front of the outlet pipe, with the hood bolted to the manhole. Hoods form a baffle against floatable litter, preventing large floatables like aluminum cans and bottles from getting into the sewers or stormwater pipes. Hoods are not full-capture devises, and therefore, must be used in-series with other trash capture methods to ensure full capture. Catch basin hoods should be equipped with anti-siphon devices, and coupled with deep-sump catch basins, in order to maximize the capture of both floatable and settleable trash.
---
Catch Basin Fabric Inserts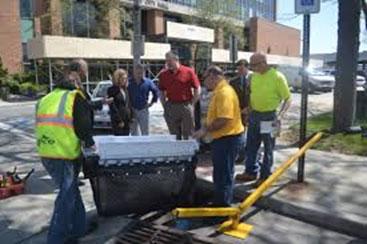 Catch basin inserts are widely used as stormwater best management practices for trash capture. They are a relatively easy and inexpensive retrofit, particularly for older, existing drainage systems where end-of-pipe treatment technologies may be impractical or prohibitively expensive. Permanent inserts usually require steel frames, high-flow bypass, and durable fabric filter material that can hold up to storms, debris loading, and cleanings. These drop-in inserts can allow inspection and cleaning without catch basin grate removal, and may achieve full capture.
In-Line and End of Pipe Trash Capture Technologies
Linear Radial Devices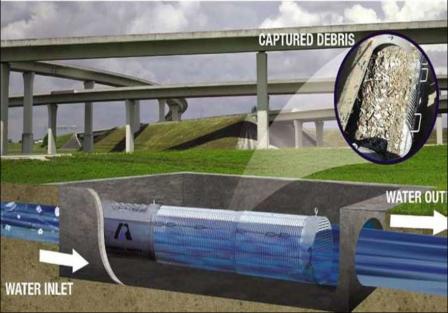 A Linear Radial Device is a rigid louvered linear screen cage constructed in a cement vault. Stormwater and trash enter the cage and the water flows through the cement box while trash is retained within the screen cage. Vacuum trucks and other trash removal equipment are required to clean the units. Installations require adequate space for maintenance. Installations can be shallow, open to the air and screen openings can be custom sized.
---
Hydrodynamic Separators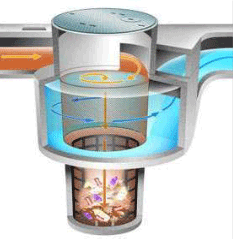 Hydrodynamic separators are widely used in stormwater treatment. They are flow-through structures with a settling or separation unit to remove sediments, floatables, and other pollutants.
Hydrodynamic separators come in a wide size range and some are small enough to fit in conventional manholes. Depending on the type of unit, this separation may be by means of swirl action or indirect filtration.
These inline systems are cleaned using vacuum trucks to pump out trash, sediment, and water that has collected at the bottom. These are generally high flow capacity devices, and can be from 10 to 30 feet deep.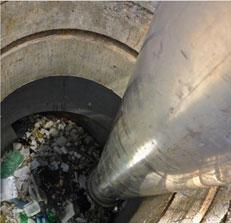 Engineering and installation costs can be quite high, but the devices are long lasting and can capture trash from a considerable area. They can be installed as inline/online or offline units; and can be pre-cast or cast-in-place. The cast-in-place models are meant to handle greater flows. This also means that construction costs will rise, since these are deep installations and require consideration of other nearby infrastructure.
---
Netting Systems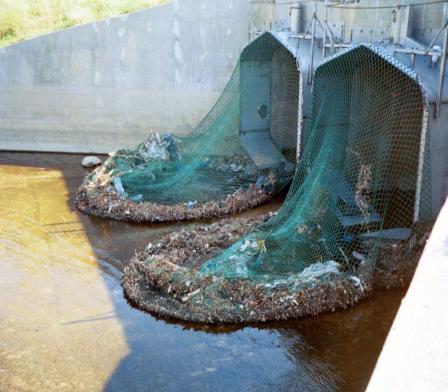 Netting systems may be designed with different size netting for various uses and may be in-line or end-of-pipe systems. In-line netting is installed underground in concrete vaults and functions similarly to the linear removal devices. Netting systems have one or more mesh bags and a metal frame guide system to support the nets. When full, nets are removed and replaced with new nets.
End-of-pipe systems like the one in the photo to the right may be at an actual discharge point to a receiving water, or just a collection point such as this flood channel. Because end-of pipe nets are above ground, they must be inspected at regular intervals to find and repair any damage from vandalism or other factors.
Open Water Trash Capture Technologies
Litter Booms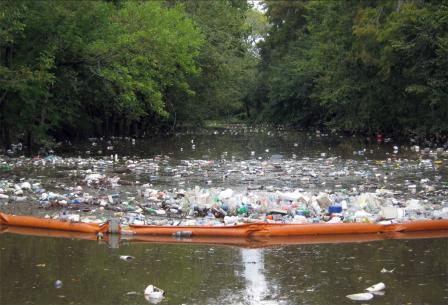 Booms have been widely used to capture floatable trash in waterways. Booms use floatation structures with suspended curtains designed to capture buoyant materials and can also be designed to absorb oils and grease. They are typically anchored to a shoreline and the bottom downstream of one or more outfalls.
Booms are custom-sized based upon the expected volume of floatables that can be released during a storm event. After a storm, material captured in the boom can be removed manually, with an excavator, a by a skimmer vessel.
---
Trash Skimmer Vessels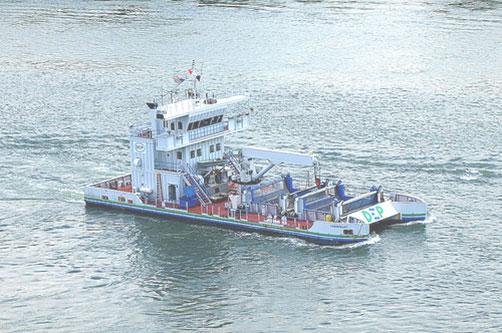 Skimmer vessels are specially-designed boats used to collect floating debris. They almost always require companion equipment, including a shore conveyor for offloading, a truck for disposal, and a trailer for land transport.
Floatables are brought on board the vessel with moving screens on a conveyor belt system, or by lowering large nets into the water. Skimmers are used primarily in lakes, harbors, and bays and are usually custom made to meet site-specific challenges. Skimmers are used around the nation. The New York City Department of Environmental Protection's largest skimmer vessel, 'MV Cormorant,' is shown here.
---
Bandalong Litter Trap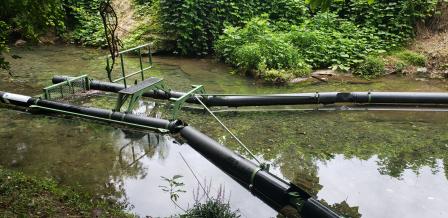 Boom and skimmer concepts have been combined in the Bandalong Litter Trap which is designed to float in waterways, capturing litter by using the current to guide debris into the trap. Anchors hold the floating litter trap in place in waterways, and fish and wildlife can move freely under the trap. 
Bandalongs have been installed in a few locations, including along the Anacostia River in Washington, D.C. and in the Proctor Creek Watershed in Atlanta, Georgia (shown here after a rain event).
---
Trash Trap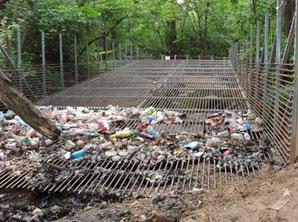 The Nash Run Trash Trap EXIT  shown here was custom designed and constructed for the Nash Run tributary of Washington, D.C.'s Anacostia River. It was designed to mimic Japanese fishing traps and was built with metal rods and posts. 
This inexpensive trap is designed to capture trash throughout the water column. The stream flow pushes trash, leaves, and branches along the screen, keeping the screen free from clogging. Routine maintenance is needed to remove the accumulated trash.
---
Baltimore Harbor Trash Wheel
Here, the boom concept has been ingeniously adapted into the Baltimore Trash Wheel Exit. The solar-powered wheel is equipped with a conveyer belt. Powered by the sun and the river current, the trash wheel turns and garbage and other debris travel up the belt and are deposited into a dumpster for disposal on land. The conveyer belt is able to move pieces of debris as large as tires and mattresses from the waterway to the dumpster. 
---