Region 9 Clean Water Act 106 Reporting Requirements
Overview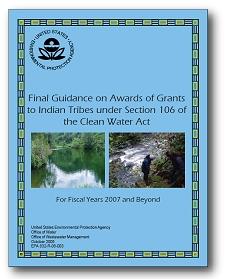 The Guidance on Awards of Grants to Indian Tribes under Section 106 of the Clean Water Act (the Guidance) is intended to help tribal water quality program managers, staff, and other tribal environmental decision makers design and implement effective and successful water quality programs. It also establishes procedures and guidelines for EPA regions to consider when awarding and administering grants to federally recognized Tribes.
Reporting requirements and data management expectations for all Tribal programs are a key component of the Guidance. Tribes are developing tribal assessment reports that contain information about water quality on tribal land and demonstrate national results for the Section 106 Tribal program. A tribal assessment report consists of the following. For each step, regional supplemental information is provided farther down this page:
A description of the monitoring strategy;
— Regional Supplement
A water quality assessment (annual requirement); and
— Regional Supplement
Surface water quality monitoring data submitted electronically in a STORET/WQX-compatible format (annual requirement).
— Regional Supplement
The Guidance and its (non-regional) supplements are available on EPA's national Clean Water Act tribal Section 106 program website, and the STORET-compatible Data Template (also referred to as the WQX Web Template) is available along with other resources at the STOrage and RETrieval and Water Quality eXchange and Water Quality Exchange Web Template Files websites.
The documents below have been developed to assist Tribes in completing reporting requirements. These regional supplements support and further clarify the reporting requirements outlined in the Tribal 106 Guidance, and serve as additional tools for EPA and tribal staff to use as they implement the Guidance.
If you have questions about these materials, please contact your Section 106 Project Officer.
Regional Supplements
Reporting Requirements
CWA §106 Tribal 106 Funding Fact Sheet (Region 9)
Understanding Data Management
WQX Web Resources
Key Water Quality Indicators