VDI Training

Use of VDI only in private controllable spaces
What are Private Spaces?Private spaces are locations where you can control who can see your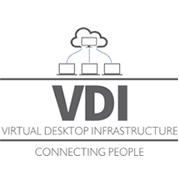 computer screen or gain access to your computer.

These Private spaces can include, but are not limited to, the following:
A separate home office space in a private residence.
A hotel room.
A government office where you can limit and/or control access to the space.
An outdoor space where there is no one around and you can ensure your privacy.
Other areas where you have the ability to limit access to the space and prevent others from viewing your computer screen.