Program Updates - Caño Martín Peña
2019
Work Plan Update
On September 27, 2019 the Caño Martín Peña (CMP) UW Federal Partnership held a meeting for, among other things, discuss the draft CMP Work Plan that will run through 2021. Partners also participated in discussion regarding updated information regarding the Ecosystem Restoration Project as well as San Juan Bay Estuary Program (SJBEP) initiatives that include water quality sampling in the Caño Martín Peña and the watershed.
Israel Bitumul North infrastructure
The Municipality of San Juan (MSJ), the Puerto Rico Aqueduct and Sewer Authority (PRASA) and the Caño Martín Peña ENLACE Project Corporation (ENLACE) are joining efforts to develop the Israel Bitumul North project which consists of three main components:
Potable and wastewater system under the responsibility of PRASA
Stormwater system under the responsibility of the MSJ
Walkway under the responsibility of Enlace
Puerto Rico Department of Environmental and Natural Resources (DNER) State Revolving Fund (SRF) program awarded a $9million subsidy to the MSJ for development of the project. To ensure effective construction method it was determined that funding be used to work on all three components at once, dividing the project in phases. Project construction should commence in 2020.
Comprehensive Infrastructure Master Plan
Enlace issued a Request For Proposal (RFP) for a Comprehensive Infrastructure Master Plan (CIMP) and Schematic Design for the Northern and Southern Region of the Caño Martín Peña & "Paseo del Caño Norte" and Buena Vista Santurce Infrastructure Construction Plans. This is derived from SRF funding obtained in 2018. Green infrastructure is a key and principal element of the Master Plan.
Partnership Meeting
An Urban Waters Federal Partnership meeting was held May 30, 2019 in which the San Juan Bay Estuary Program presented their initiative on developing a Watershed Comprehensive Mitigation Plan to break the cycle of disaster damage, reconstruction and repeated damage and allow for a wider scope than the usual municipal level mitigation plan. The Puerto Rico Planning Board also presented their efforts in updating Mitigation Plans islandwide.
Progress On Infrastructure Projects
The Puerto Rico Aqueduct and Sewer Authority (PRASA) reached an agreement with Enlace that will allow the start of construction, of the Borinquen Potable Water Relocation. This is a critical project for the dredging of the channel. PRASA also finalized an agreement with the Puerto Rico Highway and Transportation Authority to work on the rehabilitation of the Barrio Obrero Marina wastewater vacuum system.
2018
Projects Update
Two Urban Waters Federal Partnership meeting were held (July and September 2018) to discuss progress on ecosystem restoration as well initiatives that included resiliency hubs. Discussions during the meetings also focused on how Hurricane María related recovery and reconstruction funding could help advance projects in the Caño Martín Peña. Partners were encouraged partners to identify and pursue funding opportunities that will accelerate the dredging and the related projects, as Hurricane Maria in 2017 clearly exposed the vulnerability and risks that the clogged channel represents for community residents.
Urban Waters Program Relief Efforts
The Urban Water Program Relief Efforts in the San Juan Bay Estuary watershed is a relief and community support endeavor designed to address immediate Hurricane María relief efforts, as well as, short- and medium-term restoration plans in specific communities identified within the 97 square miles of the urban estuarine ecosystem known as San Juan Bay Estuary in Puerto Rico. The work plan developed for this project was focused in three environmental justice communities within the SJBEP's footprint: Juana Matos and Puente Blanco in Cataño, Caimito in San Juan; and to a lesser extent, Loíza. The work plan was developed in a three-month period with direction, feedback and collaboration from SJBEP's Executive Director and the Urban Water Ambassador (UWA). Community support actions were performed through two Estuarine Urban Waters Coordinators (EUWC) who structured, implemented, adapted and documented a process to provide support to these communities for a year (2018) with guidance from UWA and SJBEP's staff.
Project actions performed included: educational activities for residents (hurricane preparedness, fire prevention, using food scraps to compost, etc.); three (3) maps for communities with GPS coordinates of EUWC observations; added two (2) new sites to SJBEP's water quality monitoring program; leveraged funding (MotorAmbar and Unidos por Puerto Rico) for septic tanks maintenance and assessment. Furthermore, water quality monitoring activities evaluated Enterococcus parameter for each community using the Quanti -Tray Enterolert (IDDEX) method. In this process thirty-five (35) samples were analyzed, and just two (2) of them were below the EPA standard for Enterococcus. Assisted by the UWA, coordination was established with NRCS's Watershed Emergency Program to evaluate four (4) sites in Caimito for debris/vegetative material removal in waterways. Two (2) rapid needs assessments were completed with a response rate of 50 to 60%. The program allowed leveraging additional funding for capacity building as well as other resources. Community meetings and activities were coordinated as part of the effort.
SRF Funding for Green Infrastructure and Comprehensive Water Management Plan
Financial assistance under the State Revolving Fund (SRF) program was identified as a possible alternative for Enlace to develop infrastructure projects comprised in the Comprehensive Development Plan for the Caño Martin Peña. This led to meetings and the establishment of effective communication channels with the state SRF program at the Environmental Quality Board (EQB) that thus allowed Enlace to submit and received approval for a $3.3 million proposal for the following projects that include green infrastructure interventions and proposal derived from a Smart Growth Implementation Assistance Program project developed with EPA:
Comprehensive Water Management Plan for the Northern Region of the CMP $800,000.00 for field studies and development of the plan
North Caño Walkway in Buena Vista Santurce and San Ciprian – Phase IA $686,000.00 for design and construction blueprint
North Caño Walkway and Infrastructure Buena Vista Santurce and San Ciprián-Phase IC (Sewer and Stormwater) $854,000.00 for design and construction blueprints
North Caño Walkway and Infrastructure Buena Vista Santurce and San Ciprián, - Phase 1D $135,000.00 for design and construction blueprints
Phase I – Buena Vista Hato Rey Community baseball park stormwater and subsoil improvements $835,000 for design, mitigation and construction
2017
Hurricanes Irma and María: A Historical Weather Event for Puerto Rico and the Caribbean
Puerto Rico was still recovering from Hurricane Irma, a strong hurricane that almost made landfall September 6-7, 2017, when less than fourteen (14) days after, the Island received the direct impact of Hurricane María. Hurricane María was a powerful hurricane (Category 4-5 in the Saffir-Simpson Hurricane Wind Scale) that pummeled Puerto Rico on September 20, 2017. The island suffered many hours of continuous rain, flooding, tropical storm and hurricane strength gusts, coastal surges, landslides, and even tornados. Validated hurricane data from the National Hurricane Center, revealed precipitation totals ranging from 15 - 44 inches, a record-breaking coastal surge from 2.35 to 5.44 meters over sea level, and hurricane-strength wind gusts recorded over 155 miles per hour.
Caño Martín Peña communities were severely affected by both extreme weather events. Over 70 homes were destroyed with another 1,000 totally or partially losing their roofs. 70% of the CMP community area was flooded. However, the Urban Waters Federal Partnership proved to be an effective platform to help community connect with resources to aid in immediate relief efforts. Within a month 800 tarps were installed and later 500 blue roofs. Direct relief was also coordinated with partners including providing hot meals, drinking water and health related assistance.  Debris removal was also facilitated by partners, as well as, providing three community centers with solar energy installations and storage.
Inauguration of the Caño Martín Peña San Juan Bay Estuary Exhibition at the San Juan International Airport
The San Juan International Airport inaugurated on June 29, 2017 an exhibition showcasing the San Juan Bay Estuary and the Caño Martín Peña.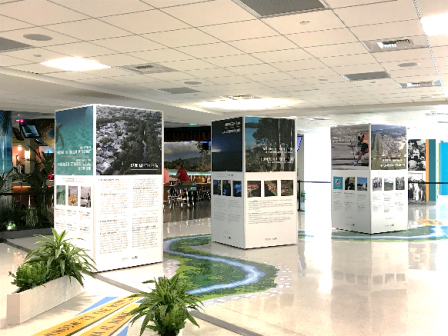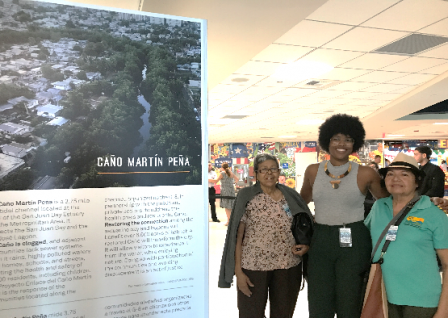 Projects Update
On June 9, the partnership held a meeting that provided an update on the San Juan Bay Estuary, an update from Enlace Corporation, and opportunities for community gardens. Enlace Corporation (Enlace), a main partner Urban Waters partner, is working with the US Army Corps of Engineers (USACE) on several documents related to the Planning Engineering and Design phase for the Ecosystem Restoration Project.  The project was able to obtain the certification of compliance from FEMA for the Floodplain Management Plan and is approval is pending of the Hydrologic Hydraulic Study from the USACE. Project work is focusing on Phase 1A and IB development which would enable the preparation of staging and disposal areas in the San José Lagoon as well as dredging of the entrance channel to the Caño Martín Peña.
Selection for Inspiring Practices of the New Urban Agenda
The Enlace Corporation, a primary partner of the Martín Peña Urban Waters Federal Partnership, was selected as one of four Inspiring Practices of the New Urban Agenda adopted in Quito, Ecuador by the United Nations. The award recognizes the project's integrated approach to urban development, demonstrating tangible results and addressing transversal themes in the areas of climate change, gender equality, human rights and youth.
Smart Growth Workshops
From March 7-10, 2017 the Caño Martín Peña location hosted a series of workshops with EPA Smart Growth program personnel, architects, federal agencies (EPA, USACE), state and municipal government, community leaders, youth organizations, etc. as part of an EPA Smart Growth Implementation Assistance program. These participatory design events enable the development of green infrastructure projects for stormwater management.
2015
$180 million agreement on sewer upgrades
On October 26, the US Environmental Protection Agency, US Department of Justice, and the Municipality of San Juan reached an agreement to make substantial upgrades to storm sewer systems throughout the city. The upgrades and related activities are aimed at eliminating or minimizing daily discharges of large volumes of untreated sewage from the Municipality's storm sewers, and minimizing discharges of other pollutants into nearby water bodies, including the San Juan Bay Estuary, the Atlantic Ocean and the Martin Peña Canal. The estimated cost of the upgrades and actions over the life of the agreement is $180 million.
View the press release for more information. 
Agreement to Restore Caño Martín Peña
On October 30, the U.S. Environmental Protection Agency, the U.S. Army Corps of Engineers, the Commonwealth of Puerto Rico, and the Corporación del Proyecto ENLACE del Caño Martín Peña signed an agreement to assist in the restoration of the ecosystem of the Martín Peña channel. The agreement, detailed in a Memorandum of Understanding, provides the foundation for close collaboration between the entities to carry out the Caño Martín Peña Ecosystem Restoration Project, which will address long-term challenges facing those living near the channel.
View the press release for more information.