Urban Waters Team Wins 2017 Service to America Medal
Message from the Administrator:
Last night, two sets of EPA employees won 2017 Samuel J. Heyman Service to America Medals, better known as the "Sammies," for their work on the Volkswagen settlement and revitalizing urban waters. I want to commend the hard work and leadership of these teams.
It was a proud night for EPA - from the 26 finalists across the eight possible 2017 categories, EPA staff won:
1. Federal Employee of the Year Exit-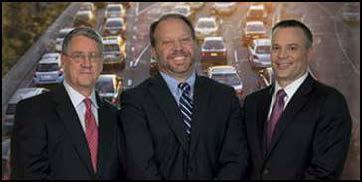 Members of the EPA and Department of Justice team pictured above from left to right: Phillip Brooks – EPA, Byron Bunker – EPA, and Josh Van Eaton – DOJ. (Photo by Braun Film and Video Inc.)Phillip A. Brooks, Office of Enforcement and Compliance Assurance and Byron Bunker, Office of Air and Radiation, along with their Dept. of Justice colleague, Joshua H. Van Eaton, won for their work on the Volkswagen settlement to compensate car owners and fund projects to reduce pollution across the country.
2. People's Choice Exit-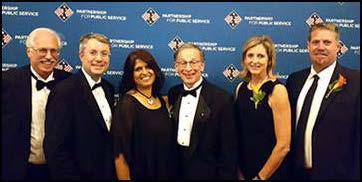 Members of the Urban Waters Team pictured above left to right: Roy Simon – EPA, Ryan Nichols – DOI, Surabhi Shah – EPA, Mike Shapiro – EPA, Lisa Pelstring – DOI, and Morgan Grove – USDA Forest Service.Surabhi Shah and the Urban Waters Federal Partnership got the most votes from the public in the People's Choice category for their work on creating public-private partnerships to clean up urban waterways and surrounding lands, which will help spur economic development and revitalize communities. The partnership includes over 100 innovative leaders across EPA's program and regional offices as well as the departments of Agriculture, Interior, Housing and Urban Development and 10 other federal agencies. Since July, people cast more than 50,000 votes in this category. Out of 430 nominees and after several rounds of voting, the Urban Waters Team was chosen by popular vote for making "the most admirable contribution to the American people."
On behalf of EPA, I want to congratulate Phillip, Byron, Surabhi, and the EPA Urban Waters Team on their awards. They are stellar examples of the hard work and dedication of EPA employees. I thank them for their exemplary service.
We have been working to protect our air, land, and water for future generations and these awards show the importance of this mission.  The Agency's role is to faithfully administerthe laws Congress has passed, while working with states to address environmental issues with robust public participation and the work of these award-winning teams exemplifies these principles.
The Sammies are awarded annually by the Partnership for Public Service. They are designed to highlight excellence in our federal workforce and inspire other talented and dedicated individuals to go into public service.
For details regarding the nomination and selection processes, award criteria, and other pertinent information, please visit the Service to America Medals website Exit. The 2018 nomination cycle is now open and I encourage each of you to nominate your colleagues.
---
Urban Waters Team Finalist for Service to America Medal
The Partnership for Public Service announced that Surabhi Shah and the Urban Waters Federal Partnership team are a 2017 Samuel J. Heyman Service to America medal finalist. The team is being recognized for launching an inclusive public-private partnership to transform lands and waterways into treasured community centerpieces, reversing decades of neglect.  
The nonprofit, nonpartisan Partnership for Public Service gives Service to America medals to exceptional federal employees who are engaged in important work to strengthen national defense, spur the economy, protect the environment, and advance the health safety and welfare of Americans and others around the world.
While the medals are only given to federal employees, the Urban Waters Federal Partnership celebrates this recognition as a testament to the heroic efforts of all of our partners, including both local, state, and federal agencies, as well as community members, nonprofits, foundations, business, and academia.
Read more about the Urban Waters Team's nomination here. Exit