Automobile Industry and Government Emissions Research (AIGER) Cooperative Research and Development Agreement (CRADA)

Background of AIGER CRADA
The current Automobile Industry/Government Emissions Research (AIGER) Cooperative Research and Development Agreement (CRADA) began on October 15, 2003 and has been extended until 2018. This CRADA was a follow-on to an earlier CRADA that ran for 11 years from October 1992 to October 2003. The current five-year Agreement and the ones that preceded it were made possible by the Federal Technology Transfer Act of 1986.
Members of the AIGER CRADA are the U.S. Environmental Protection Agency (EPA), California Air Resources Board (CARB) and USCAR (US Council for Automotive Research, which includes Chrysler Group LLC, Ford Motor Company, and General Motors Company).
The purpose of the AIGER CRADA is to identify, encourage, evaluate, and develop the instrumentation and techniques to accurately and efficiently measure emissions from motor vehicles as required by the Federal Clean Air Act and the California Health and Safety Code. Ultimately, the goal is to ensure that such technologies are commercialized and are readily available to emission testing facilities, programs, and personnel worldwide. The strategies employed are based on openness, sharing, and teamwork. Efforts of the group are focused on technical challenges rather than on regulatory issues.
Statement of Vision
"By the end of the five-year term of this agreement, the equipment, facilities, procedures, and supplies to measure exhaust and evaporative emissions from motor vehicles in an accurate, efficient, and economical manner will be readily available from a number of commercial sources."
Members of the AIGER CRADA Advisory Board
Chrysler Group LLC: Mahmoud Yassine; Morgan LaPan
Ford Motor Company: Mark Guenther, Mike Sherman
General Motors Company: Don Nagy; Thomas Chapaton
USCAR: David Schrumpf; John Ginder
California Air Resources Board: Wayne McMahon; Satya Sardar
U.S. Environmental Protection Agency (NVFEL): Maria Peralta; Dan McBryde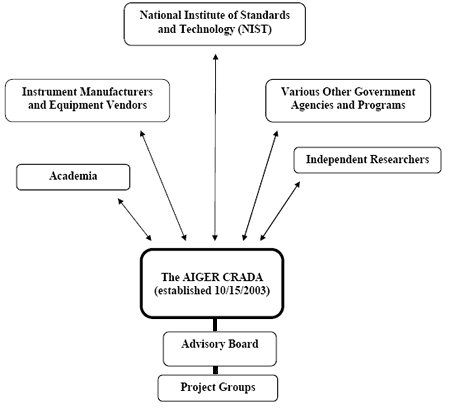 AIGER Projects
Development of Particulate Matter Measurement Technologies

- Compare instrumentation and methods

Development of Measurement Technologies for New Vehicle Concepts

- Compare instrumentation and methods (4WD Dyno Team; PHEV Team)

Development of Measurement Technologies for "New" Species

- Investigate methods to measure "new" and unregulated species (N2O Team)

Evaporative Testing Development 

​- Test protocol and acceptance criteria

Development of Measurement Technologies/QC for Current Vehicles

- US06, zero contamination check, background check procedures (Sampling System Development)

Analyzer Development (bench) FID issues 

- Improve/Develop NMHC analysis to SULEV levels

Gas Panel