Learn About SmartWay Verified Aerodynamic Devices
As a fleet or truck owner, how would you like to save up to 9% on fuel usage when operating your vehicles?
Installing EPA-verified aerodynamic devices on your trailer can save fuel by minimizing aerodynamic drag and maintaining smoother air flow.
Learn more:
Fuel Savings Categories
Aerodynamic devices or device combinations are grouped into the following:
9% Elite level (9% and higher fuel savings)
A SmartWay Elite Aerodynamic Technology Combination has been tested and verified by EPA to perform at Elite levels (9% fuel savings or higher).
5% (5%-8.9% fuel savings)
4% (4%-4.9% fuel savings)
1% (1%-3.9% fuel savings)
Device Categories
The table and image below describes the available device categories.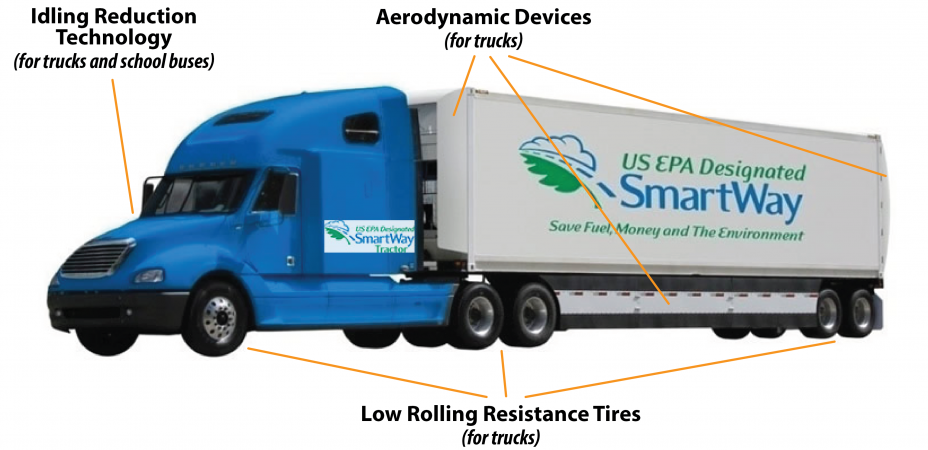 | Device Category | Alternative Name(s) | Description | Suitability |
| --- | --- | --- | --- |
| Gap Reducer | Front Fairing; Nose Device | A device attached to the front of the trailer to minimize the tractor-trailer gap and reduce air turbulence | Not suitable for refrigerated trailers. |
| Tail | Rear Fairing; Boat Tail | A rear device that reduces the drag from the low pressure wake behind the trailer. | N/A |
| Skirt | Under Fairing; Side Fairing | A device installed on the underside of a trailer to reduce air flow and  turbulence in front of the rear wheels | Cannot be used with other under trailer devices |
| Under Trailer Device (non-skirt) | Under Fairing | A device installed under the trailer, but unlike a skirt that reduces air flow, this device channels it to reduce turbulence. | Cannot be used with a skirt |
| Aerodynamic Splash Guard | Tire Mud Flap | Aerodynamic splash guards reduce drag by redirecting or blocking less air compared to conventional splash guards. Splash guards may be required by state or local laws. Please check applicable state regulations for details. | Compatible with most other aerodynamic technologies |
| Other Trailer Device | N/A | Any other aerodynamic device that may reduce drag for the 53' box or refrigerated trailer. | May not be be suitable for combining with other devices without additional testing. |
When using aerodynamic devices together, please keep in mind that not all devices can be installed on the same trailer at the same time and certain untested combinations cannot guarantee performance.
Test Methods and Protocols
SmartWay allows three primary verification test methods and one supplemental method (CFD). At this time, CFD cannot be used as a standalone test method for verification.
Wind Tunnel Test
This test uses a test chamber to evaluate air flow around an object and is often used for measuring the aerodynamic efficiency of vehicles and airplanes. Testing tends to be smaller than full-scale, as tunnels operate at 1/3 or 1/8 scale.
Learn more: Aerodynamic Wind Tunnel Testing
Track Testing
This method  measures fuel usage and savings with full-scale vehicles and technologies on an outdoor test track. This method is most similar to highway driving.
Learn more: Aerodynamic Track Testing
Coastdown Testing
Traditionally used for light-duty, coast-down testing accelerates a full-scale tractor-trailer to a certain speed before disengaging the engine and drive train. The time it takes the truck to "coast down" to a lower speed is measured and used to calculate aerodynamic drag, fuel usage, and savings.
Computational Fluid Dynamics (CFD) (Supplemental only)
CFD is a computer simulation tool that models a vehicle's movement on the road or in a virtual tunnel. CFD analyses are performed with computer software to estimate a vehicle's aerodynamic drag based on the vehicle's geometry, speed, and ambient air conditions. At this time, CFD is a supplemental test method only, meaning that it must be used with another method for verification purposes.
Benefits of Multiple Test Methods
EPA encourages technology manufacturers to use multiple test methods. Diversified device testing with a consistent outcome gives customers confidence in product reliability. Results from  secondary test methods can support the original verification outcome even though there may be some differences between test methods for the same device.
Test Protocols
In 2014, EPA expanded the test protocols for SmartWay to include the four test methods above. For more information on these protocols, please contact