Economic Impact of Water Technology Innovation Clusters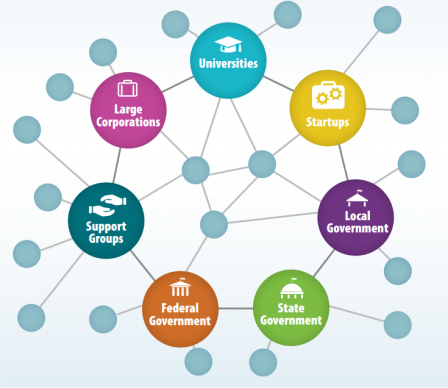 Across the United States, water technology innovation clusters are producing new cost-effective technologies, creating jobs, and improving the quality of our nation's water infrastructure. These "clusters" are groups of people from the private, public, and academic sectors who share information and resources to spur economic development in their own regions' water industries.
Water clusters most commonly fulfill their mission by supporting the development of new businesses, expanding products and services of existing businesses, hosting meetings and conferences, conducting outreach campaigns, providing funding opportunities, and organizing training events for members. EPA supported the development of many clusters throughout the country (see examples below), advised clusters on their development as requested, and tracked the clusters nationally. Having developed the clusters initiative into a robust program, EPA transferred coordination of the program to the Water Environment Federation (WEF). WEF now oversees the program through its Leaders Innovation Forum for Technology (LIFT) and works with the Water Council, AccelerateH2O and other clusters to foster the development of innovative technologies.
The following links exit the site Exit
The Water Council. This water cluster in Milwaukee, Wisconsin, has found tremendous success in forging connections between universities, businesses, and governments around the region, nation, and world. Between 2010 and 2014, Milwaukee's Water Technology District spurred $211.6 million in water infrastructure development, resulting in a 16.6 percent increase in overall property value for the District. Milwaukee's water industry is now valued at $10.5 billion.
AccelerateH2O. In Texas, the AccelerateH2O water cluster has facilitated innovation in desalination of brackish water, industrial wastewater reuse, water management software, and many other water technologies. It estimates that its network encompasses about 1.4 million Texans, with 340,000 employed directly in the water and related technology sectors and another 1 million in sectors that depend on the consistent and ready flow of water (e.g., agriculture, recreation).