The EPA National Water Program published its final FY 2017 National Water Program Guidance (NWPG) Addendum in April, 2016.
FY 2017 NWPG Addendum with Measure Defintions by Program Area (Subobjectives)
To access full text of the FY 2017 NWPG Addendum click here.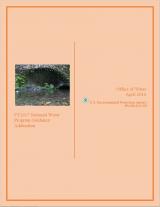 Measure Definitions:
You may need a PDF reader to view some of the files on this page. See EPA's About PDF page to learn more.