Experimental Permeable Pavement Parking Lot and Rain Garden for Stormwater Management
EPA's Edison Environmental Center in Edison, NJ, needed a 110-vehicle-capacity parking lot for facility staff and visitors. EPA researchers took this opportunity to design a parking area using low impact development (LID) controls and conduct long-term stormwater management studies. They used permeable pavement and rain gardens, two types of LID green infrastructure practices. Scientists and engineers are evaluating the ability of these practices to reduce negative effects of stormwater runoff, including stream bank erosion, contamination of water sources, and harm to aquatic plant and animal life.
The goal is to demonstrate and document the performance and capabilities of three permeable pavement systems: porous asphalt, pervious concrete, and permeable interlocking concrete pavers. Rain gardens were added to capture any runoff from the impervious sections of the parking lot, as well as the sidewalk and nearby roof runoff. The parking lot is monitored for water quality performance; maintenance effects; parking behavior; and 
hydrologic performance, including 
the ability to accept, store, infiltrate, and evaporate stormwater.
Permeable Parking Lot Design and Construction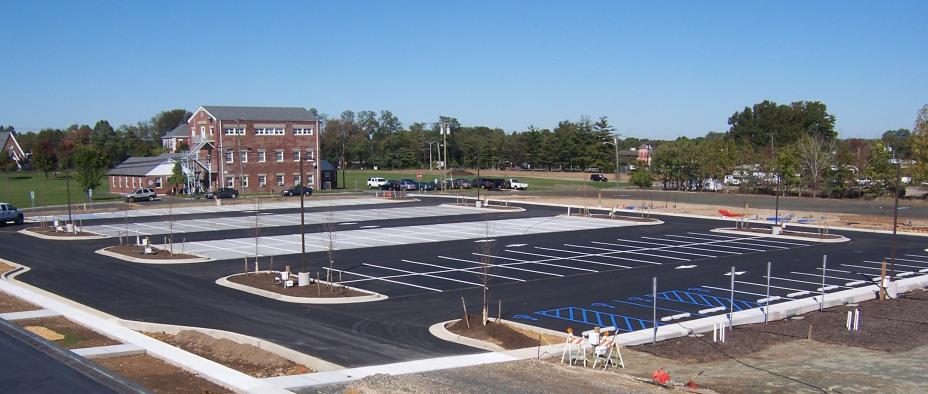 The project removed existing concrete from the nearly 300,000-square-foot parking area and graded the surface, reusing the crushed concrete as a sub-base material. The project installed three types of permeable pavement surfaces and conventional asphalt in a 1-acre parking lot.  The design includes 28 parking stalls made of permeable interlocking concrete pavers, 41 parking stalls made of pervious concrete, and 28 parking stalls of porous asphalt. Thirteen conventional asphalt stalls were installed to serve as an experimental control. The 25-foot wide driving lanes have conventional asphalt. Runoff from this area drains onto the permeable pavement surfaces.
For each permeable pavement type, an impermeable liner was installed 16-inches below the permeable pavement surface in four, 15.6-ft by 38-ft sections.  This water seeps into to below-grade tanks for collection, measurement, and sampling. This allows the researchers to test each material's response to a variety of pollutants (e.g., chloride, nutrients, heavy metals, suspended solids, pH, and semi-volatile organic compounds). The collection tanks can capture up to 1.5 inches of water. To identify sources of pollutants, infiltrate samples are compared to rainwater samples and stormwater runoff samples taken from the conventional asphalt spaces that drain into the rain gardens on the southern-end of the parking lot. 
Rain Garden Design and Construction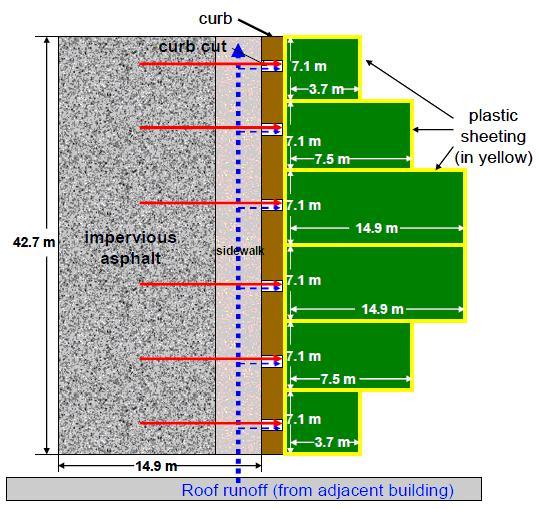 This bird's eye view schematic diagram details the design of the rain gardens. The rain gardens consist of six separate cells represented by solid green rectangles, which are hydrologically isolated from each other. EPA researchers installed 3/8 inch-thick plastic sheeting to a depth of four feet (represented by yellow lines). The six cells receive stormwater runoff (represented by red arrows) from an impervious section of the parking lot and adjoining sidewalk through curb cuts at the south end of the parking lot. Stormwater runoff from the roof of the adjacent building is collected from multiple downspouts and moved beneath the sidewalk in an 8-inch diameter pipe (represented by a thick dashed blue line). A dedicated 4-inch diameter pipe (represented by thin dashed blue lines) distributes the roof runoff upward into each bio-infiltration unit just south of the curb cuts.
The drainage area to all six cells is roughly equal, about 6,100 square feet. However, because they are different sizes, the cells represent different percentages of their drainage areas. The smallest cells are about 4.5% of their drainage areas, the medium-sized cells 9%, and the largest cells 18%. Each cell size is duplicated for statistical purposes, and both cells of each size are planted with the same plants. All cells are equipped with instrumentation for measuring the occurrence and timing of the stormwater as it infiltrates through the rain gardens during and following storm events. EPA installed small observation wells at different depths in the center of each rain garden to quantify the subsurface accumulation of infiltrating water.
Three years after planting, EPA examined and documented the growth habits of shrubs spatially in relation to the source of runoff water. This research provided a more complete understanding of the effects of rain gardens on plant health.
Publications
Related Links