PFAS Analytical Methods Development and Sampling Research
Information on this Page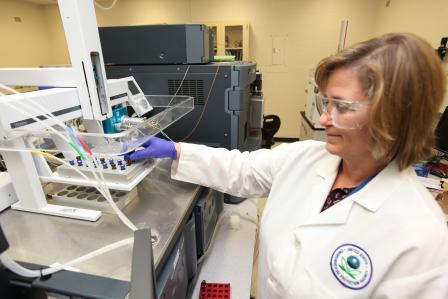 Disclaimer: Any mention of trade names, manufacturers, or products does not imply an endorsement by EPA. EPA and its employees do not endorse commercial products, services, or enterprises.
Per- and polyfluoroalkyl substances (PFAS) are a large class of synthetic chemicals that present numerous analytical challenges, including their widespread presence in a variety of environmental samples, occurrence of isomers for some compounds, and precursor transformations that may occur during preservation and storage of the samples. EPA's methods for analyzing PFAS in environmental media are in various stages of development and validation.
EPA scientists are developing validated analytical methods for drinking water; groundwater; surface water; wastewater; and solids, including soils, sediments, biota, and biosolids, which may eventually become standard methods or research methods. Visit EPA's status of PFAS research and development webpage to get updates about this and other PFAS research.
Understanding Targeted vs. Non-Targeted Analysis
Targeted Analysis: These analyses include methods that are applicable to a specific defined set of known analytes. Analytical standards exist for quantitation and methods only measure for analytes on the targeted list; once the analysis is complete, you can't look for other analytes.
Non-Targeted Analysis: These analyses include methods that use high resolution mass spectrometry (HRMS) capable of identifying all known and unknown analytes in a sample. In order to identify unknown compounds, liquid chromatography/tandem mass spectrometry (LC/MS/MS) analyses are applied and followed by quantification if an adequate standard exists. Otherwise, semi-quantitation may be possible based on known, structurally similar analytes. These methods can screen for lists of known suspects and can discover new or unknown analytes. HRMS data can be stored and analyzed later for newly identified analytes.
---
Standard Analytical Methods
Standard methods are methods that have been through a laboratory validation process following a particular rulemaking or guidance effort and are available to support regulatory or guidance activities.
Media
Method
Description
Drinking (Potable) Water
EPA develops drinking water methods in support of the Safe Drinking Water Act (SDWA).
Information on SDWA method development protocols
Method 537.1: Determination of Selected PFAS in Drinking Water by SPE and LC/MS/MS  (2018/2020)

EPA method for the determination of 18 PFAS in drinking water, including HFPO-DA (one component of the GenX processing aid technology). First published in 2009 for the determination of 14 PFAS, this method was updated as more PFAS, that have the potential to contaminate drinking water, have been identified or introduced as PFOA/PFOS alternatives in manufacturing.

Note: Method 537.1 was updated in 2020 to version 2.0. The only updates were editorial and did not include any technical revisions.

Method 537: Determination of Selected PFAS in Drinking Water by SPE and LC/MS/MS (2009 - listed for historical purposes)

EPA method for the determination of 14 PFAS in drinking water.

Note: This is referenced for historical purposes only. Method 537 was updated in 2018 to Method 537.1 (above).

Method 533: Determination of PFAS in Drinking Water by Isotope Dilution Anion Exchange SPE and LC/MS/MS (2019)
EPA isotope dilution method developed to support measurements for the Fifth Proposed Unregulated Contaminant Monitoring Rule (UCMR) sampling effort. This method targets "short chain" PFAS (none greater than C12), including perfluorinated acids, sulfonates, fluorotelomers, and poly/perfluorinated ether carboxylic acids. Method 533 measures a total of 25 PFAS.
Non-Potable Water and Other Environmental Media
EPA develops methods for aqueous and solid (e.g., soil, biosolids, sediment) samples primarily through the Clean Water Act (CWA) and methods for solid waste (SW-846) under the Resource Conservation and Recovery Act (RCRA).
Method 8327: PFAS Using External Standard Calibration and MRM LC/MS/MS (2019)
Direct injection method for non-drinking water aqueous (groundwater, surface water, and wastewater) samples. Validated for 24 analytes.

SW-846 Isotope Dilution Method (coming soon)

EPA is collaborating with the U.S. Department of Defense to develop an isotope dilution method for non-drinking water aqueous matrices (surface water, groundwater, wastewater influent/effluent, landfill leachate), fish tissues, biosolids, soils, and sediments.

Note: EPA and the Department of Defense are collaborating on the development of this method. A draft method will be posted by EPA after validation studies are complete.

Source (Air) Emissions

There are diverse sources of emissions, including chemical manufacturers, commercial applications, and thermal treatment incineration processes. EPA is developing test methods for measuring PFAS source emissions.

EPA method that measures PFAS air emissions from stationary sources.  This method will help other federal agencies, states, tribes, and communities have a consistent way to measure PFAS released into the air.  Currently, OTM-45 can be used to test for 50 specific PFAS compounds. In addition to testing for these 50 specific PFAS, the method can also be used to help identify other PFAS that may be present in the air sample, which will help improve emissions characterizations and inform the need for further testing.

EPA intends for the scientific community to provide feedback on OTM-45. EPA will consider and incorporate feedback to keep improving the method. Scientists and stakeholders can learn more about the process for submitting feedback in the introduction text of the method document.

SW-846 Test Method 0010: Modified Method 5 Sampling Train
For semi/non-volatiles. A performance-based, Modified Method 5 that uses an isotope dilution train approach for GC/MS targeted and non-targeted analysis.
Modified Method TO-15
For volatiles. Uses SUMMA canisters for GC/MS targeted and non-targeted analysis.
Ambient Air

EPA is considering both sampling and analysis methods, targeted and non-targeted for PFAS ambient air measurements. Applications will include fenceline monitoring for fugitive emissions, deposition, and receptor exposure.

Ambient/Near-Source
(coming soon)

Field deployable Time of Flight/Chemical Ionization Mass Spectrometer for real time detection and measurement.

Semivolatile PFAS
(coming soon)

A performance-based method guide by EPA TO-13a.

Volatile PFAS
(coming soon)

Uses SUMMA canisters and sorbent traps for GC/MS targeted and non-targeted analysis.

Total
These types of methods aim to quantify large groups of PFAS in environmental samples.

Total Organic Fluorine (TOF)
(coming soon)

EPA is developing a potential rapid screening tool to identify total PFAS presence and absence. This eventual standard operating procedure will be used to quantify TOF.

Note: EPA is working to develop this method in 2021.

Total Organic Precursors (TOP)
(coming soon)

EPA is considering the development of a method, based on existing protocols, to identify PFAS precursors that may transform to more persistent PFAS.

Note: TOP methods are commercially available. EPA will consider the need for a thorough multi-laboratory validation study in 2021.
Research Methods: Standard Operating Procedures
The following Standard Operating Procedures (SOPs) were used to conduct the the research described in the associated publications. The SOPs listed are not official EPA methods and have not been validated. They were reviewed and approved internally by EPA to meet data quality objectives associated with specific research projects. EPA made these SOPs available as a reference for anyone interested in pursuing additional research, and/or modifying or implementing some of the procedures. 
This section is still in development and will be coming soon.
Other Federal Analytical Methods (Non-EPA)
Other U.S. federal agencies have developed and published methods; more information is available on those agencies' sites.
U.S. Department of Agriculture (USDA):
U.S. Food and Drug Administration (FDA):
U.S. Geological Survey (USGS):
U.S. Department of Defense (DOD):
Centers for Disease Control and Prevention (CDC):
Sampling
The following resources can be used as a starting point for identifying sampling protocols for PFAS in environmental media:
Data Analysis
Laboratory Certification
Non-Governmental Resources
Other laboratories provide access to obtain standards and reference materials.