Understanding the significance and potential growth of pathogens in piped water systems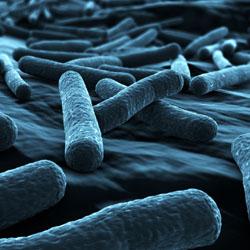 Each year in the U.S., between 8,000 and 18,000 people are hospitalized with Legionnaires' disease — respiratory infection resulting from exposure to contaminated water aerosols from engineered water systems. Many infections are not diagnosed or reported, so the actual number may be considerably higher.
The disease is caused by a type of bacteria that grows in warm water called Legionella pneumophila. This bacterium not only causes respiratory infections in people who use engineered water systems like piped drinking water, cooling towers, fountains and humidifiers, it may also contribute to a significant number of community-acquired pneumonia cases via domestic plumbing exposures. Many other similar kinds of opportunistic bacterial pathogens can grow in drinking water systems. These include disease-causing agents—such as non-tuberculous mycobacteria—which can impact people with compromised immune systems.
There is currently no standard method described by EPA to assess the occurrence of Legionella bacteria or its control within engineered water systems. Internationally, culture-based methods are standard, however, these methods may miss more than 90 percent of active infectious cells present (i.e., active but not able to be grown in culture). Hence, improved ways to assess the performance of disinfectants and Legionella growth in drinking water are needed to protect people from illnesses associated with these pathogens.
Scientists from EPA and the Centers for Disease Control and Prevention (CDC) are assessing the diversity and human health significance of Legionella and mycobacteria At EPA, scientists are also looking into how Legionella gene activity changes when it grows within amoebae and other free-living protozoa that naturally feed on bacteria in drinking water systems. In particular, scientists are trying to determine how different disinfectants used to treat drinking water influence the microbial ecology that supports or suppresses Legionella and non-tuberculous mycobacteria growth in drinking water distribution systems.
To date, EPA scientists have identified a range of amoebae that may support Legionella and mycobacteria cell growth in drinking water. They have found that slight water temperature changes can influence the growth potential of different pathogenic strains of Legionella and their supporting host amoebae. This data forms part of the input for a mathematical model that is helping EPA scientists describe critical numbers of Legionella in water pipe biofilms (slimes), shower head water, and bathroom aerosols that could be inhaled. Researchers are also modeling different ways and locations where Legionella can be controlled to help shape recommendations for its control strategies. These results will provide scientific data to inform the next generation of EPA drinking water safety standards and associated plumbing codes.
Additional Information: