Urban Street Trees and Green Infrastructure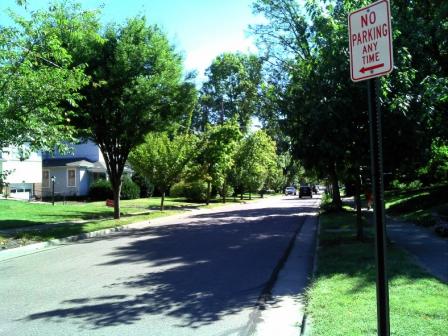 Municipal street trees are trees in the public right-of-way and are a key part of public green infrastructure in many cities. Street trees provide benefits that promote sustainability and help alleviate environmental problems.
Urban areas often experience higher temperatures than their surrounding areas, due to the urban heat island effect. Street trees can help combat this problem by providing shade and decreasing building energy use. Additionally, trees can help cities control stormwater runoff because their leaves, stems, and roots slow rain from reaching the ground and capture and store rainfall to be released later. Street trees can provide other benefits, such as improved air quality, carbon storage, reduced noise, and aesthetic value.
EPA is addressing the following questions through research:
(1) Can street tree structure (i.e., numbers, sizes, and species composition) and associated benefits be explained by management practices, socioeconomic conditions, or historical or geographic factors? If so, which factors are most important?
(2) How might invasive pests affect street trees and associated benefits? Which communities are most at risk for pest devastation? What management strategies could best maintain street trees through a pest outbreak and into the future?
(3) How will existing street tree structure and associated benefits change in the future under various scenarios of tree growth and mortality, management practices, and unexpected events like pest outbreaks?
Resources