Village Blue
Real-Time Water Quality Monitoring to Help Communities Better Understand Local Water Quality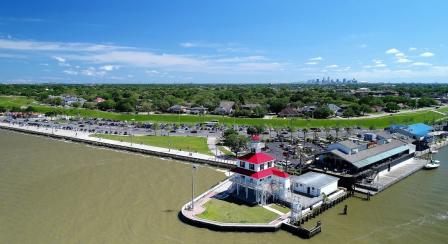 Village Blue's new sensor deployment site on the south shore of Lake Pontchartrain. Photo: Lake Pontchartrain Basin FoundationEPA and the U.S. Geological Survey (USGS) initiated the Village Blue project to increase public awareness about local water quality in the Baltimore Harbor and the Chesapeake Bay. The project was conducted in Baltimore from 2017-2019. A new Village Blue site is currently under development in New Orleans to help communities better understand Lake Pontchartrain's water quality and its connection to the Mississippi River.
Village Blue Baltimore provided real-time water quality monitoring data to the Baltimore community and complemented work already being done toward the Waterfront Partnership of Baltimore's goal of making Baltimore Harbor swimmable and fishable by 2020.
Village Blue builds on EPA's Village Green project, which provided real-time air quality information to communities in eight locations across the country.
---
Where is Village Blue monitoring water quality?
New Orleans, Louisiana
Station Location: New Canal Lighthouse, 8001 Lakeshore Dr, New Orleans, LA
Installation: Early 2020
EPA and USGS plan to install a water sensor site near the New Canal Lighthouse on the south shore of Lake Pontchartrain during mid-2020. The sensors will record measurements of select water quality parameters every 30 minutes.
Although water sensor data from the new site is not representative of the entire lake's water quality, data from this site and an existing USGS site on the Mississippi River in Baton Rouge could be combined, allowing river and lake conditions to be evaluated separately under normal conditions on the river, and in combination when river and lake waters come together during openings of the Bonnet Carré Spillway. The spillway is a feature of the U.S. Army Corps of Engineers' Mississippi River and Tributaries Project that diverts floodwaters from the Mississippi River through Lake Pontchartrain into the Gulf of Mexico.
Baltimore, Maryland
Station Location: Jones Falls River, 370 ft. downstream of Eastern Ave., Baltimore, MD
Installation: September 2017
Decommissioned: December 2019
From 2017-2019, Village Blue Baltimore provided real-time water quality monitoring data to the Baltimore community and complemented work already being done toward the Waterfront Partnership of Baltimore's goal of making Baltimore Harbor swimmable and fishable by 2020.
To monitor water quality in the Jones Falls River and Inner Baltimore Harbor, data were collected in real-time by water sensors located underwater between the Eastern Avenue Bridge and the Waterfront Partnership of Baltimore's Mr. Trash Wheel. Multiple water sensors were connected to probes that recorded measurements of selected water quality parameters every five minutes.
---
What do Village Blue sensors measure?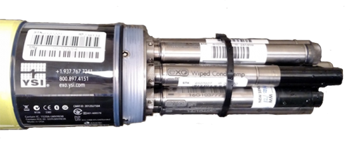 Example of a Village Blue water quality sensor, which uses multiple probes to measure indicators of water quality.Village Blue Lake Pontchartrain measurements:
Algae
Chlorophyll
Turbidity
Dissolved Oxygen
Nitrate
Temperature
pH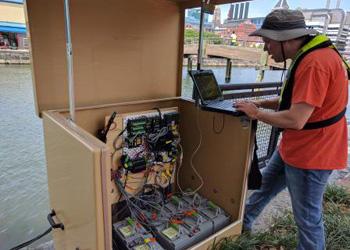 A USGS staff member reads data collected by the Village Blue Baltimore water quality sensors.Village Blue Baltimore measurements:
Precipitation
Gage Height
Stream Velocity
Turbidity
Salinity
Dissolved Oxygen
Nitrate
Temperature
pH
---
How can I view Village Blue data?
Real-time Village Blue data can be viewed on USGS's National Water Information System (NWIS) website:
Village Blue Lake Pontchartrain NWIS Data (Coming Soon)
Village Blue Baltimore NWIS Data
Real-time data is no longer being streamed from the Baltimore location, but historical data can still be accessed via NWIS.
---
How does this project benefit communities?
Village Blue's monitoring data helps close water quality information gaps, giving citizens and professional scientists more data to inform communities, policies, and environmental restoration efforts.
Water quality monitoring data can help communities take action to keep local watersheds healthy. Watersheds—the land areas that drain into streams, lakes, and rivers—directly impact the health of the water bodies and communities they surround. Learn more about the benefits of healthy watersheds.
In Baltimore, Village Blue accomplished the following:
Provided important water quality information from the Jones Falls to help determine the impact of this important source on the Baltimore Harbor.
Supported the development of new water quality sensors by conducting a demonstration and test implementation.
Increased public awareness of water quality and ecosystem health through integration and visualization of real-time water quality data.
Produced an open source Village Blue data integration and visualization framework and how-to manual, which can be used local and by other communities wanting to develop their own Village Blue stations.
Village Blue Lake Pontchartrain will build on the accomplishments of the Baltimore station to provide the following:
Real-time water quality information on nutrients and potential algal blooms to help users develop a greater understanding of water quality issues, such as the ways that heavy rainfall can contribute to changes in nitrate, turbidity, and dissolved oxygen levels in water bodies.
---
Who are the partners on Village Blue?
Village Blue Lake Pontchartrain Partners:
The Village Blue Lake Pontchartrain partners presently include EPA's Office of Research & Development (ORD), EPA Region 4 and Region 6, EPA Gulf of Mexico Division, and EPA's Regional Applied Research Effort (RARE) Program. Village Blue was funded with RARE funds from ORD's Regional Science Program.
EPA is partnering on this work with USGS, Pontchartrain Conservancy, and the U.S. Army Corps of Engineers, but the project's coordinators also plan to partner with other local organizations. EPA and USGS are looking for community and academic partners interested in water quality, water quality sensors, ecological and human health, and communication of water quality in formation. The project may also provide opportunities for additional research efforts.
U.S. Geological Survey (USGS)
USGS is collaborating with EPA to establish, operate, and maintain a new water-quality monitoring station on the south side of Lake Pontchartrain that will feature a comprehensive water-quality sensor system following USGS quality assurance procedures. 

Pontchartrain Conservancy EXIT
Pontchartrain Conservancy works to drive environmental sustainability and stewardship through scientific research, education, and advocacy. As an organization that has led water quality sampling efforts in the Lake Pontchartrain estuary since 2001, Pontchartrain Conservancy will use Village Blue Lake Pontchartrain as a way to engage the public in preserving the estuary for this and future generations.

U.S. Army Corps of Engineers (USACE)
USACE is working with Pontchartrain Conservancy to monitor for algal blooms at beaches along Lake Pontchartrain. USACE and Pontchartrain Conservancy will collect water quality measurements to provide an immediate indication of the severity of any algal bloom that may be occurring. The main objective of monitoring is to help ensure beaches are safe for public use.
Village Blue Baltimore Partners:
---
Resources
---
Contact Us
Contact the Village Blue Team for technical questions or additional information on Village Blue.