NHDPlus (National Hydrography Dataset Plus)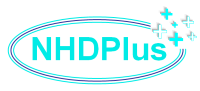 National Hydrography Dataset Plus (NHDPlus) is a national geospatial surface water framework. Geospatial analysts and modelers use this framework to support water resources applications. The U.S. EPA developed and maintains NHDPlus in partnership with the U.S. Geological Survey.
Information about NHDPlus is contained on the following pages:
Basic Information - describing NHDPlus ingredients and data products
Get Data - download NHDPlus Version 2 data
Learn More - about NHDPlus documentation, tools, applications, news and events
If you would like to receive periodic emails about the availability of NHDPlus data, tools and updates, please send your name, phone number, organization, and email address to NHDPlus Support (nhdplus-support@epa.gov).