WATERS GeoViewer
Description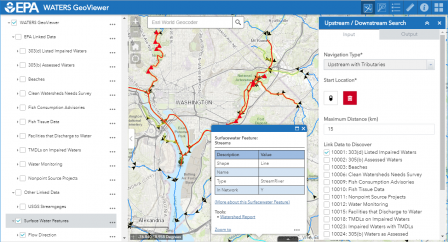 Click on the map to launch the application
The WATERS GeoViewer tool is an EPA GeoPlatform based web mapping application that provides access to
Linked Data information, along with hyperlinks to web reports containing additional attribute information.
interactive Upstream / Downstream Search capabilities supporting Linked Data discovery.
interactive Watershed Delineation.
underlying EPA GeoPlatform items that can be used to create other mapping applications.
Additional information about using the WATERS GeoViewer tool can be found in the WATERS GeoViewer tutorial.