EPA at WEFTEC 2020
EPA Participation at WEFTEC Connect
October 5-9, 2020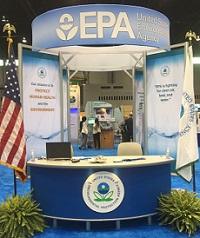 EPA participates in the Water Environment Federation Technical Exhibition and Conference (WEFTEC Connect) to coordinate with the water infrastructure industry, promote agency programs, network with water utility and industry partners, share ideas, resources and tools, and learn about industry best practices.
During WEFTEC, EPA communicates with water infrastructure stakeholders on a variety of agency programs and priorities. These efforts typically fall under five key themes: water quality, technology and innovation, drinking water, resilient utilities, and infrastructure finance. For EPA, WEFTEC represents a key venue for coordinating and exchanging information with the water infrastructure industry.
While WEFTEC Connect is entirely virtual this year, EPA is still actively participating with several pre-recorded technical session presentations, a virtual exhibition booth, and a scheduled live keynote address from EPA Administrator Andrew Wheeler.