National Water Reuse Action Plan Launch Event
On February 27, 2020, at an event at the U.S. Environmental Protection Agency (EPA) headquarters in Washington, D.C., EPA Administrator Andrew Wheeler, U.S. Department of the Interior Secretary David Bernhardt, and U.S. Department of Agriculture Secretary Sonny Perdue, and White House Council on Environmental Quality Chairman Mary B. Neumayr joined federal, state, tribal, local and water sector partners to announce the National Water Reuse Action Plan: Collaborative Implementation (Version 1). The actions that EPA and its partners committed to in the Action Plan will help strengthen the sustainability, security and resilience of our nation's water resources by creating new partnerships, providing accountability and promoting communication and transparency with a new Online Platform.
More than 100 representatives from across the water user community joined EPA at the launch event. Numerous other participants viewed the event remotely through EPA's live online video feed. As part of event's proceedings, certain individual Action Leaders commented on their organization's role in implementing parts of the Action Plan. In addition to in-person speakers, the event included video contributions from Action Leaders participating from across the nation and the world. To relive the launch event, a recording of the entire meeting is accessible in the green box at right. A complete desktop-published version of the meeting agenda is available for download, as well.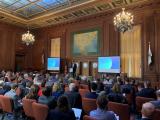 Provided below is the agenda from the entire launch event, with accompanying links to specific timestamps for individual speakers. The very beginning of the opening remarks are missing from EPA's recording.
The following links exit the site Exit
Agenda
Launch of the National Water Reuse Action Plan—Federal Leadership
Administrator Andrew Wheeler, U.S. Environmental Protection Agency
Starts at 0:00
Secretary David Bernhardt, U.S. Department of the Interior
Starts at 3:08
Secretary Sonny Perdue, U.S. Department of Agriculture
Starts at 8:08
Chairman Mary Neumayr, Council on Environmental Quality
Starts at 14:46
Governor Kevin Stitt, Oklahoma (video remarks), introduction by Kenneth Wagner, Oklahoma Secretary of Energy and the Environment
Starts at 18:36
National Water Reuse Action Plan—Collaborative Implementation
Actions to Support Implementation of Water Reuse
David Ross, Assistant Administrator for Water, U.S. Environmental Protection Agency
Starts at 23:12
Perspectives from Water Reuse Practitioners
Gilbert Trejo, Chief Technical Officer, El Paso Water, TX
Starts at 28:58
Christophe Cros, Chairman, SUEZ North America
Starts at 34:25
Paul Jones, General Manager, Eastern Municipal Water District, CA
Starts at 40:40
Example Actions by WRAP Leaders – Video Collage
Patricia Sinicropi, Executive Director, WateReuse Association
Starts at 46:44
Paula Kehoe, Director of Water Resources, San Francisco Public Utilities Commission
Starts at 47:29
Adam Krantz, CEO, National Association of Clean Water Agencies
Starts at 48:22
Alon Zask, Senior Deputy Director General for Natural Resources, Israeli Ministry of Environmental Protection
Starts at 49:20
International View – Taking the WRAP Global
Marcia Bernicat, Principal Deputy Assistant Secretary, U.S. Department of State
Starts at 51:21
Federal Leadership and Commitment
Dr. Tim Petty, Assistant Secretary for Water and Science, U.S. Department of the Interior
Starts at 55:53
Daniel Simmons, Assistant Secretary, U.S. Department of Energy
Starts at 58:15
Ryan Fisher, Principal Deputy Assistant Secretary, U.S. Army Corps of Engineers
Starts at 1:02:49
Brenda Burman, Commissioner, Bureau of Reclamation, U.S. Department of the Interior
Starts at 1:06:22
Matt Lohr, Chief, Natural Resources Conservation Service, U.S. Department of Agriculture
Starts at 1:10:30
Closing Remarks – Our Collective Commitment to WRAP Implementation
David Ross, Assistant Administrator for Water, U.S. Environmental Protection Agency
Starts at 1:15:05