About WaterSense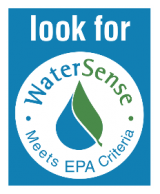 WaterSense, a voluntary partnership program sponsored by the U.S. Environmental Protection Agency (EPA), is both a label for water-efficient products and a resource for helping you save water.
The WaterSense label makes it simple to find water-efficient products, new homes, and programs that meet EPA's criteria for efficiency and performance. WaterSense-labeled products and services are certified to use at least 20 percent less water, save energy, and perform as well as or better than regular models.
WaterSense partners with manufacturers, retailers and distributors, homebuilders, irrigation professionals, and utilities to bring WaterSense to your community. Our partnerships encourage innovation in manufacturing and support sustainable jobs for American workers.
Our Mission
We are transforming the marketplace for products and services that use water, and promoting a nationwide ethic of water efficiency to conserve water resources for future generations and reduce water and wastewater infrastructure costs.
Our Vision
All Americans will understand the importance of water efficiency and take positive actions to reduce their water use – in their homes, outdoors, and at work.
Water Use Facts
Water is a finite resource – even though about 70 percent of the Earth's surface is covered by water, less than 1 percent is available for human use.  Despite the water supply and infrastructure challenges faced by many communities across the US, each American uses an average of 88 gallons of water each day at home.  Water managers in at least 40 states expect local, statewide, or regional water shortages to occur over the next several years.
Every drop counts:
Bathrooms are the largest use of water in the home, using more than 50 percent of all indoor water.
Approximately 5 to 10 percent of US homes have easy-to-fix leaks that drip away 90 gallons a day or more.
Residential outdoor water use across the US accounts for nearly 9 billion gallons of water each day, mainly for landscape irrigation.
On average, a urinal in a public place gets flushed 18 times per day.
Heating water is typically the second largest use of energy in a home (after space heating and cooling).
Did you know?
Replacing showerheads with WaterSense- labeled models can save 4 gallons of water every time you take a shower?
Replacing old, inefficient faucets and aerators with WaterSense-labeled models can save 700 gallons of water per year?
Replacing a standard clock timer with a WaterSense-labeled irrigation controller can save your home nearly 8,800 gallons of water?
WaterSense-labeled faucets—or aerators that can be installed on existing bathroom faucets—are about 30 percent more efficient than standard faucets while still providing sufficient flow?
Homes that earn the WaterSense label feature WaterSense-labeled plumbing fixtures, efficient hot water delivery, smart landscape design, and many other features to ensure that the home will save water for years to come?