Landscape Photo Challenges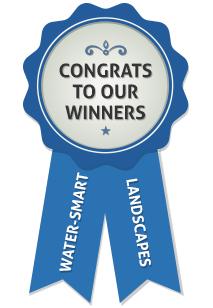 Homeowners in the US and Canada are planting beautiful, efficient and diverse landscapes that use water-smart design features, such as:
Drought tolerant, low water–using, or native plants
Mulch around shrubs and garden plants
Limited or functional use of turfgrass
Water-efficient irrigation design and components (e.g., micro or drip irrigation, weather–based irrigation controllers)
WaterSense periodically issues challenges to consumers to show us how they are saving water outdoors, which is especially important over the hot summer months and during times of drought.  The photos entries we get expand our  Water–Smart Landscape Photo Gallery and show what can be accomplished to promote and create a beautiful water-saving yard.
2015 Challenge

The #WaterSavingYard Photo Challenge received entries from across the U.S. The photos were submitted and voted on between July and September 2015—and prove that when in drought (or not!), it is still possible to have a beautiful landscape that requires little to no additional watering.

Congratulations to Pamela Kass from San Marcos, CA! Pamela's submission to our #WaterSavingYard Photo Challenge won fan favorite by receiving the most votes on WaterSense's Facebook page. Congratulations also goes to Back to Natives for their photo from Garden Grove, CA with the most likes on Instagram! Congratulations to all of our fan favorites! Exit

Facebook Fan Favorite:

Pamela Kass
San Marcos, CA
99 Likes

Facebook Fan Favorite Runner Ups:

Instagram Fan Favorite:

Back to Natives
Garden Grove, CA
59 Likes

2013 Challenge

Ten finalists were selected from hundreds of submissions to participate in the contest, which was open for voting in April 2013. The landscapes came from various regions and offered beautiful examples of low water–using plants and efficient watering systems, including drip irrigation and rain water capture. Many of the examples were so water–smart they required no supplemental water.

Congratulations to Gino Piscelli and his team from Mississauga, Ontario! Gino's submission to our Water–Smart Landscape Photo Contest won first place, beating out nine other finalists, by receiving the most votes on FacebookExit.

John Warnaar (left), Gino Piscelli (center), and Jeremy Harris (right)
Mississauga, Ontario

Do You Have a Water-Smart Landscape?