Partners in Action

WaterSense partners across the country are helping to spread the word about water efficiency.  Find out what several of them are up to and check out our partner event map below to learn more about what is happening near you.
On this page:
Citrus County Utilities in Florida hosts yearly workshops to educate homeowners on how to save water outdoors.  These "Sprinkler Spruce-Up" workshops explain what a WaterSense labeled irrigation controller is and how to properly program the controller for the unique Florida weather.  The Utility has shown through pre- and post-surveys that those who attended the workshop increased their knowledge up to 98 percent regarding weather-based Irrigation controllers (WBIC).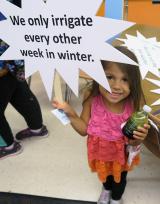 Citrus County Utilities' developed a Schedule a Specialist (SAS) customer assistance program to educate homeowners on a one to one basis on how to save water.  The program has successfully conducted hundreds of residential irrigation system walk-throughs and SAS participants achieved at least a 25 percent decrease in water use by the second year— saving millions of gallons of water!
Citrus County offers free irrigation evaluations in collaboration with the Southwest Florida Water Management District and Withlacoochee Regional Water Supply Authority. They have been doing outdoor water evaluations since 2018 with most participants installing a WBIC after the evaluation.  Those program participants who installed WaterSense labeled controllers showed a 48 percent average decrease in water use, compared to a 36 percent decrease for those that had an irrigation evaluation but did not install a labeled WaterSense weather-based irrigation controller.
How do you inspire both residents and business to save water in your community? Begin a Water Ambassador Program in your area like the City of Plano.  They created a Water Ambassador program where several adult volunteers talked about and promoted tips and tricks to find leaks, repair leaks, and provide water efficient techniques to create a water-saving landscape.  For businesses, the City created a Green Business Certification Program that certified over 40 local businesses.
The City of Plano also increased its focus on outdoor outreach programs over the past years. For Sprinkler Spruce-Up, the City provided a three-part class series covering quick sprinkler fixes, do-it-yourself drip irrigation, and proper irrigation controller use. The City's innovative online learning module, "Water, Water Everywhere: A Guide to Sprinkler Repair," has been accessed thousands of times! The City of Plano also promotes water-smart landscape design and WaterSense labeled outdoor fixtures, through the annual WaterWise Landscape Tour.
Orange County Utilities provides potable water to approximately 126,000 residential accounts in Central Florida.  Staff members have educated thousands of Central Floridians on ways to conserve water to help sustain the Floridan Aquifer, their underground source of local drinking water.  It is estimated that approximately 50 percent of household water use in the area is used to irrigate lawns and landscaping.
Orange County Utilities focused water-saving messaging around Smart Irrigation Month and the Sprinkler Spruce-Up campaign due to the amount of water used outdoors.  For their first ever Sprinkler Spruce-Up Campaign they mailed out entry forms to all residential accounts, posted on FaceBook and Twitter, and conducted irrigation workshops.  The bill stuffer featured "Flo the Pro," along with the WaterSense promotional label, and the WaterSense website's watering tips. The utility received over 100 completed forms that listed three actions to be taken to make irrigation systems more efficient.  Those who completed the tasks were entered into a drawing for one of four Micro Sprinkler Starter kits. Attendees learned through the workshop and with EPA's Go With a Pro animated video how to inspect, connect, direct, and select WaterSense labeled products to make their irrigation systems efficient. They also received the EPA brochure 'It's Time to Start a Sprinkler Spruce-Up!' Upon completion of the contest, entrants received a garden hose nozzle with variable settings and a rain gauge.
The Sonoma-Marin Saving Water Partnership (Partnership) represents 12 utilities from both counties who jointed together to provide water efficiency tips and solutions. The Partnership is also the parent WaterSense certified Professional Certifyiing Organization (PCO) for the Qualified Water Efficient Landscaper (QWEL) program.  The PCO promotes WaterSense and water-efficient irrigation practices through workshops where irrigation professionals can earn the QWEL certification.   The Partnership has won WaterSense Sustained Excellence awards for their PCO program and multiple Excellence awards for the promotional efforts of the Partnership since 2013.
As a parent PCO the Partnership has allowed colleges, universities, and  water utilities to implement the QWEL program in their area.  As of 2020 QWEL was offered by over 20 PCO's.  Allowing others to offer the program has broadened QWEL's abilty to reach more irrigation professionals within California and other states. The information provided during the training  gives certified irrigtaion professionals the ability to present and implement outdoor watersavings for their clients.  QWEL also completed the development of a Spanish language program that will reach even more irrigation professionals.
The promotional arm of the Sonoma-Marin Saving Water Partnership has the goal of providing water-efficient messaging and tools to help consumers save water inside and outside the home.  The Partnership particpates in WaterSense campaigns, like Fix a Leak Week and Sprinkler Spruce-Up, and exhibits its Water Smart Home during the Sonoma County Fair. The interactive mock home has a kitchen, bathroom, laundry area, and yard that features water-saving fixtures and appliances throughout the four areas.  The  Partnership also engages in media opportunties,  K-12 education for student, and offers a green business program, free fixtures at events, a toilet replacement program, and Water Smart home evaluations. 
A winner of multiple WaterSense Partner of the Year and Sustained Excellence awards, the Athens-Clarke County (Georgia) Public Utilities Department focuses on the future by teaching children about water conservation. By engaging residents of all ages with fun activities that promote water-efficiency and the WaterSense program, Athens-Clarke demonstrates its commitment to conserving water both now and for future generations.
Through the popular Little Lily Pad Hop Project, the utility distributes Froggie Care Packages with Little Lily (stuffed frog) and Fix a Leak bookmarks and other WaterSense materials to students in more than 30 elementary school classrooms, reaching thousands of families. Children who visit the utility's Certified Blue restaurants also receive water conservation activity sheets while waiting for meals.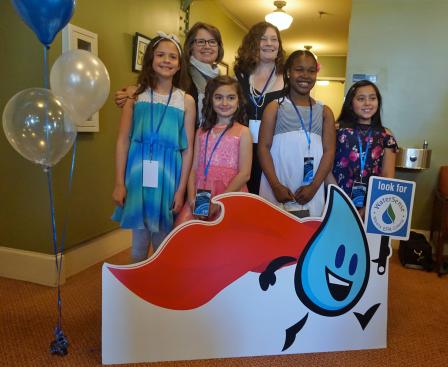 Athens-Clarke is also a multiple award winner of the Wyland National Mayors' Challenge for water conservation.  For Fix a Leak Week  the utility hosts the Ripple Effect Film Project, a contest all about water.  Students of all ages submit short films about finding and fixing common household leaks. Athens-Clarke participates in other WaterSense campaigns including Shower Better, Sprinkler Spruce-Up and Your Better Bathroom.  Along with the Mayor's Challenge Athens-Clarke promotes Imagine a Day Without Water and World Toilet Day.
Athens-Clarke partners with certified professionals who have worked on local baseball fields and hosts many outreach events featuring fun games for children. The utility has also increased awareness of WaterSense by displaying the WaterSense promotional label on popcorn bags at local theaters and asking attendees at the annual Athens Water Festival to spot the WaterSense label around the festival grounds.
The Toro Company was one of the first major manufacturers to earn the WaterSense label for weather-based irrigation controllers. Since then Toro has won multiple WaterSense awards in education and outreach and spread the word about water savings across the country.  The Toro Company partners with water agencies, organizations, and regional Irrigation Association chapters to educate consumers and irrigation professionals on the benefits of WaterSense labeled products, including weather-based irrigation controllers. Unlike clock-timed controllers, weather-based controllers act like a thermostat for your sprinkler system, cutting down water waste by using local weather data to apply water only when and how much landscapes need it.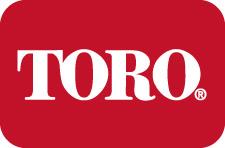 The Toro Company has partnered with the Wyland Foundation's National Mayor's Challenge which provided them with the opportunity to share outdoor water efficiency practices beyond the irrigation industry.  They also work with partners to educate consumers about installing and programming weather-based irrigation controllers, as well as available municipal rebates for WaterSense labeled products. Toro also focuses on training contractors throughout North America on water-saving behaviors, benefits of WaterSense labeled products, and best practices for installing and maintaining weather-based irrigation controllers and spray sprinkler bodies to boost water savings.
Across the country, the Toro Company hosts multiple contractor workshops and participates in tradeshows and expos.  Through these events Toro has reached several thousand homeowners and industry professionals. Toro continues to host "The Water Zone" weekly radio show with the aim of educating listeners on products and practices that could help save water outdoors.
Partner Events are happening somewhere in the country every month - with the greatest activity during the annual Fix a Leak Week.  Check out the map to see if there are events near you!