Pool Covers


During warmer months, evaporation from swimming pools contributes to substantial water waste. Pool owners nationwide can use pool covers to prevent evaporation, reducing the amount of water needed to maintain the pool water level.
Why a Specification?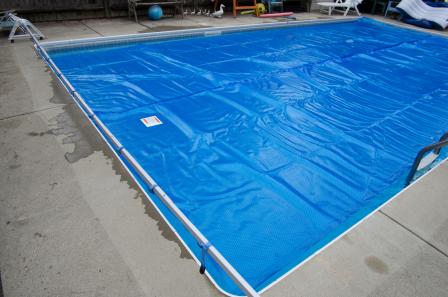 Pool covers can be used on indoor and outdoor pools, as well as in-ground and above-ground pools, of almost any size or shape. Using a pool cover can prevent up to 95 percent of pool water evaporation.  
Pool covers are available in a range of materials and designs and can provide additional benefits to pool owners, such as reducing cleaning requirements, reducing chemical use, and providing a measure of safety to prevent animals and children from drowning. Pool covers can also be manually, semi-automatically, or automatically controlled.
Notice of Intent
In September 2018, EPA issued a Notice of Intent (NOI) to develop a WaterSense® specification for pool covers to help reduce water waste in swimming pools. When applied consistently and appropriately, pool covers can both reduce pool water evaporation and help the pool water retain heat, which together contribute to water, energy, and cost savings for pool owners. WaterSense estimates that, depending where it is located within the United States, a typical uncovered pool can lose between 12,000 and 31,000 gallons of pool water to evaporation every year. Using a pool cover can help owners reduce that waste significantly.
EPA invites interested parties to provide written comments or materials relevant to WaterSense's NOI to label pool covers. Please send any comments or suggestions to watersense-products@erg.com. 
Status
On November 15, 2018, from 1:00 p.m. to 3:00 p.m. Eastern time, EPA held a teleconference and webinar with stakeholders to discuss the NOI. A summary of the meeting the webinar slides are provided below. WaterSense will continue to accept written comments and data related to the NOI to label pool covers. Please send any comments or suggestions to watersense-products@erg.com. Register to view a recording Exitof the webinar.
Are you interested in finding out more about the development of a WaterSense pool cover specification? Please email watersense-products@erg.com to be added to the pool covers stakeholder list.