Save with Us

WaterSense is working with its partners across the country to spread the word about water efficiency. You can play an important part—by sharing these campaigns with your friends, family, and community, you are helping ensure adequate water supplies for future generations.  
Take the I'm for Water Pledge
Whether you're replacing a plumbing fixture with a WaterSense labeled one, or trying a new water-saving behavior, it's easy to be for water.  Take the I'm for Water pledge and WaterSense will provide you tips on everything you need to help you save water year round.
Fix a Leak Week

Did you know that an American home can waste, on average, more than 11,000 gallons of water every year due to running toilets, dripping faucets, and other household leaks? Nationwide, more than 1 trillion gallons of water leak from U.S. homes each year. That's why WaterSense reminds Americans to check their plumbing fixtures and irrigation systems each year in March during Fix a Leak Week.
Your Better Bathroom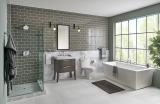 Bathrooms are the biggest water users in your home, accounting for more than half of all indoor water use. Thinking about a bathroom remodel? Find Your Better Bathroom - WaterSense labeled products come in a variety of colors, price points and styles to meet all your bathroom design desires - and as an added bonus  you'll save water too!
Shower Better
Showering is an important part of the day, helping us wake up in the morning or unwind in the evening. Every time you take a shower, you also use energy to heat and deliver the water to your showerhead. But you can Shower Better by replacing your old showerhead with a WaterSense labeled model and save water, energy and money.
Sprinkler Spruce-Up
Residential outdoor water use across the United States accounts for nearly 9 billion gallons of water each day, mainly for landscape irrigation. During the spring, before you ramp up your watering, be sure to spruce up your irrigation system by remembering four simple steps: inspect, connect, direct, and select. Learn more about Sprinkler Spruce-Up.
When it's Hot
During the summer, water use spikes as consumers increase outdoor watering.  This can challenge the ability of water suppliers to meet demand.  During the peak watering season, look to drop your water use to save water for all.  Learn the facts about outdoor water use and what you can do to help beat the peak When it's Hot. 
When in Drought
Are you living in a land of little rainfall?  When drought hits your community, it's time for everybody to pitch in and do their part to use less water so that it is available for critical community needs. Learn more about Drought and WaterSense.
Connect with WaterSense

Ready to join the movement to encourage water efficiency in your community, on your website, or elsewhere? Connect with WaterSense! Our popular widgets, public service announcements, and social media efforts on Twitter and Facebook can help you spread the water savings message.    
National Mayor's Challenge for Water Conservation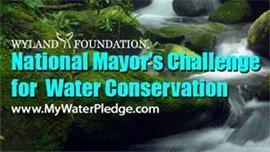 What happens when cities from across the country square off to see who can save the most water? Everyone wins! The Wyland FoundationExit, along with EPA's WaterSense and other public and private partners, created a friendly competition between residents of cities across the U.S to see who can be the most "water-wise." The program relies upon personal pledges by citizens to encourage water-efficient activities and purchases. Find out more about the campaign and how you can be involved at www.MyWaterPledge.comExit.
Never Waste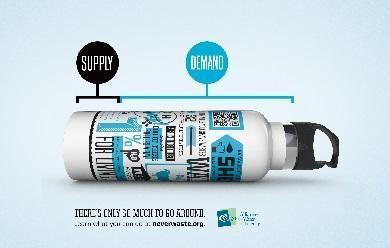 The WaterSense partner Alliance for Water Efficiency (AWE) and other water suppliers, communities and industry organizations across the country joined forces to launch Never Waste, a national campaign created to build awareness about the impact of water waste as water shortages become more common. The Never Waste campaign quantifies the amount of water wasted in our daily lives by comparing it to an everyday object—a water bottle—and encourages consumers to waste less and make a measurable impact. It also consists of simple water–saving tools and tips deployed through local outreach efforts nationwide. Get involved at www.NeverWaste.org Exit.