Sprinkler Spruce-Up

When it comes to a home's irrigation system, a little maintenance goes a long way. Homes with clock timer controlled irrigation systems use about 50 percent more water outdoors than homes without irrigation systems. Your system can waste even more if it's programmed incorrectly, a sprinkler head is pointed in the wrong direction, or you have a leak. Before you ramp up your watering efforts, spruce up your irrigation system by remembering four simple steps: inspect, connect, direct, and select.
On This Page
---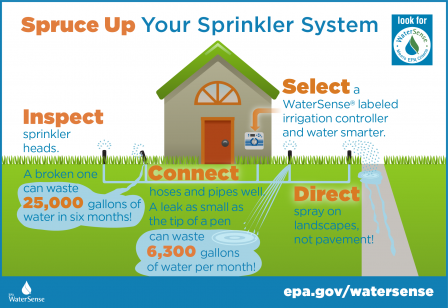 Inspect For Breaks and Leaks
Missing or broken sprinkler heads can be hard to find because most irrigation systems run overnight or early in the morning. Running an irrigation system with broken and damaged sprinkler heads can cause overflowing and flooding of water on the landscape.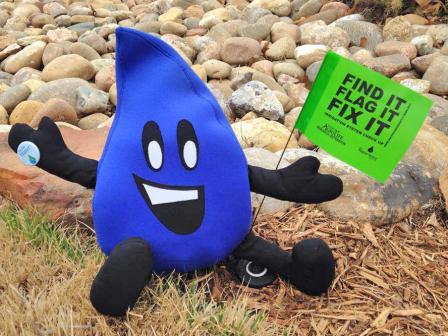 WaterSense has a checklist to help you walk through each zone of your irrigation system and inspect for signs of water waste:
Look for heads that do not pop up fully or are tilted as they can unexpectedly spray to the wrong areas.
If you find a broken head, place a flag next to the broken sprinkler so you will be able to work on it later. You may be able to fix broken heads yourself, but if you are unsure, go with a pro - notify an irrigation professional certified by a WaterSense labeled program, and they can replace your broken sprinkler heads.
Connect Sprinklers, Pipes, and Valves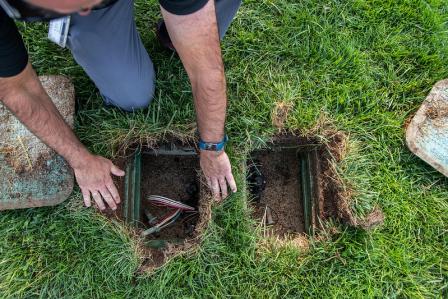 Leaks can occur at the joints between sprinklers and the piping.  Leaking joints can also be a sign of too much water pressure or particles in the water. Check your pressure regulator is installed properly. For other tips on identifying and fixing leaks, check out our Fix-a-Leak Week campaign!
Between irrigation cycles, look for areas of the landscape with water pooling on the surface; that could be a sign of an underground leak. Check the connections inside valve boxes to make sure all the valves and other components are securely connected and that the valves can shut. If the valves are not able to close completely, your system could slowly seep water even when it is turned off.
Direct Sprinklers For Best Water Coverage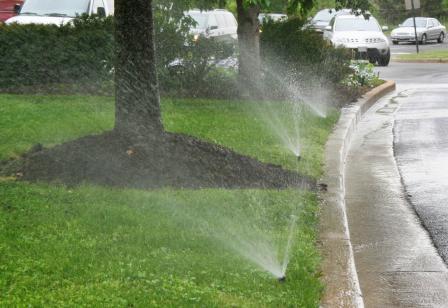 Are you watering the driveway, house, or sidewalk instead of your yard? Irrigation water that lands on hardscapes goes to the stormwater drain instead of the landscape. Any sprinklers that are spraying onto driveways, sidewalks, or walls should be turned towards the landscape. The sprinkler can be adjusted to as wide or as narrow as necessary.
For best results:
Each sprinkler should be able to reach the sprinkler head next to it, known as head-to-head coverage.
Make sure to properly direct sprinkler for uniform coverage to avoid dry spots in the landscape.
Avoid overspraying or misting due to high pressure. Consider installing spray sprinkler bodies with integral pressure regulation which maintain consistent water pressure so that nozzles can operate efficiently.
Select a WaterSense Labeled Irrigation Controller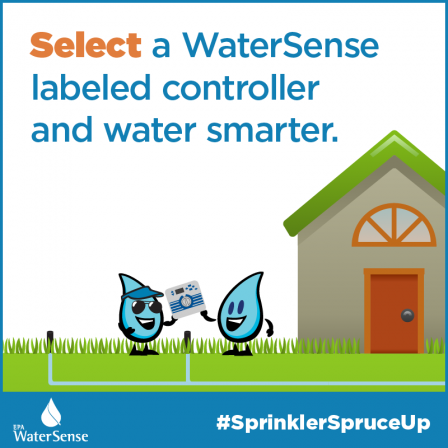 A WaterSense labeled irrigation controller uses local weather and landscape conditions to automatically adjust your irrigation schedule based on your location, size of your landscape, and scheduled days to irrigate. Irrigation controllers have intuitive programming controls to schedule irrigation based on the plant water requirement.
If you notice that runoff occurs when you run your irrigation system long enough to meet the plant water requirement, consider breaking up the irrigation into smaller intervals. Short intervals of irrigation with breaks in between to allow the water to seep into the soil is called cycle-and-soak. Cycle-and-soak promotes deeper watering and deeper root growth of the plants.
Brochure and Checklist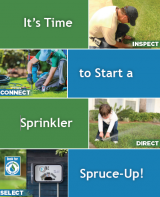 For irrigation tips you can take with you, take a look at our brochure "It's Time to Start a Sprinkler Spruce-Up!" (2 pp, 2 MB, About PDF). It gives simple instructions to help homeowners check their in-ground irrigation systems. Sprinkler Spruce-Up is not just for spring; regularly check your irrigation system to ensure no water is being wasted.

Leaks and broken sprinklers can waste water if you don't find them quickly. Our checklist "Find It, Flag It, Fix It: A Checklist For Your Landscape" (4 pp, 1 MB, About PDF) will show you how you can walk through your landscape to identify immediate issues. The checklist also provides additional irrigation and landscape tips and suggestions about when to call in an irrigation professional.
You can save even more water outdoors by incorporating water-smart landscaping principles into your landscape design. Looking for more ways to save? Check out other outdoor water-saving technologies.
---
Check Out Our Video!