Turfgrass and Water Efficiency
With the right plant selection and management, turfgrass can be part of a water- smart landscape. It can provide an area for recreation, help maintain cooler outdoor temperatures, and be aesthetically pleasing. When managed correctly, water-efficient turfgrass native to your region will survive in your climate using less water than other grasses.
On this page:
---
Selecting Climate Appropriate Grasses
There are several common types of turfgrass and different cultivars that fall within each type. But they break down into two main groups – Cool Season grasses and Warm Season grasses. Some of the major types are listed below. One of your state extension programs  may have information on the best turfgrass types for your area.
Cool Season Turfgrass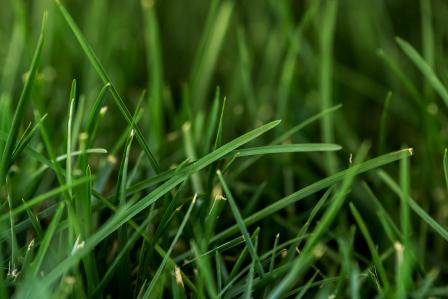 Image of Tall Fescue at U.S. National ArboretumCool season grasses can withstand broad ranges of temperatures, including the bitter cold in northern regions. In hot and dry weather, cool season grasses will typically go dormant, but growth will resume when conditions are cooler and wetter. Some of the major grasses include:
Kentucky Bluegrass
Ryegrass
Fine Fescue
Tall Fescue
Creeping Bentgrass
Warm Season Turfgrass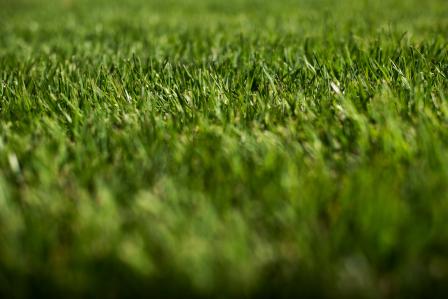 Image of Zenith Zoysiagrass at U.S. National ArboretumWarm season grasses thrive in warmer areas such as southern regions. During the warmest part of the year, they will experience the most growth, and will then go dormant during the fall and winter. These grasses can generally be drought tolerant but are not very strong in northern regions. Some of the major grasses include:
Bermudagrass
St. Augustine Grass
Zoysia grass
Bahia grass
Centipede grass
Buffalograss (a native grass)
Planting Seed or Sod
When establishing a new lawn, the landscape professional should decide whether it would be beneficial to establish with sod or to use seeds. Turfgrass sod, plugs, or sprigs are mature plants that are directly planted into the landscape and establish quickly. Because it is already mature, sod is uniformly planted and will not leave a spotty landscape.
Seeding the landscape has a lower cost but could take up to several years to establish. Seeds will require the highest amount of irrigation after sowing and then regular watering until fully established. Pests, rodents, and birds can eat the seeds and leave a spotty landscape.
Establishing a healthy landscape is not complete without a healthy soil. Whether your soil is composed of mostly sand, silt, or clay, it should not be compacted, otherwise water will not flow through the soil. If you find that your soil is too compact, aerating the soil will allow for more air and water to mix. Using mulch will provide nutrients to the microorganisms in the soil which then benefits the grass. For more information about keeping a healthy soil and mulching, visit our Landscaping Tips page.
Irrigating the Landscape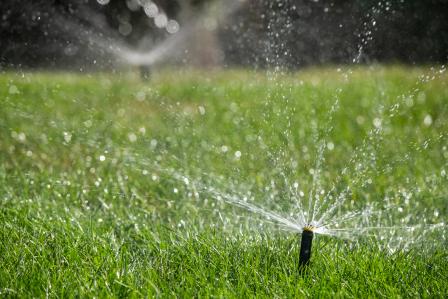 Adopting healthy landscape practices like watering based on a plant's needs rather than a regular schedule can help save water. Monitor your grass for signs of stress that might point towards a need for irrigation. Grass should be able to bounce back when you walk on it. If your footprint still shows up in the grass several minutes after walking on it, it may be experiencing a lack of water and need irrigation. If the grass is already in a healthy state and there is enough water in the root-zone, you may be able to skip an irrigation cycle. Additional information about irrigation is available on the Watering Wisely Tips page.  
Planting low-water-use and drought-tolerant turfgrass will decrease your landscape's irrigation demand and using WaterSense labeled sprinkler components will make sure that irrigation water is uniformly applied to the landscape at a rate than can be absorbed by the soil. Efficient irrigation will avoid runoff and reduce water waste. Pennington has developed a lawn watering calculator Exit that will suggest a duration for irrigation cycles based on your local weather conditions and grass type. Or consider a WaterSense labeled irrigation controller to help take the thinking out of your watering schedule. 
Mowing and Maintenance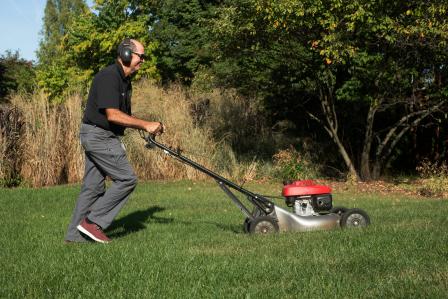 Healthy grasses will grow quickly, especially during times of the year with greater rainfall. Tall grass will need to be mowed regularly to maintain an even surface free of debris.
When mowing your landscape, you should consider raising the mowing height to promote longer grass and deeper, stronger roots. In the summer, the warmest time of year, having a low mowing height could be detrimental to the growth of the plant. Moving the blade height to between two and four inches will provide the best results but cutting off more than one-third of the blade of grass at once could shock the plant, preventing it from healthy growth.
Managing Fertilizer, Pests, and Disease
A healthy lawn can store excess nutrients, filter water, and protect waterways. Fertilizer can be used to maintain soil health which provides nutrients for plants to grow. But take care not to use too much fertilizer and avoid spraying on hard surfaces like driveways and sidewalks because it can wash into nearby water bodies, degrading water quality and damaging wildlife. Grass clippings from mowing, when left in place, are a good natural source of fertilizer for the soil and can reduce the overall total fertilizer application required. A lawn with healthy turfgrass that is not cut too short will also be a good defense at preventing the growth of weeds.
Pests and disease can also impact the landscape. During warm and humid weather, disease can create spots on the lawn. Grubs in the soil can also cause damage to the grass identified by patches of dead grass. Consider using an Integrated Pest Management approach, which is a natural method of reducing harmful pests in the landscape. Examples include:
Attracting beneficial insects (insects that will pollinate crops) to combat pests
A high mowing height to reduce the area weeds can grow
Limited amounts of pesticides applied during low pollinator activity
Additional Resources
Many universities have programs researching turfgrass to identify cultivars that are more water efficient. Two national organizations are working with them and others on testing protocols to help assess and identify cultivars that can withstand drought and use less water.
The National Turfgrass Federation and USDA partnered to develop the Grass Roots exhibit, an installation at the U.S. National Arboretum in Washington, DC
The U.S. Golf Association has a research program on turfgrassExit to help it improve turfgrass species used on golf courses with a focus on cultivars that can perform well and use less water.