The WaterSense Current: Fall 2016

Issue XL
WaterSense Partners of the Year Save Water for Future Generations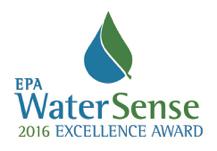 Nine WaterSense partners received Excellence Awards to recognize their support for a specific aspect of the program in 2015:
Cascade Water Alliance (Washington) and High Sierra Showerheads for Excellence in Strategic Collaboration.
---
City of Durham (North Carolina) Water Management and Sonoma-Marin Saving Water Partnership for Excellence in Promoting WaterSense Labeled Products.
---
City of Carmel (Indiana) Utilities, City of Forth Worth (Texas), Regional Water Authority (California), and the Toro Company for Excellence in Education and Outreach.
---
American Standard for Excellence in Innovation and Research.
In the 10 years since the WaterSense program began, more than 1,700 partners have demonstrated their commitment to saving water both today and for future generations. On October 6, WaterSense honored several of these accomplished partners at the WaterSmart Innovations Conference and Exposition in Las Vegas, Nevada.
Four WaterSense partners demonstrated their sustained commitment to promoting water conservation and WaterSense labeled products in 2015:
Delta Faucet Company, a two-time Sustained Excellence winner, provided outdoor showering stations featuring WaterSense labeled showerheads for more than 34,000 muddy runners at Warrior Dash races across the country as part of its HappiMess campaign. Delta also donated WaterSense labeled products to more than 30 homes as part of its St. Jude Dream Home® sponsorship.
Kohler Co. earned its fourth Sustained Excellence Award. The company cosponsored a Change the Course campaign to encourage consumers to pledge to reduce water use. Kohler's mobile showering stations with WaterSense labeled showerheads, toilets, and faucets reached more than 2,000 San Francisco residents in need, and 100,000 Bonnaroo music festival attendees in Tennessee used the products in similar showering stations.
The Home Depot is a two-time Sustained Excellence winner; all the toilets and bathroom faucets sold in its stores are WaterSense labeled. The company worked last year to ensure that all the showerheads it sells in its stores are WaterSense labeled by September 2016. To drive sales of WaterSense labeled products, the company promoted rebates and more than $43.8 million in product markdowns in 2015.
KB Home, which received its second consecutive Sustained Excellence Award, constructed 233 WaterSense labeled homes in 2015, an increase of 142 percent compared to its labeled homes constructed in 2014. The company introduced four KB Home communities in California in which all homes will be built to meet the WaterSense specification.
Seven partners received 2016 Partner of the Year Awards:
Promotional Partners of the Year: Athens-Clarke County (Georgia) Public Utilities Department; Citrus County (Florida) Utilities; The City of Charlottesville (Virginia); Cobb County (Georgia) Water System; and Metropolitan North Georgia Water Planning District
Licensed Certification Provider Partner of the Year: Energy Inspectors Corporation
Professional Certifying Organization Partner of the Year: The Sonoma-Marin (California) Saving Water Partnership
Learn more about the 2016 WaterSense award winners on the WaterSense website and in future issues of this newsletter.
Clean up With Savings, Starting in the Shower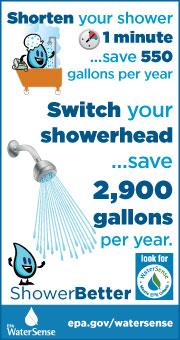 Bathrooms are the largest water users in the home and account for more than half of all indoor water use in households. Giving your main bathroom a high-efficiency makeover can save your household 10,000 gallons of water, 420 kilowatt-hours of electricity, and $140 in utility bills annually. If just one in every 10 homes in the U.S. upgraded a full bathroom with WaterSense labeled fixtures, we could save about 74 billion gallons of water and $1.6 billion on our utility bills nationwide annually.
Not ready to renovate, but looking for a place to start saving water in your bathroom? October is Shower Better Month. Showering accounts for nearly 17 percent of all residential indoor water use, and the average family uses nearly 40 gallons of water per day for showering.
Showers don't just use a lot of water; they take a lot of energy to heat the water. You can still enjoy hot showers in the winter, however, without wasting water or energy. Make a simple switch to a WaterSense labeled showerhead that can save water, energy, and money. Replacing your showerhead with a WaterSense labeled model can save 2,900 gallons of water each year—enough to wash more than 70 loads of laundry—and the amount of energy it takes to power a home for 13 days!
WaterSense labeled showerheads are independently certified for both efficiency and performance, so you will still enjoy a satisfying spray flow and coverage. They are also available in a variety of styles, finishes, and price points to fit any project, so even if you aren't ready to remodel your whole bathroom, you can make a simple showerhead switch and save!
Learn more about WaterSense labeled showerheads.
Athens-Clarke County Leaps Into Educating the Next Generation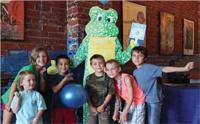 Two-time WaterSense Promotional Partner of the Year Athens-Clarke County (Georgia) Public Utilities Department focuses on the future by teaching children about water conservation. By engaging residents of all ages with fun activities that promote water-efficiency and the WaterSense program, Athens-Clarke demonstrates its commitment to conserving water both now and for future generations.
Through the Little Lily Pad Hop Project, the utility distributed Froggie Care Packages containing Fix a Leak bookmarks and other WaterSense materials to students in 21 elementary school classrooms, reaching more than 1,000 families in 2015 alone. Children who visit the utility's Certified Blue restaurants also receive water conservation activity sheets while waiting for meals.
For St. Patrick's Day in 2015, the utility planned a photo competition in which families were encouraged to find "Potty O' Gold" bathrooms in Certified Blue locations, take a photo with them, and share the picture via social media using hashtag #pottyofgold to win a gift card to a Certified Blue restaurant or $150 toward a new WaterSense labeled toilet.
Athens-Clarke also partners with certified professionals working on local baseball fields and hosts many outreach events featuring fun games for children and children-at-heart, such as the "minute to win it" puzzle, in which participants piece together the WaterSense promotional label as quickly as possible. The utility has also increased awareness of WaterSense by displaying the WaterSense promotional label on popcorn bags at local theaters and asking attendees at the sixth annual Athens Water Festival to spot the WaterSense label around the festival grounds.
Find the Perfect Gift With the WaterSense Product Search Tool
Searching for the perfect holiday gift for that hard-to-please handyperson on your list? WaterSense's website features the Product Search Tool, which allows customers in the market for plumbing fixtures or irrigation products to search for WaterSense labeled models.
In 2015, users conducted more than 137,000 searches with the tool. The majority of these searches were for toilets, followed by irrigation controllers, then showerheads.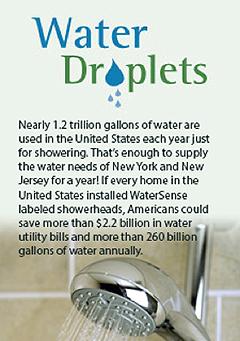 Why are consumers so eager to find WaterSense labeled products? This is because labeled products are the gift that keeps on giving! WaterSense labeled products are independently certified to be at least 20 percent more water-efficient and perform as well as or better than standard models.
WaterSense labeled products also save energy and money. For example, the average family could save 700 gallons of water per year by switching to a WaterSense labeled bathroom sink faucet—the amount needed to take 40 showers! Give the gift of water savings and find the perfect WaterSense labeled product today!