The WaterSense Current: Fall 2018

Issue XLVIII
In This Issue:

Partners Sustain the WaterSense Program With Excellence and Innovation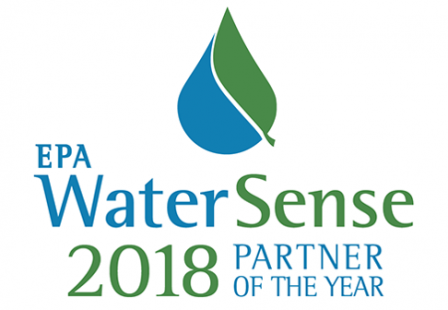 You don't save close to 3 trillion gallons of water in 12 years without a little help! Since WaterSense® began more than a dozen years ago, more than 1,900 utility, manufacturer, retail, builder, and other organizational partners have worked to help consumers and businesses save water, energy, and money. Through innovative designs and outreach efforts, WaterSense partners continue to transform the marketplace for high-performing, water-saving products and homes. The U.S. Environmental Protection Agency recently recognized 20 WaterSense partners for their continued commitment to promoting WaterSense and water efficiency in 2017. Visit the the photo gallery to take a peek at all the award winners.
Nine partners in particular were honored for their sustained support for WaterSense and its goals. Following are the creative and innovative ways they addressed water shortages and showed their leadership in 2017.
Athens-Clarke County (Georgia) Public Utilities Department Water Conservation Office won its second consecutive Sustained Excellence Award by expanding its outreach efforts, reaching over 9,000 residents through events, school visits, tours, workshops, and festivals. In early 2017, Athens-Clarke County entered into a Level 2 drought. To help customers reduce their water use, the county distributed more than 250 water-saving showerheads, 500 kitchen faucet aerators, and 500 bathroom faucet aerators and discussed the benefits of WaterSense labeled products at various outreach events.
The City of Charlottesville (Virginia), a three-time Promotional Partner of the Year, has earned its first Sustained Excellence Award, boosting its water efficiency outreach in 2017 to address the region's first significant drought in 10 years. Charlottesville blanketed the area with water conservation messages and water use restriction notices through various traditional and social media platforms. On Facebook, the City initiated #WaterTipWednesday posts focused on outdoor watering, and it timed outdoor water messaging to coincide with weather conditions using targeted ads on the weather.com app.
Cobb County (Georgia) Water System received its second Sustained Excellence Award for its continued promotion of water efficiency and WaterSense campaigns. With the area under Level 2 drought for most of 2017, Cobb County created the Drought Busters campaign, which spoofed the Ghost Busters theme song and catch phrases in short videos to promote WaterSense labeled products and water-saving practices. Tappy Turtle, Cobb County's water conservation mascot, also encouraged citizens to combat drought by taking the We're for Water Pledge. 
The Metropolitan North Georgia Water Planning District continued its tradition of collaboration on water conservation with its 55 member utilities, earning its first Sustained Excellence Award. For its local utility members, the Metro Water District provided tool kits to promote Fix a Leak Week, Sprinkler Spruce-Up, Your Better Bathroom, and Shower Better using WaterSense materials. The Metro Water District also launched a technical assistance program to help its member utilities promote its Pre-Rinse Spray Valve Replacement Program, Toilet Replacement Program, and Commercial Water Audits, and it worked with The Home Depot to help promote its member utilities' toilet rebates in their stores.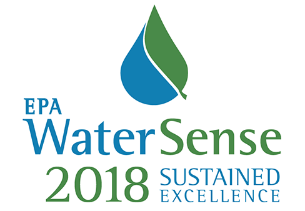 Eight WaterSense partners received Excellence Awards to recognize their achievements in specific aspects of the program in 2017:
City of Durham (North Carolina) Water Management, City of Frisco (Texas), and Sacramento (California) Suburban Water District for Excellence in Education and Outreach.
The Alliance for Water Efficiency for Excellence in Strategic Collaboration.
Sonoma Marin Saving Water Partnership for Excellence in Promoting WaterSense Labeled Products.
The Toro Company for Excellence in Education and Public Relations.
Hunter Industries for Excellence in Labeled Products in the Marketplace.
San Diego (California) County Water Authority for Excellence in Certification Program Growth.
American Standard, part of the global LIXIL Corporation, received its first WaterSense Sustained Excellence Award after several years of award-winning WaterSense labeled product development and promotion. The brand's ongoing Beauty in Motion Mobile Showroom displayed innovative WaterSense labeled commercial products in 2017, including urinals and toilets set in a real-life commercial restroom setting. The mobile showroom, which also has WaterSense labeled residential toilets and showerheads, toured 173 stops during 2017—a 27 percent increase from 2016. More than 6,700 professionals and consumers visited the exhibit last year.
Delta Faucet Company achieved its fourth Sustained Excellence Award, continuing its tradition of producing and promoting water-saving technologies and products. Through collaboration with major retailers, Delta's WaterSense labeled showerheads were featured on displays at Lowe's Home Improvement and The Home Depot. Delta also collaborated with the American Water Works Association, including the local Indiana chapter, to promote the WaterSense program to water districts.
The Sonoma Marin Saving Water Partnership (SMSWP), a "parent" professional certifying organization that allows other organizations to certify irrigation professionals using its Qualified Water Efficient Landscaper (QWEL) program, earned its second Sustained Excellence Award. During 2017, SMSWP restructured its program, and worked with a group of 21 water use efficiency and landscape experts to revise the QWEL curriculum and develop a new reference manual and training materials. To date, SMSWP and the 18 organizations that have adopted the QWEL program have certified thousands of irrigation professionals.
KB Home, the leading builder of WaterSense labeled homes, earned its fourth Sustained Excellence Award. In 2017, KB Home built 170 new homes that met the WaterSense criteria and included WaterSense labeled fixtures in all the homes it built. In total, nearly 1,000 KB Homes have met the WaterSense specification, and more than 500,000 WaterSense labeled fixtures have been installed in the company's new homes.
Energy Inspectors Corporation earned its first Sustained Excellence Award, after receiving four Licensed Certification Provider Partner of the Year Awards in previous years. Energy Inspectors worked closely with WaterSense builder partner KB Home to inspect and certify 170 homes in 2017 that earned the WaterSense label. By getting involved with builders early in the planning process, Energy Inspectors helps implement water-efficient design aspects into the initial home construction and mitigates expenses down the road. The company also looked for ways to incorporate other green building ratings into new homes, including ENERGY STAR®, LEED®, and Green Point Rated systems.   
In addition to the Sustained Excellence Award winners, four WaterSense partners received 2018 Promotional Partner of the Year Awards during the recent WaterSmart Innovations conference in Las Vegas, Nevada; three of these outstanding partners will be highlighted in future issues of the WaterSense Current, and one is profiled in this issue.
The Broward (Florida) Water Partnership (see profile below)
Citrus County (Florida) Utilities
City of Fort Worth (Texas)
City of Plano (Texas)
Learn more about the 2018 WaterSense Award winners.
Sink Your Teeth Into an Easy Faucet Fix
Saving water and money in your bathroom doesn't require an expensive remodel. WaterSense labeled fixtures are offered in many budget-friendly options that save you water without any extra effort. Each WaterSense labeled fixture is independently certified to save water and perform well, which means you use less water and won't notice a difference in flow!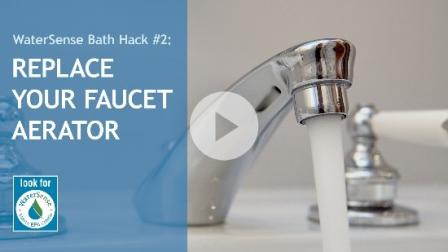 By swapping out your bathroom faucet aerator with a WaterSense labeled model for just a few dollars, you can reduce faucet water use by 30 percent or more without feeling a change in pressure. When you save water, you also save money by reducing the energy needed to heat that water—just in time for Energy Awareness Month this October! Do it yourself by following four simple steps outlined in the second quick bath hack video created by WaterSense to begin your bathroom upgrade.
Check out the latest WaterSense bath hack videoExit; in just a few minutes, you could be awash in savings.
Let's Keep Saving and Give Thanks!
November is coming up fast, and for many that means it's time to get ready for holiday gatherings. It's also a good time to check your bathrooms to make sure everything is in working order before the dinner and house guests begin to arrive!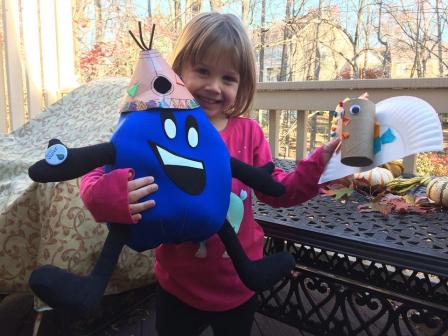 WaterSense "bath hack" videos  like our faucet video above can help you make small fixes to stop leaks and save water, but if you're looking to upgrade to Your Better Bathroom , don't forget to look for the WaterSense label.  When you are cooking up that Thanksgiving feast (and cleaning up afterwards), don't forget to check our tips on how to save water in the kitchen and other parts of the house.
November is gratitude month, a time to be grateful for everything you have, including friends and family.  At WaterSense, we are grateful for our many utility, manufacturer, retailer, builder, and other organizational partners across the country who work hard to help us all save water! We are also thankful for America's Water Infrastructure Act of 2018Exit, signed into law on October 24, 2018, which formally authorizes the WaterSense program. WaterSense looks forward to continuing our strong public-private partnership to sustain our water resources today and in the future.  
Super Savings in the Sunshine State
The Broward Water Partnership, one of the WaterSense Promotional Partners of the Year, is a shining example of water efficiency outreach. The collaborative of 18 municipal and water service providers in Broward County, Florida, developed a series of creative educational videos, offered rebates for WaterSense labeled products, and utilized social media to promote its Conservation PaysExit program to increase its community's water savings.
In response to customer feedback, the Partnership produced a series of fun YouTube videos about Broward's rebate programs and water-saving toilets to explain and streamline the rebate process for customers. Broward also collaborated with local big box hardware stores to promote the rebate program, giving incentives to store managers that submitted the most rebates. Broward County awarded more than 2,600 toilet rebates in 2017. In addition to rebates, 2,100 showerheads, nearly 2,000 faucet aerators, and hundreds of leak detection tablets were distributed to residents for free.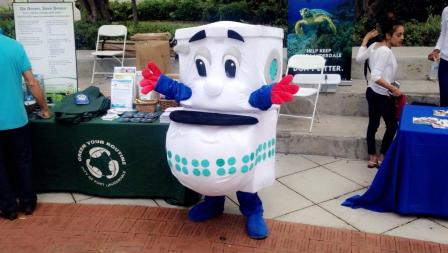 The Broward collected feedback from consumers about its Conservation Pays program by conducting a telephone survey of residents in its partner communities. The survey revealed that 40 percent of residents knew about the program, but many were not aware of water shortages or the connection between water conservation and climate change, prompting the Partnership to create a fun video about how a water-saving toilet can help save the world. Broward also created a video featuring its toilet mascot, Sammy Save-a-Lot, which showed how scraping leftover food off dishes into the garbage rather than rinsing them could save water. The video was set to the tune of the popular Taylor Swift song, "Shake It Off" and was cleverly titled, "Scrape It Off."​
Sammy Save-a-Lot was also featured in a social media campaign the Partnership promoted in 2017 called Sammy's Road Trip. By encouraging event attendees, elected officials, and kids to snap a photo with Sammy and post it to social media with the hashtag #SammySightings, Broward was able to drive more traffic to the Partnership website.
To read more about the Broward Water Partnership and other WaterSense Award winners, visit www.epa.gov/watersense/watersense-awards.