The WaterSense Current: Fall 2019

Issue LII
In This Issue:
WaterSense Partners Save the Day—and a Lot of Water!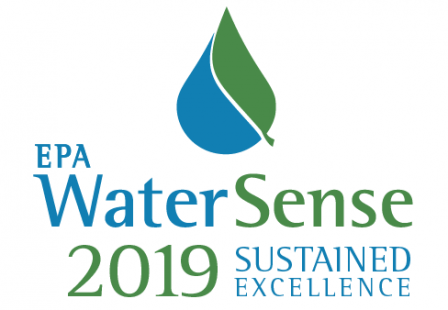 It's a bird! It's a plane! It's the WaterSense Partner of the Year Award winners! More than 2,000 utility, manufacturer, retail, builder, and other organizational partners have helped consumers and businesses defeat 3.4 trillion gallons of water waste since 2006 and more than $84.2 billion in water and energy bills. The U.S. Environmental Protection Agency recently recognized 25 WaterSense partners for leading the fight against water waste by promoting WaterSense and water efficiency in 2018. 
Nine partners in particular were honored for their sustained support for WaterSense and its goals. Following are the creative and innovative ways these heroes saved the day—and water—in 2018.
Athens-Clarke County (Georgia) Public Utilities Department achieved Sustained Excellence in 2018 for the third year in a row by creatively educating residents about saving water. The utility enlisted an "edutainer" to visit four schools and engage 1,115 students and 83 adults in water conservation with magic and humor, even juggling "leeks" to encourage finding and fixing leaks. At the annual Athens Water Festival, 1,000 participants completed educational activities to collect "infinite stones" that spelled out "WATER;" once done, they received a refrigerator magnet stone featuring the WaterSense logo.
Citrus County (Florida) Utilities earned a Sustained Excellence Award after achieving Partner of the Year three years in a row. The County held two Irrigation 101 workshops for 78 homeowners that had never had an irrigation system before to demonstrate outdoor water savings and held a similar event with new homeowners in the Terra Vista Community. The County's Schedule a Specialist (SAS) customer assistance program provided 277 residential irrigation system walk-throughs in 2018. The county has calculated that SAS participants from the previous year achieved a 25 percent decrease in water use in 2018—saving more than 19 million gallons!
City of Charlottesville (Virginia) Water Conservation Program (WPC) earned its second Sustained Excellence Award for inspiring its community to save water. WCP distributed 433 water conservation kits to Charlottesville residents with WaterSense labeled showerheads, faucet aerators, and toilet rebate information. The City also collaborated with University of Virginia (UVA) to save water in apartments rented by UVA students. WCP rebated 45 WaterSense labeled toilets and provided building management with fixtures to replace all the showerheads and faucet aerators with WaterSense labeled models, which will save students more than 60 million gallons of water per year!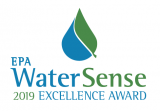 Thirteen WaterSense partners received Excellence Awards to recognize their achievements in specific aspects of the program in 2018:
The City of Allen (Texas), City of Durham (North Carolina) Water Management, City of Frisco (Texas), City of Sacramento (California) Department of Utilities, Irvine Ranch (California) Water District, Polk County (Florida) Utilities, and Sonoma-Marin Saving Water Partnership were honored for Excellence in Education and Outreach.
The Alliance for Water Efficiency and San Antonio (Texas) Water System received awards for Excellence in Strategic Collaboration.
Niagara Conservation® won Excellence in Labeled Products in the Marketplace.
San Diego (California) County Water Authority was honored for Excellence in Certification Program Growth.
The Toro Company and Hunter Industries was recognized for Excellence in Education and Public Relations.
Cobb County (Georgia) Water System won its third Sustained Excellence Award—and eighth award overall—for its continued commitment to promoting WaterSense and water efficiency. To expand its water conservation outreach, Cobb County created a new YouTube series, "Tappy Turtle Productions," which promotes WaterSense campaigns in short videos inspired by famous movies and pop culture. One of the more popular videos, "Your Worst Bathroom Nightmares!" is a 30-second public service announcement parodying the classic movie Psycho, featuring an inefficient showerhead being replaced with a WaterSense labeled model; it reached more than 2,000 people via Facebook promotion. Each video included ads promoting WaterSense labeled products to viewers.
Metropolitan North Georgia Water Planning District completed another great year of water conservation outreach to capture its second Sustained Excellence Award. The District expanded its outreach through the My Drop Counts campaign by including a business pledge asking building owners and tenants to take specific steps to reduce water use; 12 businesses took the new pledge in 2018. To promote outdoor water efficiency, the District promoted a tongue-in-cheek "Society of Intentionally Dry Lawns" as part of a campaign to encourage significant reduction or elimination of outdoor water use and served as a presenting sponsor for the Chattahoochee Nature Center's Native Plant Sale.
American Standard, Part of LIXIL has won a WaterSense Sustained Excellence Award for the second year in a row. American Standard developed an innovative water-saving calculator found on the American Standard website to help support water efficiency, which features WaterSense labeled products. In just six months, the website has received more than 700 unique visitors and approximately 950 page views. The company also added several new WaterSense labeled toilets and faucets to its line of labeled products that are sold in 11,000 stores across the United States, making water savings accessible to consumers.
Delta Faucet Company achieved its fifth Sustained Excellence Award. In 2018, all its toilet models were considered high-efficiency, and about two-thirds of showering products had earned the WaterSense label. Delta Faucet announced its partnership with the Center for Advancement of Science in Space in collaboration with the International Space Station U.S. National Laboratory to study the formation of water droplets, water flow, and pressure in microgravity to enhance the showering experience while maintaining sustainability. The company also conducted six different Continuing Education Unit courses for more than 3,400 trade professionals and 36 e-learning courses for employees, sales representatives, and customers referencing WaterSense labeled products.
KB Home continued its tradition of leadership in water savings, winning its fifth Sustained Excellence Award and ninth WaterSense award overall. In 2018, the builder completed 134 homes that earned the WaterSense label. Additionally, KB Home installed WaterSense labeled fixtures in all of its homes built in 2018, not just the homes that earned the WaterSense label. To date, KB Home has built more than 2,000 homes that earned the WaterSense label and has installed 600,000 WaterSense labeled fixtures!
Sonoma-Marin (California) Saving Water Partnership (SMSWP), a three-time Sustained Excellence Award winner, continues to make its Qualified Water Efficient Landscaper (QWEL) certification accessible to a wider audience by offering a program that other communities and organizations can adopt to certify professionals in their area. SMSWP works closely with adopting organizations to ensure success; in 2018, six new organizations adopted the QWEL program. By the end of the year, SMSWP had issued 40 new QWEL certifications; its partners had issued more than 300!
In addition to the Sustained Excellence Award winners, three WaterSense partners received 2019 Promotional Partner of the Year Awards during the recent WaterSmart Innovations conference in Las Vegas, Nevada. The following will be profiled in future issues of this newsletter.
The City of Plano (Texas)
Upper San Gabriel Valley (California) Municipal Water District
The Broward (Florida) Water Partnership
Learn more about the 2019 WaterSense Award winners.
La Rinconada Country Club in Santa Clara Valley, California, was able to significantly reduce its outdoor water use on the grounds of its golf course by taking to the sky. In response to droughts and corresponding water restrictions in the state of California, La Rinconada instituted regular landscape water audits and enlisted a drone to survey the golf course to better target daily watering needs.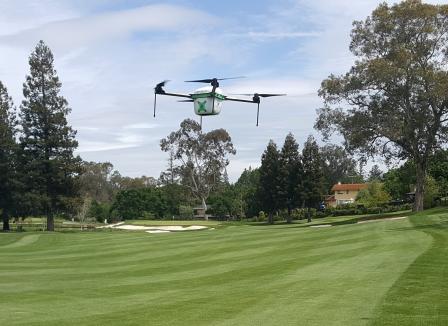 The country club hired a contractor who attached a special camera to a drone to take hundreds of visible light, near-infrared, and thermal images of the golf course to develop a complete and complex view of the landscape. Using these three different types of images, the country club identified plants that were experiencing stress from water loss or disease to help pinpoint watering needs and reduce water waste. The drone flew daily to allow staff to make watering corrections immediately. To supplement the drone images, the country club used an overhead image from Google Maps to identify problem areas and "pinned" these areas as they walked the landscape with their mobile devices.
In addition to its daily drone inspections and Google maps approach, La Rinconada incorporated native grasses, woody plants, and chipped beds into the landscape to reduce the need for irrigation. Over seven years, more than 10 acres were converted from turf to local, climate-appropriate plants.
After this 110-acre landscape reached a peak of 121 million gallons of annual water use in 2013, with a combination of irrigation audits, water management, and innovative drone use to make daily adjustments, the country club was able to reduce its peak water us by 54 million gallons, saving approximately $160,000 per year!
Learn more about the La Rinconada Country Club's innovative drone use to save water, or visit www.epa.gov/watersense/case-studies to read other case studies on outdoor water efficiency.
If you're reading this newsletter, you probably already know that you can fight water waste by replacing inefficient fixtures and fixing household leaks, but did you know how much water is used in other ways? From the food we eat to the coffee we drink, water is essential for life, but some of life's luxuries use more water than others. Here are a few facts to up your water IQ and help you make water-saving choices:
Love your morning cup of coffee? It takes 34 gallons of water to produce one cup. Make sure to plan your perking wisely to prevent water waste.
Carnivores beware—meat requires a lot of water to produce—660 gallons for one burger! To reduce water use, consider adding plant-based meals and plan what you cook closely to avoid food—and water—waste.
If you're tired of doing laundry, we've got good news for you! By simply running your clothes washing machine one less time per week, you could save 1,600 gallons of water. Only wash clothes when you have a full load!
Similarly, by running the dishwasher only when it's full and dropping just one load of dishes per week, the average family can eliminate can save nearly 320 gallons of water annually.
Outdoor water waste is a big culprit—as much as 50 percent of the water we use outdoors is lost due to wind, evaporation, and runoff caused by inefficient irrigation methods and systems. You could be wasting up to 25,000 gallons of water annually!
Dig up water savings. Soil quality can affect the efficiency of irrigation systems. By aerating your soil with a simple lawn aerator, water infiltration into the ground will increase, improving flow to the plants' root zones and reducing water runoff (and the need for more watering).
Let it grow! Longer grass promotes deeper root growth and a more drought-resistant lawn. When mowing, raise your lawn mower blade by an inch, and you'll save a yard (and its watering needs).
Read more interesting facts to discover where you might be wasting water.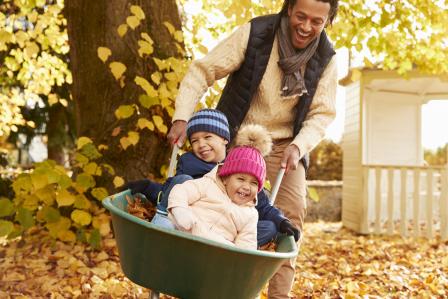 As the seasons change, so do the weather patterns and the watering needs of your landscape. Don't leave your irrigation system on autopilot—be sure to get it ready for the fall and winter! When it's time to set your clocks back, consider these tips before you fall back on outdoor water-wasting habits.
If you have an irrigation controller that runs on a clock timer, it is important to reprogram it as warm weather winds down to avoid watering when it is rainy, windy, or snowy. Also consider scaling back the number of times your irrigation system runs. Summer may require daily watering, but as temperatures dip, your lawn may only need a good soak once a week. Better yet, install a WaterSense labeled weather-based irrigation controller to take the guesswork out of watering. These controllers work much like a thermostat and will only water your lawn when needed.
Fall is also a great time to rethink your landscape to figure out ways to cut down on your outdoor water use. If you are considering adding new plants, think about using regionally appropriate, lower-water ones. These will typically not require much irrigation beyond regular rainfall and are more resistant to pests and diseases.
Once your plants are in the ground, mulch around garden areas and shrubs to keep the soil moist, reduce evaporation, and inhibit weed growth. Mulching—which can include bark chips, grass clippings, straw, leaves, stones, and brick chips—will also help moderate the soil temperature and prevent erosion. If you're looking to cut down on raking this autumn, leave some of the falling leaves on your yard to decompose and feed your lawn.
For more watering and landscaping tips you can use as you prep for cooler weather, visit www.epa.gov/watersense/landscaping-tips.