WaterSense Current: Spring 2017

Issue XLII
In This Issue
Website Update: Check Your Links!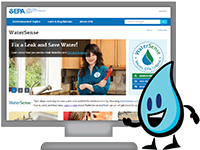 The U.S. Environmental Protection Agency (EPA) recently updated its website with a new look and easy-to-use navigation. The WaterSense home page address is the same—www.epa.gov/watersense—and it still has all the great content and tools you need to save water indoors and out.
To make navigating the site easier, WaterSense has streamlined some of the pages and changed links. If you have linked to or bookmarked specific pages within the WaterSense website, your links may be broken, and you will need to update them using the site's new URLs. Check out the redesigned website  - a great resource to help save water!
How Does Your Garden Grow…With Less Water?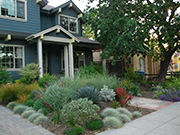 Turn your green thumb a little more blue this spring with a yard that's both beautiful and water-smart. The average American family uses 30 percent of its water outdoors, but in some areas, landscape watering accounts for 60 percent of a family's water use. By revisiting your landscape with water efficiency in mind, you can have curb appeal with less watering.
If you're thinking of redoing your landscape this spring, consider these ideas:
Turfgrass receives the highest percentage of irrigation water in traditional landscaping and requires more water than many landscape plants, such as shrubs and trees. Place turfgrass strategically and only where it has a practical function.
Plan ahead for a water-smart landscape, and use the WaterSense Water Budget Tool.
Select regionally appropriate, low water-using, and native plants, which require little water beyond normal rainfall once established. Also, because native plants are adapted to local soils and climatic conditions, they rarely require fertilizer and are more resistant to pests and diseases.
Group plants according to their water needs, which reduces water use and protects the plants from both underwatering and overwatering.
Recognize site conditions and plant appropriately. Be mindful of a site's exposure to the elements, and choose plants that will thrive in the site's conditions.
Minimize steep slopes by installing plantings with deeper root zones such as native ground covers and shrubs. This provides stabilization and prevents erosion.
To learn more about water-smart landscaping, visit the WaterSense website.
Inspect, Connect, Direct, and Select Your Way to Savings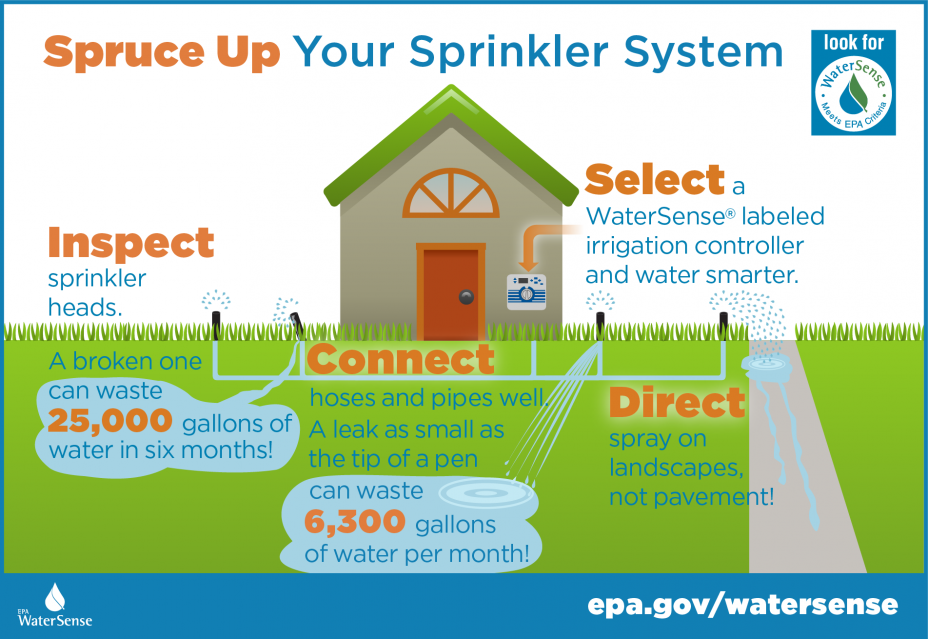 Residential outdoor water use across the United States accounts for nearly 9 billion gallons of water each day, and as much as 50 percent of the water we use outdoors is wasted from inefficient watering methods and systems. This spring, a little home irrigation system maintenance can go a long way, so spruce up your sprinklers! The WaterSense Sprinkler Spruce-Up campaign reminds you to take four simple steps—inspect, connect, direct, and select if you have a landscape irrigation system:
Inspect. Did you know a broken sprinkler head can waste 25,000 gallons of water in six months? Before summer watering season starts, check your system for clogged, broken, or missing sprinkler heads. If you aren't the do-it-yourself type, go with a pro—find an irrigation professional certified by a WaterSense labeled program to do the work for you.
Connect. Reduce water waste by examining points where the sprinkler heads connect to pipes or hoses. If water pools in your landscape, or there are large soggy areas, you could have a leak in your system.
Direct. Make sure sprinklers apply water only to the landscape. Avoid watering the driveway, house, or sidewalk.
Select. Schedule your system to reflect the season, or select a WaterSense labeled controller. These smart devices take the guesswork out of irrigation schedules by watering only when and how much your yard needs it, based on local weather data.
For more information about Sprinkler Spruce-Up, visit the WaterSense website.
Charlottesville Residents Love Their Landscapes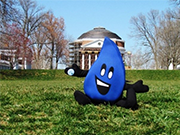 Showing just how easy it is to spruce up your sprinklers as part of spring yard maintenance, WaterSense Promotional Partner of the Year the City of Charlottesville (Virginia) collaborated with another WaterSense partner, the Albemarle County Service Authority, to launch the Love Your Landscape contest in 2015. 
The program helped consumers love their landscapes by following the four simple steps during Sprinkler Spruce-Up—inspect, connect, direct, and select WaterSense labeled irrigation controllers. The love didn't stop there; contest participants won prize packages to make their lawns more water-efficient, including soaker hoses, adapters, shut-off valves, rain gauges, soil moisture meters, and T-shirts with WaterSense's "I'm for Water" slogan. The message was also sprinkled throughout the city's website, during a summer radio campaign, and in the local newspaper.
During 2015, the city promoted water conservation well beyond Sprinkler Spruce-Up season. During the Shower Better campaign, the city partnered with Energize!Charlottesville to encourage residents to save water and energy through a 5-minute Shower Challenge. In March 2015, the city hosted its annual Fix a Leak Week Family 5-kilometer race, where participants chased a "running toilet" to the finish line and learned how to fix leaks at home. The city also promoted the WaterSense "check, twist, replace" message all year, culminating with a barbershop quartet performance shown on local and cable television to promote water-saving efforts.
WaterSense partners such as the City of Charlottesville are what makes the WaterSense program effective in communities across the nation. To read more about the 2016 WaterSense award winners, visit the WaterSense website and check out future issues of this newsletter.
Cobb County Maximizes Its Water Savings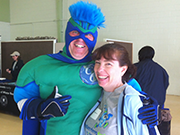 From fixing leaks and challenging hotels to promoting professionals and making showers better, Cobb County (Georgia) Water System actively participated in all of the WaterSense campaigns in 2015, which helped earn its Promotional Partner of the Year Award.
During the WaterSense H2Otel Challenge in February 2015, Cobb County Water System worked with other WaterSense partners Green Plumbers USA and Niagara Conservation to install WaterSense labeled toilets at interested hotels. In March 2015, Cobb County participated in the Metropolitan North Georgia Water Planning District's third annual Water Drop Dash 5k and Water Festival during Fix a Leak Week. The event included a 5k race along the Chattahoochee River and encouraged Atlanta residents to check their plumbing fixtures and irrigation systems for leaks.
In June 2015, Cobb County introduced its new mascot, Tappy the Turtle, who uses social media to promote WaterSense and water efficiency. During the summer months, Cobb County encouraged outdoor water efficiency through its "What to Ask Your Irrigation Professional" handout about irrigation professionals certified by a WaterSense labeled program. Cobb County also participated in WaterSense's Sprinkler Spruce-Up campaign to educate customers about efficient watering practices with an "Ask an Expert" display that traveled to garden clubs, environmental fairs, and other community events.
Coinciding with Shower Better Month in fall 2015, Cobb County partnered with The Home Depot during the WaterSense and ENERGY STAR® sales tax holiday October 2 through 4, 2015, to rebate 42 toilets. This effort led to a 100 percent rise in rebates for WaterSense labeled products compared to Cobb County's average weekend rebated purchases in 2015.
To read more about the 2016 WaterSense award winners, visit the WaterSense website and check out future issues of this newsletter.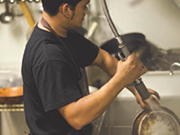 Did you know that approximately 15 percent of the total water use in commercial and institutional facilities in the United States is from hospitality and food service establishments? If your favorite local restaurant is implementing water-efficient practices, it could decrease its operating costs by 11 percent!
The most efficient restaurants develop a water management plan by assessing their water use, identifying opportunities for savings, tracking results, and implementing the following practices:
Checking regularly for leaks and, when found, repairing them promptly.
Upgrading dishwashers, ice machines, and steam cookers to ENERGY STAR

®

 qualified models.
Switching to WaterSense labeled pre-rinse spray valves, which can save a commercial kitchen as much as $115 to $240 each year in water and energy costs and more than 7,000 gallons of water per year—equivalent to the amount of water needed to wash nearly 5,000 racks of dishes!
Outside the kitchen, restaurants can install WaterSense labeled toilets, bathroom faucets, and urinals, which have been independently certified to be at least 20 percent more water-efficient and perform as well as or better than standard models.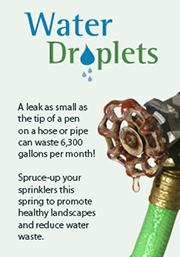 Hungry to find a water-saving restaurant near you? Visit the Green Restaurant Association's Dine GreenEXIT search tool to find Certified Green Restaurants. The association evaluates restaurants on several criteria, including water efficiency, waste reduction, recycling, sustainable food, and energy use.
For more information on saving water in commercial and institutional facilities, visit the WaterSense website.