The WaterSense Current: Spring 2018

Issue XLVI
In This Issue:

Spring Is Sprinkler Spruce-Up Season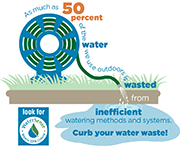 Spring is right around the corner—are your sprinklers ready? Homes with irrigation systems use about 50 percent more water outdoors than homes without. Spruce up your sprinkler system now to maximize performance while minimizing water waste during peak watering months this summer.
It doesn't take much to prepare your sprinkler system for warm weather watering. Sprucing up is simple with these four steps:
Inspect sprinkler heads for clogs or damage. If you aren't sure what to look for, look for an irrigation professional certified by a WaterSense labeled program to audit your system for leaks.
Connect sprinkler heads to pipes and hoses securely to avoid water loss. If you notice any pooling of water in your landscaping, you may have a leak in your system.
Direct your sprinklers toward the landscaping and avoid spraying sidewalks and driveways.
Select a WaterSense labeled weather-based irrigation controller to make sprinkler scheduling a no-brainer. By telling your system when and how much to water based on local weather conditions, a controller can help you eliminate outdoor water waste.
By taking a little time to perform maintenance on your sprinkler system, your landscape and your wallet will thank you. Visit the WaterSense Watering Tips page to learn more about getting your sprinkler system in shape for spring.
Take the Pressure off Outdoor Water Waste
Irrigation systems that operate at pressures higher than normal can put a real drain on your water bill, not to mention sending this precious resource down the drain. With an average of 30 percent of household water being used outdoors, primarily for landscape irrigation, improving the efficiency of sprinkler bodies in systems where the water pressure is high can help you save water and money while keeping your landscape healthy and beautiful.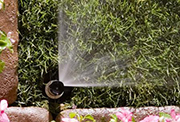 Photo: Rain BirdCheck your sprinkler system's instructions; if your home's water pressure is higher than what is recommended for the sprinkler nozzles, your irrigation system could be experiencing misting, high flow rates, fogging, and uneven spray coverage. To reduce water waste, consider installing WaterSense labeled spray sprinkler bodies to help irrigation systems perform better under high water pressure by providing a constant flow at the sprinkler nozzle. As a result, your landscape will get better water coverage and distribution.
Installing WaterSense labeled spray sprinkler bodies can help a typical home save as much as 5,600 gallons of water per year and $60 in annual water and sewer costs. What's more, in order to earn the WaterSense label, these products are independently certified for water efficiency and performance.
You can read more about WaterSense labeled spray sprinkler bodies or find the latest models to earn the WaterSense label.
Simple Hacks for a Better Bathroom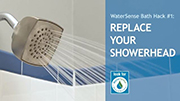 Looking to give your bathroom a makeover, but not in the market for a full remodel? Sometimes little changes can have a big impact and give you a better bathroom. WaterSense has created a series of "bath hack" videos to demonstrate simple and inexpensive ways to upgrade your bathroom's style and performance while saving money and resources. First up? The shower—watch Bath Hack #1: Replace Your Showerhead EXIT.
Replacing your showerhead with a WaterSense labeled model can take just a few minutes and will immediately elevate the look—and feel—of your shower. WaterSense labeled models are independently certified to use 20 percent less water than standard models and provide a satisfying spray. Not only can you save 2,700 gallons of water per year, but you can save enough energy to power your home for 11 days, since less water needed for showering means less energy needed to heat the water.
If you want to learn more about WaterSense labeled showerheads, visit www.epa.gov/watersense/showerheads. WaterSense labeled showerheads are available in a range of designs and prices, so you can find the model that suits your style, bathroom décor, and budget to create your better bathroom.
G3's Watershed Wise Landscape Pros Water Smart on the West Coast
The 2017 Professional Certifying Organization Partner of the Year, G3 Green Gardens GroupExit, features WaterSense in many ways through its training and outreach to California irrigation professionals and residents. By maximizing its partnership with WaterSense, G3 is making a splash in water conservation in a state that has been plagued by drought for a number of years.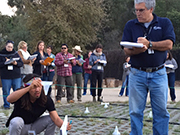 Photo: Green Gardens GroupG3's Watershed Wise Landscape Professional Exitprogram certifies professionals to properly audit irrigation systems and meet outdoor water budgets. This program, which has earned the WaterSense label for its focus on water-efficient methods and technologies, trains irrigation professionals to better understand landscape water use, to ensure that water-smart lawns and landscapes are also healthy and beautiful.
In its first full year with a WaterSense labeled program, G3 provided eight professional training classes with over 300 attendees, 83 of whom became certified professionals. Those who earn certification receive a welcome package from G3 with all the WaterSense information and tools they need to assist their clients in creating a water-smart landscapes. Along with its certification program, G3 collaborated with other WaterSense partners in the area to hold more than 90 classes and workshops for more than 2,600 attendees.
Citrus County Helps Water Efficiency Shine in the Sunshine State
A two-time winner of the Promotional Partner of the Year Award, Citrus County (Florida) Utilities Exitis making outdoor water conservation fun for the whole community. By partnering with local schools, hardware stores, and other stakeholders, Citrus County has continued to help its customers choose WaterSense labeled products and save water.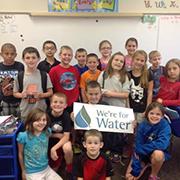 Photo: Citrus County UtilitiesDuring Fix a Leak Week 2016, Citrus County hosted a Water Conservation Expo, where more than 100 attendees received free WaterSense labeled products. Citrus County's Schedule a Specialist Program was also featured during Fix a Leak Week, and the event became so popular that the utility now offers this program year-round. Seventeen classrooms from area schools celebrated Fix a Leak Week through Citrus County's second annual Toilet Leak Detection Classroom Challenge; students became "leak detectives" and tested 495 toilets, 80 of which were leaking. 
Citrus County's water-saving efforts didn't stop at Fix a Leak Week. In the fall, the utility joined forces with Lowe's Home Improvement stores at the Citrus County Chronicle Home and Garden Show to educate residents on the advantages and benefits of WaterSense labeled products. In November, Citrus County worked with other WaterSense partners on a free irrigation evaluation program, targeting the utility's biggest water users. By reaching out to all segments of the community, Citrus County Utilities is making sure that water conservation in the Sunshine State is looking bright for years to come.