The WaterSense Current: Spring 2019

Issue L
In This Issue:

Celebrate Earth Day With a Sprinkler Spruce-Up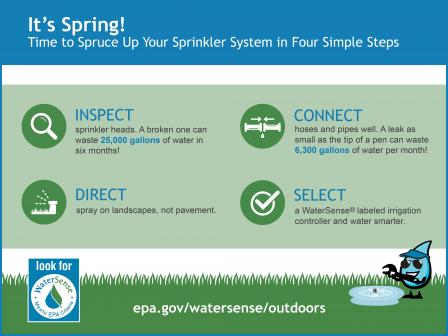 If you're thinking about what you're putting into the ground this Earth Day, why not take a little time to spruce up your sprinkler system to save water? It's estimated that as much as half of the water homeowners use outdoors is wasted due to evaporation, wind, or runoff, which can be caused by inefficient irrigation methods and systems. If you're thinking about spring cleaning, now is the perfect time to ensure your irrigation system is operating efficiently. Take these four simple steps—inspect, connect, direct, and select—to reduce waste when you water and save one of Earth's most precious resources.
 
Sprucing up your sprinkler system will not only save water, but could save money too. Here are four simple steps to take for Earth Day or before you get your in-ground irrigation system going this growing season:
Inspect your system for clogged, broken, or missing sprinkler heads that could be water wasters.
Take a look for leaks at the points where the sprinkler heads connect to pipes and hoses—even small leaks can waste over 6,000 gallons of water per month.
Direct your sprinklers to apply water only to the landscape, not driveways and sidewalks.
Select a WaterSense labeled irrigation controller to automatically align your system's schedule with local conditions and avoid watering during wet weather.
Need a helping hand? Go with a pro—contact an irrigation professional certified by a WaterSense labeled program to help you get started. Certified professionals will audit your irrigation system to ensure it performs efficiently or can assist with system design, installation, and maintenance. For more watering tips to try this Earth Day, visit the WaterSense website.
April Showers Could Mean Water Waste
Rainy spring weather is great for your landscape, but if you don't adjust your irrigation schedule with the weather, you could be overwatering, damaging your plants and your water bill. Nearly 20 percent of American homes have an automatic irrigation system, but not all are used efficiently. WaterSense labeled irrigation products can help you grow a healthy landscape without getting all wet.
Standard clock timer irrigation systems turn on and off based on a set schedule and can be easy to forget to adjust as the seasons and weather change. They do not take into account outdoor temperature and precipitation that could lead to water waste.
If you have a sprinkler system that works with a clock timer, get smart with your watering by installing a WaterSense labeled weather-based controller. These "smart" controllers act like a thermostat for your sprinkler system, using local weather data and landscape conditions to water your lawn only when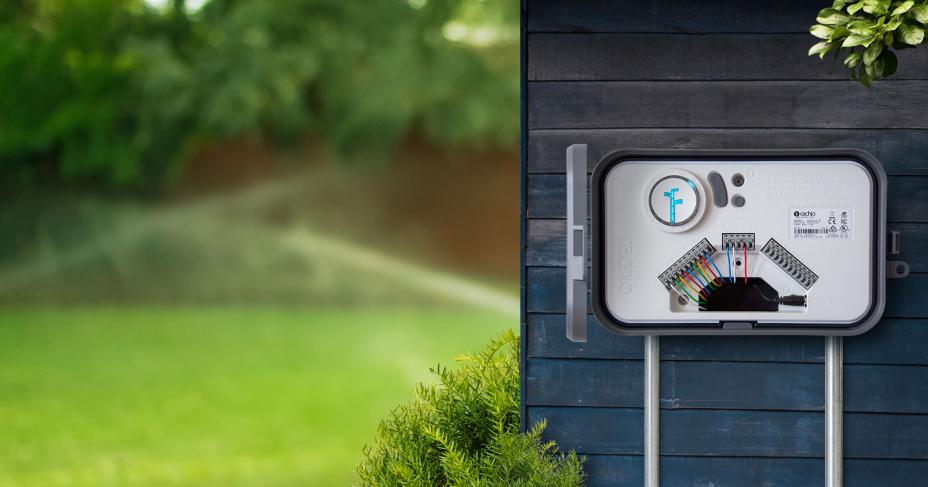 needed. What's more, WaterSense labeled controllers are independently certified to use less water and perform well, so with proper installation they can make your irrigation system more efficient. Replacing a standard clock timer with a WaterSense labeled model takes the guess work out of watering and can save homeowners nearly 7,600 gallons of water annually.
Gain bigger savings by coupling your irrigation controller with WaterSense labeled spray sprinkler bodies. These sprinkler bodies feature integral pressure regulation, which means less misting, fogging, and uneven coverage that can occur in homes where the water pressure is too high for the irrigation system. When combined with a WaterSense labeled weather-based irrigation controller, WaterSense labeled spray sprinkler bodies could save as much as 12,000 gallons of water per year.
 
For a full list of WaterSense labeled controllers and sprinkler bodies, check out the WaterSense Product Search Tool. Be sure to also take a look at the Rebate Finder to see if your new WaterSense labeled irrigation controller is eligible for rebates in your area!
Remodel Your Way to a Better Bathroom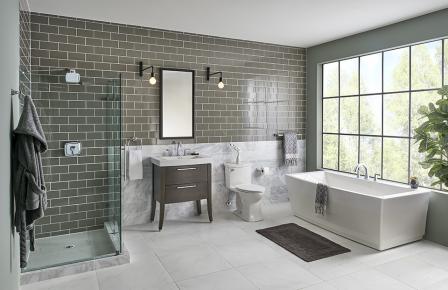 May is National Home Remodeling Month and the perfect time to create your dream bathroom. Whether you're making major upgrades to your master bathroom, or remodeling your guest bath to accommodate an aging parent, there's a WaterSense labeled product to provide water-saving style and superior performance. You can also start with just one fixture or upgrade an entire bathroom.
Bathroom water use accounts for more than half of home water use indoors, so making your bathroom more water-efficient will have a big impact on your ability to save water and money. But maybe you've been hesitating to take the plunge with water-efficient products because you want a high-end faucet fixture or satisfying shower spray. That's why it's time to think about Your Better Bathroom with WaterSense.
 
Thousands of WaterSense labeled bathroom fixtures come in a range of elegant designs, colors, finishes, and price points—an ideal selection for a spring home improvement project. What's more, they're independently certified to use less water and perform as well or better than standard plumbing fixtures, so you won't be disappointed in their flow or flush.
Upgrading your old toilets, faucets, and showerheads with WaterSense labeled models will fit your design aesthetic and your remodeling budget, all while saving water, energy, and money. Giving your bathroom a WaterSense makeover can also save 10,000 gallons of water, 370 kilowatt-hours of electricity, and up to $150 in utility bill savings each year, which means fixtures can pay for themselves in no time!
 
For a full list of WaterSense labeled plumbing fixtures, visit the WaterSense Product Search Tool.
Jump Into Swimming Pool Savings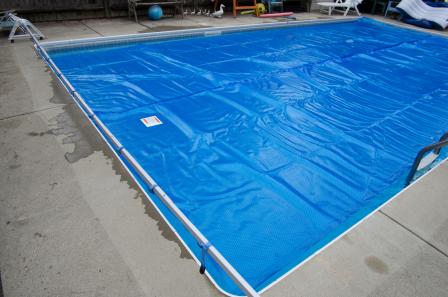 Are you already thinking about preparing a backyard pool for the upcoming swim season? Swimming pools can be the culprit of substantial water waste during warm summer months. But using a pool cover can help you maintain water levels better and reduce evaporation, so you'll save water and money while enjoying the pool this summer. 
As temperatures rise, pool water levels lower due to evaporation. Depending on the location, a typical uncovered pool can lose between 12,000 and 31,000 gallons of water annually. However, using a pool cover can prevent up to 95 percent of pool water evaporation.
 
Additionally, pool covers can help maintain water temperatures, which is good news if you utilize a pool heater—it won't have to work as hard to keep your pool warm, and you will save on energy costs. Not only do pool covers prevent water and energy waste, they can reduce the use of cleaning chemicals, as they prevent dirt and debris from entering the pool. Also, less water needed to maintain pool levels means further reduced chemical use—another way pool covers can save you money and protect the environment. It's a win-win!
 
WaterSense is working to determine if a WaterSense pool cover specification could further advance pool water savings. Learn more by visiting www.epa.gov/watersense/pool-covers.
Saving Is Second Nature in Citrus County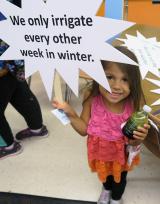 A three-time winner of the WaterSense Promotional Partner of the Year Award, Citrus County (Florida) Utilities is hitting its water-saving stride while managing creative new approaches to engage residents. From classroom competitions and water expos to WaterSense labeled product rebates and free irrigation audits, Citrus County is checking all the boxes to help its community save water.
The third annual Citrus County We're for Water Classroom Challenge engaged third through fifth graders in classrooms across the county, and also had a trickle effect: teaching students' families about WaterSense labeled products and how to find and fix leaks. Students tested 593 toilets and identified 90 leaks; nearly 300 families of students who participated indicated they would choose a WaterSense labeled model when replacing their toilets.
The utility also expanded its outreach at events and community partnerships for Fix a Leak Week 2017. During its 10th annual Water Conservation Expo, the utility promoted ways to save water and encouraged residents to take advantage of the year-round Schedule a Specialist program. The program provides one-on-one assistance and education on saving water in residents' homes. The Fix a Leak Weak efforts captured the attention of the local government, leading the Citrus County Board of County Commissioners to issue a Fix a Leak Week proclamation.
The utility also distributed more than 500 free WaterSense labeled faucet aerators and 200 showerheads to residents in 2017. Partnering with the Southwest Florida Water Management District and Withlacoochee Regional Water Supply Authority, the utility supported a free irrigation evaluation program. Many of the participants of the irrigation audit installed a WaterSense labeled irrigation controller after the audit and enjoyed a 49 percent average decrease in water use!