The WaterSense Current: Summer 2016

Issue XXXIX
Celebrating 10 Years of WaterSense With More Than a Trillion Gallons of Savings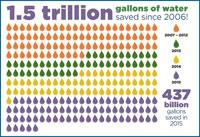 This summer marks the 10th anniversary of the U.S. Environmental Protection Agency's (EPA's) WaterSense program. Since it was launched in June 2006, the program has helped consumers save $32.6 billion in water and energy bills and 1.5 trillion gallons of water. That is more than enough water to supply every home in California for a year!
WaterSense owes much of its success and its California-sized savings to the more than 1,700 utilities, local governments, manufacturers, retailers, distributors, builders, and other organizations who have helped EPA educate consumers and make WaterSense labeled products a part of their homes and businesses. In 2015 alone, WaterSense labeled products contributed to 437 billion gallons of water saved across the country.
Currently, there are more than 16,000 different WaterSense labeled products certified to use at least 20 percent less water and perform as well or better than standard models of toilets, bathroom faucets, faucet accessories, showerheads, flushing urinals, weather-based irrigation controllers, and pre-rinse spray valves. Many of these products have also provided energy savings, reducing the amount of energy needed to heat, pump, and treat water by 212 billion kilowatt hours, enough to power more than 19.4 million U.S. homes for a year, and eliminated 78 million metric tons of greenhouse gas emissions.
As many regions across the country have tackled—and will continue to face—pervasive drought and water shortages, WaterSense and its partners will continue to help consumers save water, energy, and money through WaterSense labeled products, homes, and programs. Learn more about WaterSense's milestones and past accomplishments.
Beat the Heat by Saving Water
Is the heat driving you crazy and driving up your water use? While the average family uses 320 gallons of water per day, this number can spike in the summer, as the outdoor watering season ramps up and families enjoy some outdoor water fun. Cool off from rising water bills by trying a few of these summertime tips.
You can start by taking a look at your old water bills to see how much water you use during the summer versus other months. If you don't have a swimming pool, increased water use in the summer could be the result of outdoor water waste, primarily for lawn and landscape watering. This summer, follow these tips to curb water waste in your yard:
Give your sprinkler a break. Cut back on watering and allow grass tips to go a little brown during the hot summer months.
Tune up your irrigation system. If you have a watering system with a clock timer, install a WaterSense labeled irrigation controller, which uses local weather data to tailor watering schedules to plants' needs.
Make your watering worth it. Avoid watering in the middle of the day to maximize your effectiveness because the hot sun can evaporate the water before it can reach your plants.
Looking to save water year-round? Use the WaterSense calculator to determine how much your household could save by switching to WaterSense labeled toilets, faucets, and showerheads. This simple, online tool estimates annual water, electricity, and utility cost savings for your home. Once you've received a glimpse into your savings potential, the WaterSense labeled product database can point you in the direction of water-efficient products to suit your needs.
Better yet, consider maximizing your water savings with a whole bathroom makeover. Bathrooms are by far the biggest water consumers inside of your home, and faucets alone account for more than 15 percent of indoor household water use. Giving your bathroom a high efficiency makeover with WaterSense labeled products could save your family nearly 10,000 gallons of water annually. WaterSense labeled products come in a variety of colors, models, and price points, so you can match your style to your budget.
Learn more about what you can do to take water efficiency into your own hands.
Get to Work Reducing Water User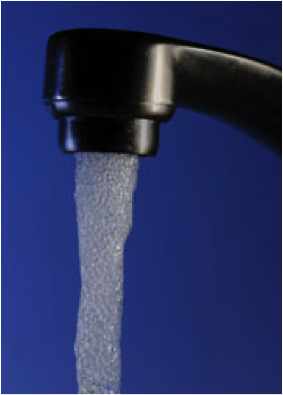 There are plenty of strategies to improve water efficiency in your home, but being a wise water user doesn't have to stop at your front door. Many people spend a significant portion of their week at work or in other public facilities, and there are simple ways to use less water while you are away from home. Follow these practices to take steps to a more water-efficient workday:
Report leaks. Common leaks such as dripping faucets, worn toilet flappers, and other leaking valves can contribute to major water waste in a building. A toilet leaking at 0.5 gpm can waste 21,600 gallons of water per month! If you hear the tell-tale sign of a running toilet at work or on your lunch break, report the leak to facility maintenance staff as soon as possible.
Watch out for outdoor waste. For some offices, schools, and hotels, as much as 30 percent of their water use can go toward landscape maintenance. If you notice sprinklers watering sidewalks and roads instead of lawns and gardens, help reduce water waste by informing maintenance staff.
Be selective about your flush. Restrooms with dual-flush toilets save water by providing different flush strengths for solid and liquid wastes. If the toilets in your building are dual flush, follow the instructions and take a little out of your flush when appropriate.
Dish out water savings. When using the office kitchen, fill the sink and turn off the tap when washing dishes. If your workplace kitchen has a dishwasher, only run it with full loads.
Start a conservation conversation. Make water efficiency a part of your water cooler discussions by encouraging your coworkers to commit to saving water. Remind your colleagues to turn faucets off while scrubbing hands with soap and consider posting a phone number for reporting leaks in a communal area.
Whether you are at work, school, or even just in a public restroom, small changes in how you use water can make a difference. Visit the WaterSense website for more savings tips.
Sonoma-Marin Saving Water Partnership Shapes a Landscape for Water Savings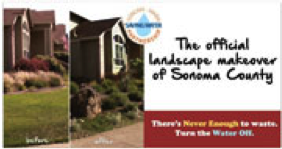 When it comes to water-smart landscape design and irrigation, not everyone is the do-it-yourself type. WaterSense often recommends that you "go with a pro"—a certified irrigation professional—and Sonoma-Marin Saving Water Partnership (SMSWP)—a WaterSense 2015 Professional Certifying Organization Partner of the Year—helps educate the pros who make outdoor water savings reality, one lawn at a time.
With outdoor watering accounting for nearly 9 billion gallons of water each day, every drop counts. Through its Qualified Water Efficient Landscaper (QWEL) certification program, SMSWP instructs irrigation professionals on efficient landscape design, management, and irrigation practices. Irrigation professionals certified by the QWEL program are trained in designing, installing, auditing, and maintaining systems for water efficiency, to help homeowners ensure that sprinklers are operating at peak condition.
Throughout 2014, SMSWP spread the word to irrigation professionals and consumers alike about the value of outdoor water efficiency. Whether collaborating with the International Association of Plumbing and Mechanical Officials to promote the Green Plumbers Training program and QWEL, or implementing a specialty graywater training class with nonprofit WaterNow, SMSWP worked to shape the way irrigation professionals and consumers think about outdoor water use.
Read more about SMSWP's efforts to shape landscapes for water savings.
Award Winner Forms the Building Blocks to Water Efficiency

Three-time WaterSense Licensed Certification Provider Partner of the Year award winner Energy Inspectors Corporation is ensuring that the WaterSense labeled homes it certifies deliver the performance and water savings the WaterSense label symbolizes. The company has continued its collaboration with builder partner KB Home and is helping to build awareness about WaterSense labeled homes from the ground up.
Energy Inspectors ensures that its inspectors are well-versed on the WaterSense new home specification by providing a hands-on training process that includes a full inspection of a model home, to ensure that it meets WaterSense criteria indoors and out. Through this process, Energy Inspectors had trained 11 inspectors by 2014 to perform WaterSense specification inspections. The provider has also developed an online training video for both new and existing inspectors to stay up-to-date on performing WaterSense labeled home inspections. Working closely with KB Home, in 2014 alone the company certified more than 95 properties that met WaterSense homes criteria—double the number of homes it certified in 2013.
The company's collaboration with KB Home and dedication to water-efficient and high-performing homes is continuing to pay dividends. With Energy Inspectors' support and promotion in 2014, KB Home committed to building 10 communities of WaterSense labeled homes, which represent around 600 houses.
Learn more about how Energy Inspectors Corporation is making sure that consumers who invest in WaterSense labeled homes are getting the savings and performance they expect.
Texas Flags the Importance of Water Conservation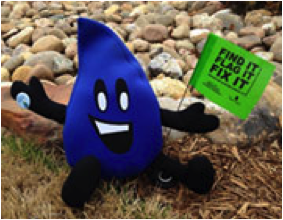 WaterSense Promotional Partner of the Year Texas A&M AgriLife Research and Extension Center at Dallas has been working hard to build awareness about WaterSense across the Lone Star state. As part of its outreach efforts in 2014, the Water University at Texas A&M AgriLife launched a new campaign targeting wasteful outdoor watering. Its "Find It, Flag It, Fix It" campaign encourages homeowners, facility managers, and business owners to find, flag, and fix leaks in their irrigation systems and is one of Texas AgriLife's most successful outreach efforts to date.
During the peak of Texas' most recent multi-year drought, the AgriLife team brainstormed new ways to get people to reduce their outdoor water use. Program Coordinator Patrick Dickinson said the light bulb moment came at an exposition when the AgriLife team saw a vendor with irrigation flags. "We realized that these bright-green flags could serve as visual reminders in the landscape that something is wrong and needs to be repaired," Dickinson said. To make the flags more eye-catching and informative, they added the "Find It, Flag It, Fix It" slogan, Texas AgriLife's website, and WaterSense partner logo to the flags.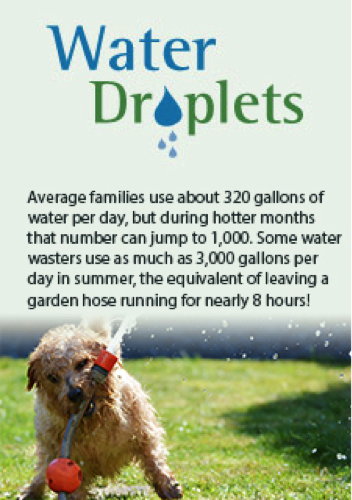 Dickinson estimates that the Texas AgriLife team has distributed more than 50,000 irrigation flags with the "Find It, Flag It, Fix It" slogan since the start of the campaign, which has proved so popular that the organization has a hard time keeping the flags in stock. "People come in and grab them by the handful," he said.
Dickinson and his team estimate that every customer who attends one of their irrigation workshops and takes flags home potentially saves 400 gallons of water per week. Since spring 2014, the AgriLife team has reached more than 1,300 homeowners, businesses, and professionals through the campaign's events and workshops. If each of those 1,300 water users who water twice a week during a six-month watering period found, flagged, and fixed one broken sprinkler head, it could provide total savings of more than 21 million gallons of water per year!
Learn more about how Texas AgriLife is educating Texans about water efficiency and WaterSense.