The WaterSense Current: Summer 2017

Issue XLIII
In This Issue:
Ten Years, Two Trillion Gallons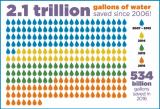 Over the course of a decade, the U.S. Environmental Protection Agency's (EPA's) WaterSense program has helped transform water efficiency from a drop in the bucket to more than than 2.1 trillion gallons of water saved through 2016. That is more than the amount of water used by all U.S. households for 75 days!
In addition to saving water, WaterSense labeled products save the energy needed to heat water used for cleaning, showering, and shaving. WaterSense has helped reduce the amount of energy needed to heat, pump, and treat water by 284 billion kilowatt hours—enough to supply a year's worth of power to more than 26.3 million homes. This translates to $46.3 billion in water and energy bill savings. 
In 2016 alone, WaterSense labeled toilets, faucets, faucet accessories, showerheads, irrigation controllers, flushing urinals, and pre-rinse spray valves, which are independently certified for efficiency and performance, helped consumers and businesses save 534 billion gallons of water. And for the first time in 2016, flushometer-valve toilets in commercial and institutional facilities became eligible to earn the label, opening up a path for even greater savings in 2017.
Together with its more than 1,850 organizational partners, WaterSense will continue to help Americans save water, energy, and money through WaterSense labeled products, homes, and programs. Read the full 2016 Accomplishment Report.
Your Better Bathroom Is Closer Than You Think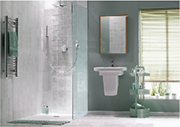 Bathrooms are by far the largest water users in the home, accounting for 60 percent of all indoor water use. Whether you are making simple fixes with your fixtures or tackling a bigger remodeling project, a better bathroom that saves water in style is closer than you think!
There are more than 24,000 WaterSense labeled models of bathroom fixtures available in a wide variety of styles, colors, and price points to help you create your dream bathroom that also saves water, energy, and money. These fixtures include tank-type toilets, showerheads, sink faucets, faucet accessories, and even flushing urinals for residential bathrooms. A bathroom remodel that replaces older, inefficient bathroom fixtures with WaterSense labeled models provides water savings and satisfaction, since WaterSense labeled products are independently certified to use at least 20 percent less water and perform as well as or better than standard models.
Not ready for a full remodel? Dip a foot in the water with these simple "bath hacks" that result in serious savings:
Flip that flapper. Most people don't realize that the rubber flapper in their toilet tank wears out over time and can cause water to be wasted down the drain. Replace that old flapper for a few dollars and put an end to silent toilet leaks.
Put a little air in your flow. WaterSense labeled faucet aerators reduce water use in your bathroom sink by 30 percent without a noticeable difference in flow. If your sink already has an aerator, it might be time to change it out for a new, labeled model.
Swap out a showerhead. WaterSense labeled showerheads are not only independently certified for spray force and flow, they save water and energy used to heat the water. You'll clean up every time you wash up!
Learn more to get your better bathroom. 
Get Schooled in WaterSense
School may be out for the summer, but there is always more to learn about preserving our water supply for future generations. If you have or know kids who are thirsting for knowledge about resource conservation, it is never too early to teach them about WaterSense. By learning five simple tips, kids can develop water-saving habits that will last a lifetime:
Think to turn off the sink. Turning off the tap while you brush your teeth twice a day can save up to 8 gallons of water, which is more than 200 gallons of water each month. Or rinse more efficiently by turning off the faucet while washing dishes and scraping food scraps into the trash before placing dishes in the dishwasher.
Scrub-a-dub-dub, skip the tub. Taking a shower uses 10 to 25 gallons of water, while taking a bath can use up to 70 gallons. For additional savings, challenge yourself to take a shower in five minutes. If you take a bath, plug the drain right away and adjust the temperature as you fill the tub, rather than letting the water run. 
Find a leak with this technique. If your toilet is leaking, you could be wasting about 200 gallons of water every day—as much as flushing your toilet 50 times! You can check your toilet for a leak by placing a drop of food coloring in the toilet tank. If the color appears in your toilet bowl after 10 minutes, you have a leak. Don't forget to flush after this experiment!
It's not hard to save water in your yard. Water your yard first thing in the morning instead of in the middle of the day when it is hot and sunny, as much of the water evaporates before your plants can soak it up.
The hose goes! Next time you wash your car or bicycle, use a bucket and sponge instead of a hose. Leaving a hose running can waste 6 gallons of water per minute, but using a bucket and sponge uses only a few gallons. If you are planning to visit a car wash, find out if it recycles its water.
Are you thirsty for more kid-friendly, water-saving information and activities? Visit the WaterSense for Kids page to keep learning.  
Sonoma-Marin Saving Water Partnership Plants Seeds of Savings
Did you know that properly managing your irrigation system can help reduce your annual outdoor water use by nearly 8,800 gallons of water? That is enough water to take 500 showers! For WaterSense's 2016 Professional Certifying Organization (PCO) Partner of the Year, Sonoma-Marin Saving Water Partnership (SMSWP)Exit, this is just one of the ways the three-time award winner has helped plant water efficiency in Sonoma County, California, and around the United States.
SMSWP has continued to expand its WaterSense labeled Qualified Water Efficient LandscaperExit (QWEL) professional certification program, which educates landscape irrigation consultants about the benefits of sustainable system design, management, and technologies.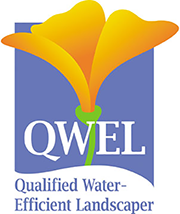 In 2015, SMSWP planted the seeds for a growing network of water efficiency programs. The Partnership helped six new organizations in Idaho, California, and New Mexico adopt the QWEL program, in addition to educating and certifying 65 professionals around the country to help homeowners and businesses better manage outdoor water use. An SMSWP employee contributed to an article in Turf magazine that promoted the benefits of becoming certified by a WaterSense labeled program, and another staff member presented the low-cost approach of the QWEL program to the Independent Technical Panel.
As a parent PCO, SMSWP promoted its water-saving certification curriculum and added nine new adopting PCOs in 2015. At a do-it-yourself Drought Solutions event hosted by the City of Santa Rosa (California), a WaterSense promotional partner, SMSWP set up displays to promote QWEL professionals to consumers. In partnership with The Home Depot, SMSWP also set up a QWEL booth at a plant sale. The Partnership provides continuing education opportunities and promotes the WaterSense program to professionals certified through its QWEL program.
Read more about the 2016 WaterSense award winners. If you are interested in hiring an irrigation professional who has been certified by a WaterSense labeled program, use our online search tool to Find a Pro. 
North Georgia Flushes Away Water Waste
WaterSense 2016 Promotional Partner of the Year Metropolitan North Georgia Water Planning DistrictExit hit a milestone in 2015—more than 100,000 toilets in its region were replaced with WaterSense labeled models. To commemorate this water-saving accomplishment, the organization launched the Great Plumbing Fixture Giveaway, a social media event highlighting how commercial buildings can save water with high-efficiency fixtures.
The Metro North Georgia Water District partnered with TOTO USA Inc., a WaterSense manufacturer partner, to nominate nonprofit organizations for the giveaway, and residents voted on social media to select a winner. The winning organization received $1,000 worth of WaterSense labeled fixtures from TOTO, while runners-up received free water audits from a local plumber. With help from the Metro North Georgia Water District's efforts, water use in metropolitan Atlanta has dropped by more than 10 percent, even as the population has increased by one million.
The Metro North Georgia Water District proactively promoted WaterSense campaigns on social media throughout 2015, with more than 33 percent of all Facebook posts and 39 percent of all tweets mentioning WaterSense. Throughout the year, its other WaterSense-related efforts included the following: 
For Fix a Leak Week, Metro North Georgia Water District sponsored its annual Water Drop Dash 5-kilometer race and water festival, which had more than 500 participating runners.
Before the Georgia sales tax holiday in October 2015, Metro North Georgia Water District staff conducted extensive outreach to the District's residents to promote tax-exempt purchases of WaterSense labeled products during that weekend.
In collaboration with the University of Georgia Extension, the Metro Water District completed its Water-Wise Landscape Guide, which informs residents about WaterSense labeled products and applying water-efficient landscaping techniques to create beautiful, water-wise gardens.
Read more about the 2016 WaterSense award winners.