The WaterSense Current: Winter 2016

Issue XXXVII
Take the Fixture Fix-Up Quiz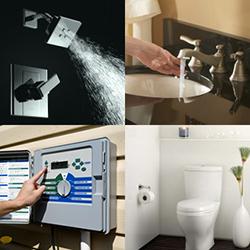 Ever wondered which WaterSense labeled product is your perfect match? With Valentine's Day coming, you can find the right fixture to fill your needs and save resources by taking a simple quiz.
How do you like to spend time at home?

Singing in the shower.
Watering the garden, so roses stay red and violets stay blue!
Keeping the house looking picture perfect.
Catching up on the latest Current articles in the powder room.

Complete this sentence: Sometimes I'm guilty of…

Spending an extra minute—or 10—in the shower.
Accidentally watering the pavement instead of my garden.
Keeping the faucet running while washing or brushing.
Flushing twice or letting leaky toilets run.

What part about spring are you most looking forward to?

Strolling in April showers 
Seeing May flowers
Doing spring cleaning
Flushing winter away

Which area of your house could use something stylish and new?

It would be great to draw back the shower curtain to a shiny, new showerhead. 
If my plants could talk, they would vote for a better irrigation system.
A nice faucet would look great in the bathroom.
I could use a new throne in the bathroom.
Scroll down to the end of this issue to see which WaterSense labeled product is right for you based on your answers!
Detect Drips Inside and Out for Fix a Leak Week

Communities across the country will join WaterSense to crack the case of household leaks for the eighth annual Fix a Leak Week March 14 through 20, 2016. WaterSense partners are encouraging Americans to become leak detectives to reduce the more than 1 trillion gallons of water lost each year by homes across the country due to leaks indoors and out. You can be a leak detective and save more than 10,000 gallons of water per home on average by taking three simple steps: check, twist, and replace:
Check your water meter before and after a two-hour period when no water is being used. If the meter changes at all, you probably have a leak. Check your sprinkler system for winter damage. You can also put a few drops of food coloring in the toilet tank; wait 10 minutes before flushing, and if color appears in the bowl, you have a leak.
Twist faucet valves, tighten pipe connections, and secure your hose to the spigot. For additional savings, twist a WaterSense labeled aerator onto each bathroom faucet to save water without noticing a difference in flow.
Replace old and leaky plumbing fixtures with WaterSense labeled models, which are independently certified to use 20 percent less water and perform as well or better than standard models. You can also replace irrigation clock timers with WaterSense labeled controllers that tell your sprinkler when and how much to water based on local weather conditions.
To help consumers find and fix leaks, WaterSense partners are hosting leak detective-themed events nationwide, as well as in Canada. For the fifth consecutive year, the City of Winnipeg in Manitoba, Canada, and FortWhyte Alive will be hosting a Leak Detector Challenge,Exit where students will lead school water audits in exchange for prizes.
Need more clues to stop leaks? Track down our Fix a Leak Week Web page on the WaterSense website for ideas and videos.
WaterSense Utility Partners Find and Fix Leaks Across the Country
March is the season for buds to spring up, not leaks. That's why three WaterSense Utility Partners of the Year—the City of Charlottesville (Virginia), Cobb County (Georgia) Water System, and Murray City Corporation in Utah—helped consumers chase away water-wasting leaks for Fix a Leak Week 2014. From 5-kilometer race events to plumbing discounts, these award-winning WaterSense partners helped consumers in their area nip drips.
Charlottesville Chases Leaks
"We have had a consistent number of residents apply for the city toilet rebate annually and have observed our average residential water usage gradually decline, showing the success this program is having on the community," Jill Greiner, City of Charlottesville water conservation program coordinator. 
In Charlottesville, the city's highly celebrated Fix a Leak Family 5kExit literally had runners chasing leaks. Seventy-five participants raced to beat a running toilet mascot to the finish line for a prize. Each participant received a T-shirt with the WaterSense program logo and information on the city's WaterSense labeled toilet rebate program.Exit
Fix a Leak Family 5k Exitrunners and their supporters kept the fun going at a family festival that featured water-saving tips, kids' activities, and a demonstration on how to find and fix leaks.
Cobb County Collaborates to Rope in Leaks
Award winner Cobb County Water System participates in the Water Drop Dash 5k, collaborating with fellow WaterSense partner the Metropolitan North Georgia Water Planning District.
With more than 640 runners, the 2014 race doubled in size compared to the previous year's event. After the race and a kids' fun run, participants cooled down at a festival with water conservation education, games, giveaways, and activities. At the festival, Cobb County water efficiency staff hosted a We're for Water Rodeo demonstration featuring displays that allowed attendees to check a toilet for leaks using dye tablets and practice replacing a showerhead with a WaterSense labeled model. Cobb County also distributed 100 outdoor water efficiency kits to those who visited at least four exhibitors. 
"Our most successful initiatives always begin and end with great partnerships."Cobb County Water System Senior Project Manager, Kathy Nguyen
Murray City Partners With Plumbers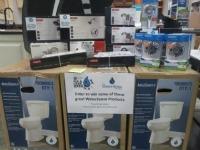 Murray City raffled off WaterSense labeled products at its Fix a Leak Week booth inside a local Lowe's Home Improvement store.In Utah, Murray City partnered with local plumbers and plumbing suppliers to educate consumers about fixing leaks, saving water, and the city's WaterSense Rebate Program. Participating companies promoted Fix a Leak Week by offering a special discount to customers in need of plumbing services. Nearly 80 percent of plumbers and rebate participants surveyed on their experiences with WaterSense labeled products indicated they would purchase labeled models again.
City staff hosted a Fix a Leak Week booth at a local Lowe's Home Improvement store, where customers were entered to win WaterSense labeled toilets, faucets, and showerheads. Murray City also gave away T-shirts, stress balls, reusable water bottles, and backpacks emblazoned with Murray City's "Tap Into Murray Quality" Exit slogan and the WaterSense partner logo. So many people took advantage of the rebate program that the Lowe's store location sold out of WaterSense labeled showerheads.
"We helped show customers where to find WaterSense labeled toilets and showerheads and were amazed at how fast the showerheads moved off the shelf."Murray City Corporation Water Distribution Supervisor, David Frandsen
Learn more about these award-winning partners' efforts to help consumers save water.
Get Ready to Plant a #WaterSavingYard With These Winners
Winter might be upon us, but now is the perfect time to start making your springtime gardening plans to save water. Need motivation to dig in? Check out the #WaterSavingYard Photo GalleryExit for inspiration. More than 80 photographs of beautiful and water-efficient landscapes were submitted during the #WaterSavingYard photo challenge last summer, and since announcing the Facebook photo winners in the Fall 2015 Current, even more fan-favorite photos have been added to the album, showcasing just how beautiful, water-efficient, and diverse low water-using landscapes can be. In the photo gallery, you can also find the winning photographs that received the most "likes" on Instagram, as well as the top picks selected by EPA for water-efficient design.
Below are some of the submissions selected as EPA top picks for beauty and efficiency:
EPA was astounded by all of the great entries it received in the #WaterSavingYard Photo Challenge. If you'd like to see more photos to get motivated for a springtime landscape shake-up check out the Water-Smart Landscape Photo Gallery page on the WaterSense website. To learn more about water-smart landscape design, make sure to check out these tips.
Evergreen State Offers Green to Builders Who Save Blue
King County, Washington, has an added incentive to construct homes that save water, energy, and money: rebates for building WaterSense labeled homes. WaterSense partner Cascade Water Alliance has partnered with Built Green to offer $1,000 rebates to builders that construct single-family homes meeting the WaterSense new home specification and achieving a minimum of a 3-star Built Green certification. In 2015 alone, more than 27 homes have been enrolled by five builders for the program—10 of which have already been built to meet WaterSense specifications.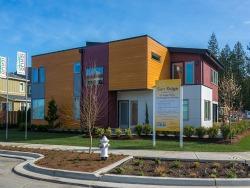 Model home built to WaterSense specifications in the Sun Ridge community.The 10 water-saving homes are located in Sun Ridge, a neighborhood development in Issaquah, Washington that will consist of 35 new homes when completed. The Sun Ridge community's Exit sidewalks, driveways, and streets are even designed to achieve 95 percent infiltration by channeling drainage to bioswales in the parking strips.
With energy and water savings in the 10 WaterSense labeled and Built Green 3-Star homes, residents can expect utility bills to be lower than average houses of similar size. Residents can also rest easy knowing their new homes have safer indoor air quality than most other newly constructed homes, since the cabinets, shelves, windows, and doors were manufactured to meet the standards for low formaldehyde and volatile organic compounds emissions.
To learn more, visit Built Green's latest newsExit page and Sun Ridge's model home case study.Exit
Fixture Fix-Up Quiz Answer Guide:
Have your answers handy to find out which WaterSense labeled product is your perfect match.

Mostly A answers: Shower better with a WaterSense labeled showerhead.
Rather than cutting down on shower time to save water, energy, or money, replace your showerhead with a WaterSense labeled model to save 4 gallons of water every shower with a satisfying spray. These fixtures come in a variety of styles and price points to match any bathroom style.

Mostly Bs: WaterSense labeled irrigation controllers keep roses red.
This Valentine's Day, wrap your green thumbs around a WaterSense labeled irrigation controller, which can save your family nearly 8,800 gallons of water annually by telling your system when and how much to water instead of leaving you out in the rain.

Mostly Cs: Get your hands on a WaterSense labeled faucet.
Love to keep your hands and house clean? Meet our WaterSense labeled bathroom sink faucets and faucet accessories (e.g., aerators)—high-performing, water-efficient fixtures that will help your family save nearly 11,000 gallons of water over the faucets' lifetime.

Mostly Ds: Flush away water efficiency troubles with a WaterSense labeled toilet.
It will be love at first flush with a WaterSense labeled toilet, which uses 20 percent less water than standard models while still providing proven performance. WaterSense labeled toilets can save your family 13,000 gallons of water and $120 per year in water and sewer bills over your old commodes.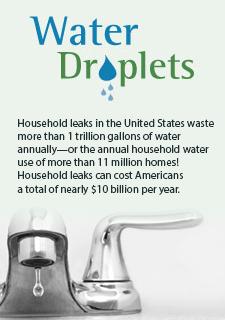 Visit the EPA WaterSense Facebook pageExit for more fun water-saving inspiration.