The WaterSense Current: Winter 2017

Issue XLI
New Year, New Savings Opportunities
2017 may be a few weeks old, but it's not too late to make a New Year's resolution that helps your wallet and the planet! Take WaterSense's "I'm for Water" pledge and kick off the new year with a resolution to save water, which can also save energy and money.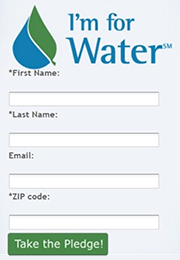 To provide some fresh ideas, WaterSense also created a handy checklist of easy steps you can take each month, which you'll receive after taking the pledge. This checklist includes tips such as turning off the tap while shaving and fixing common household leaks.
Did you know the average American family uses more than 300 gallons of water each day, with about 70 percent of this use indoors? Another great way to save water and money throughout the year and beyond is to install WaterSense labeled plumbing fixtures. Find out how much water, energy, and money you can save with WaterSense labeled products by using the WaterSense savings calculator, and before you buy, search for money-saving rebates on WaterSense labeled products in your area.
Make 2017 your most sustainable year yet—resolve to save water, energy, and money. For more information and to take the "I'm for Water" pledge, visit the WaterSense website.
Crack Down on the Crime of Water Waste This Fix a Leak Week
Looking for ways to cut back on the crime of water waste? Leaks could be lurking and robbing about 10 percent of your water bill. Celebrate the ninth annual Fix a Leak Week from March 20 through 26 by tracking down and fixing household leaks. In just 10 minutes, you can search your home for culprits and crack down on water waste by following these tips: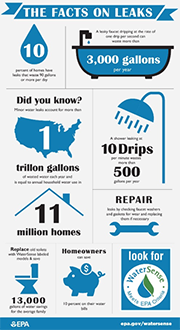 Now is the perfect time to take a look at your water bill. If a family of four exceeds 12,000 gallons per month during a colder month such as January, there are likely serious leaks.
You can also check your water meter before and after a two-hour period when no water is being used. If the meter changes at all, you probably have a leak.
To identify toilet leaks, put a few drops of food coloring in the tank at the back. Wait 10 minutes, and if any color shows up in the bowl, you have a leak. Be sure to flush immediately after to avoid stains!
Examine faucet gaskets and pipe fittings for any water on the outside of the pipe to check for surface leaks.
Check your irrigation system each spring before use to make sure it wasn't damaged by frost or freezing, and check your garden hose for leaks at its connection to the spigot.
To fix simple leaks on products such as a leaky hose, faucet, or showerhead, ensure each has a tight connection to its base. If you've done all you can and still can't combat leaks, it might be time to replace your leaky fixtures with WaterSense labeled models, which are independently certified to save water and meet performance criteria.
Nationwide, household leaks waste 1 trillion gallons of water annually, which is equal to the water use of more than 11 million homes! This problem, however, can be solved if everyone cracks down on leaks—both during Fix a Leak Week and all year long.
To learn more about fixing leaks around the home, visit the WaterSense website.
Citrus County Fixes Florida Leaks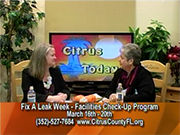 Citrus County (Florida) Utilities, a 2016 WaterSense Promotional Partner of the Year, dove into Fix a Leak Week by educating residents of all ages about the benefits of reducing leaks and helping turn the residents of this Gulf Coast county into water-saving sleuths.
In 2015, the utility sponsored a We're for Water Classroom Challenge to teach 400 third through fifth grade students how to find and fix leaks and save water at home. Teachers from eight county schools received lesson plans that featured WaterSense materials and local water topics. Participating students tested 600 toilets and identified 130 leaks for a potential water savings of 21,000 gallons a day! This program also helped students and their families gain a deeper insight into how to save water.
The Citrus County Board of County Commissioners adopted a resolution that proclaimed March 16 to 20, 2015, as Fix a Leak Week in Citrus County. Citrus County Utilities did its part for Fix a Leak Week by hosting three different activities: Schedule a Specialist, Facilities Checkup, and a Water Conservation Expo. Sixty-nine customers participated in Schedule a Specialist; a local bank received a facility check-up that saved more than 400,000 gallons of water in nine months; and 150 residents attended the Water Conservation Expo workshops, where the utility distributed 54 WaterSense labeled showerheads and 104 faucet aerators.
WaterSense partners such as Citrus County Utilities are what makes Fix a Leak Week so successful each year. To read more about the 2016 WaterSense award winners, visit the WaterSense Awards page.
Bring Savings Home With a WaterSense Label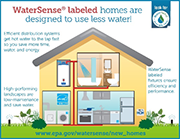 Residential water use accounts for more than half of the publicly supplied water used in the United States. Across the country, rising utility costs and drought conditions have made water efficiency an important consideration for homeowners. For Americans in the market for a new home, WaterSense labeled homes offer a great design option that saves water, energy, and utility costs while still providing all the comforts of home.
Compared to traditional homes, homes that earn the WaterSense label can help a family of four save $600 on utility bills and 50,000 gallons of water each year—enough to wash 2,000 loads of laundry! These savings are a culmination of water efficiency measures that make a new house a water-efficient home:
Making WaterSense a household name. WaterSense labeled plumbing fixtures are installed throughout, including the bathroom, with fixtures that have been independently certified to perform well and save nearly 5,000 gallons of water per year compared to an average new home's bathroom.
Washing out the waste. Any dishwashers or clothes washers installed in WaterSense labeled homes will be ENERGY STAR® certified models, which use less energy and water to handle even your heaviest loads.
Bringing efficiency closer to home. Efficient hot water piping systems are designed to deliver hot water faster, saving water and energy—not to mention time—spent waiting for heated water. This feature alone can save enough electricity to power a television for an entire year!
Firmly planting savings. Smart landscape design ensures that WaterSense labeled homes have beautiful yards that use less water. With plants suited to the local climate, yards require minimal maintenance and less frequent watering. Homes using an irrigation system will include a WaterSense labeled irrigation controller to ensure that plants get only as much water as they need.
WaterSense labeled homes are helping new homeowners save water, energy, and money across the country. Visit the WaterSense website to find a WaterSense builder partner in your state.
Energy Inspectors Corporation Goes Double or Nothing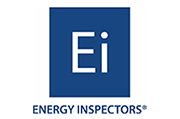 There's a reason Energy Inspectors Corporation earned its fourth Licensed Certified Provider Partner of the Year Award in 2016. The company continues to fulfill its commitment to sustainable and water-efficient homes by certifying 233 WaterSense labeled homes for WaterSense Sustained Excellence winner KB Home in 2015 alone—more than double the number of homes it certified in 2014!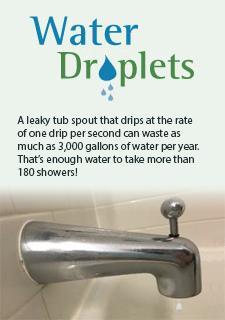 Founded in 1996, Energy Inspectors Corporation provides energy efficiency expertise to 18 of the top 20 national home builders across the southwestern United States. The company delivers solutions for single-family, multi-family, and commercial construction and offers services in mechanical, engineering, and plumbing design; quality assurance; and resource efficiency consulting for programs such as WaterSense. In drought-stricken California, the company heightened awareness of the WaterSense program to its builder clients, leading to an increased number of home certifications. In addition to incorporating WaterSense into its messaging for builders, Energy Inspectors Corporation has also trained 12 inspectors to date to perform WaterSense specification inspections.