The WaterSense Current: Winter 2018

Issue XLV
In This Issue:
Make Every Drop Count in 2018
The best New Year's resolutions are the ones you keep; fortunately, resolving to save water is as simple as making small habit changes to protect this precious resource for future generations. If you've had trouble keeping your other New Year's resolutions, you can take the "I'm for Water" pledge to make a commitment to saving water, energy, and money, and WaterSense will give you tips on how to keep it!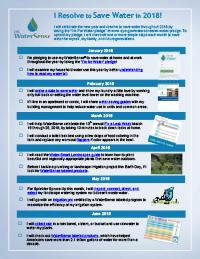 Once you take the pledge, you'll receive a monthly water-saving checklist and tips for reducing water use indoors and outdoors. For example, keeping your "I'm for Water" pledge can be as simple as turning off the tap while you brush your teeth or shave, which saves 8 to 10 gallons of water per day. To make a bigger splash, you can replace old, inefficient plumbing fixtures with WaterSense labeled models; they are certified to use at least 20 percent less water, save energy, and perform as well or better than standard models. Use the WaterSense Rebate Finder to find rebates on WaterSense labeled products near you and save another precious resource—your money.
No matter what the season, you will have a reason to make 2018 the year you fix water-wasting leaks, spruce up your sprinklers, or finally get that better bathroom full of beautiful, water-saving fixtures and financial savings. Take the "I'm for Water" pledge today.
Take 10 on the 10th Annual Fix a Leak Week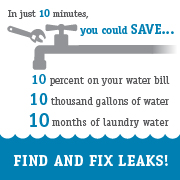 Did you know that water-wasting leaks could be putting a drain on your home's water use and utility costs? From March 19 through 25, 2018, celebrate the 10th annual Fix a Leak Week by finding and fixing household leaks, which can help save approximately 10 percent on your water bill. Even if you only have 10 minutes to spare, you can get started chasing down leaks and reducing water waste with a few simple tips.
First, warm up for the chase by identifying household water waste:
Look at your water bill. If a family of four uses more than 12,000 gallons of water per month, you could have a serious leak.
Check your water meter. Find a time when no water is being used and read the meter at the beginning and end of two hours. If the water level changes, you likely have a leak.
Catch toilet leaks. Squeeze a few drops of food coloring in your toilet tank. If you see any color in the bowl after 10 minutes, you have a leak. (Don't forget to flush when finished!)
If you find any leaks, call a plumber, or you can fix the easy stuff yourself:
Replace old toilet flappers. Worn flappers are often the culprit of silent toilet leaks, but they are inexpensive and easy to install.
Twist on savings. If your faucet drips, tighten connections and replace the aerator with a WaterSense labeled model to save water without a noticeable difference in flow.
Nip the drip. Leaky showerheads caused by a loose connection between the showerhead and the pipe stem can usually be fixed by wrapping the pipe stem with pipe tape. 
Visit the WaterSense Fix a Leak Week page for more tips and information about stopping water waste in its tracks!
Warm Up to Winter Water and Energy Savings
This winter, whether you call a house, apartment, or condo "home," kitchens and laundry rooms are a great place to start saving water, as well as the energy needed to heat that water. In addition to fixture and appliance retrofits, simple behavior changes can help save water used for washing clothes, cleaning dishes, and cooking during the colder months. These tips will help you melt away high utility costs and give water and energy waste the cold shoulder.
In the Laundry Room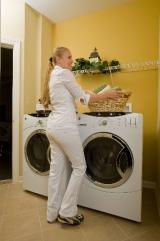 Did you know that hot water heating accounts for about 90 percent of the energy your washing machine uses to wash clothes? Start your laundry list of savings with these tips:
Set your washing machine to use cold water, rather than hot or warm water. This can save the average household more than $40 (with an electric water heater) or $30 (with a gas water heater) each year.
Wash only full loads of laundry in your washing machine, which can save more than 3,400 gallons of water annually.  
Set your washing machine's water levels and load size appropriately for the amount of laundry you are washing.
In the Kitchen
Whether you are cooking for guests or cleaning up after, you can find ways to save everywhere, including the kitchen sink:
Before loading pots, pans, and plates into the dishwasher, scrape instead of rinsing them. Modern dishwashers can thoroughly clean dishes that have had food scraped off—the wash cycle and detergent will take care of the rest.
Run the dishwasher only when full, and air-dry wet dishes when possible.
If you do not have a dishwasher, fill the sink with a few gallons of soapy wash water, clean your dishes, and set them aside. Then, rinse them all together afterward. By not washing and rinsing each dish individually, you could save 10 gallons of water.  
Learn more about saving water and energy at home. 
Metropolitan North Georgia Water Planning District Makes a Dash for Water Savings 
Two-time WaterSense Promotional Partner of the Year Metropolitan North Georgia Water Planning District Exit got off to a running start in 2016, supporting several WaterSense campaigns and bringing water-saving tips, conservation kits, and rebates directly into customers' homes. From its Water Drop Dash 5k and Water Festival during Fix a Leak Week to upgrading 120,000 toilets with WaterSense labeled models, the district left no water efficiency effort untapped.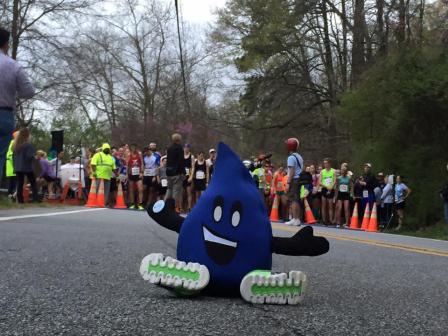 To celebrate Fix a Leak Week and promote the Water Drop Dash 5k and Water Festival, the district posted a video of Dash, the Water Drop Dash mascot, to its social media networks. With help from Flo (the WaterSense spokesgallon), 15 member utilities, and other WaterSense partners, the event made a splash with more than 700 participating runners. Following the race, attendees were invited to visit the Water Festival situated along the Chattahoochee River—the main water supply for the Atlanta Metropolitan Area. At the festival, attendees were reminded to dash home to fix their water leaks.
The district also distributed more than 11,000 brochures, flyers, tip sheets, rain gauges, and indoor and outdoor water conservation kits, which highlighted the importance of water conservation and the value of installing WaterSense labeled products. In addition, the district encouraged member governments and utilities to sprinkle messaging about WaterSense campaigns, including Fix a Leak Week, Sprinkler Spruce Up, and Shower Better, into their communications with customers.