The WaterSense Current: Winter 2019

Issue XLIX
In This Issue:

Pledge to Save Water All Year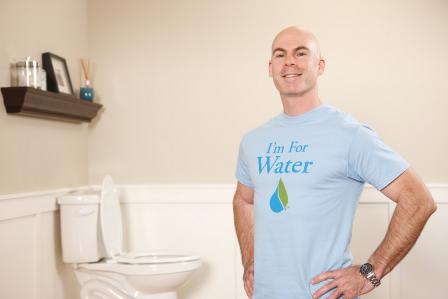 Was one of your 2019 resolutions to be more efficient or save precious resources? January may be over, but it's not too late to resolve to save water, energy, and money this year. Join thousands of people around the country who have made the WaterSense "I'm for Water" pledge to conserve water at home. There is no shortage of easy ways to save, so this is a New Year's resolution you can keep!
 
Not sure where to start on your mission to save water? Download the WaterSense 2019 Resolutions Checklist for fresh ideas on how to save water every month. From Fix a Leak Week in March to World Water Week in August, there's a reason to save in every season. Saving water can be as simple as shaving a minute off your shower, sprucing up your sprinkler, or fixing your toilet flapper. Just turning off the tap when you brush your teeth can save eight gallons of water per day!
 
Saving water also saves the energy needed to heat that water, so you'll save on utility bills while doing your part to fight the effects of climate change. And you can save even more money by taking advantage of the rebates many utilities offer on WaterSense labeled products, which are independently certified for water efficiency and performance. The WaterSense Rebate Finder will help you find water-saving financial incentives in your area, in case one of your resolutions was to become a better bargain hunter.
 
To take the pledge and start saving today, visit www.epa.gov/watersense/im-water-pledge.
Serve Up Water Efficiency This Valentine's Day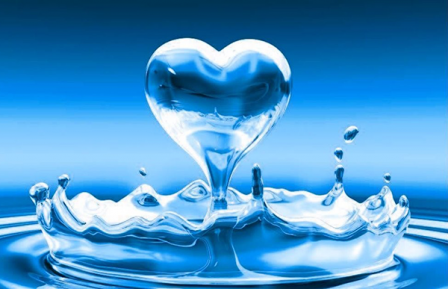 Looking to impress the love of your life who also loves to save resources? Forego the chocolate and flowers; give your loved one the gift of water savings. From picking drought-resistant native plants that will last a lifetime to cooking a special meal that puts conservation on the menu, you can show your significant other—and the planet—a little water-saving love this Valentine's day.
There are several steps you can take to make your loved one a meal that uses less water. Start by looking for locally grown produce to reduce your water and energy footprint, and soak vegetables in a little bit of water, rather than rinsing them. If you need to thaw any ingredients, set them in the fridge to defrost the night before, rather than using hot tap water later. Running the tap for just one minute to adjust the water temperature can waste two gallons of water, so keep a pitcher of water in the fridge instead of running the tap until the water is cold.
 
After the meal, scrape food waste from dishes into the compost or garbage bin before placing dishes in the dishwasher. Running a full load in the dishwasher is actually more water-efficient than doing dishes by hand. In fact, leaving the tap running for just five minutes while washing dishes can waste 10 gallons of water and uses enough energy to power a 60-watt light bulb for 18 hours. Instead, you can settle in with your sweetheart, while your dishwasher does the work.
 
Show you are passionate about saving water—visit www.epa.gov/watersense/start-saving. And if your garden-loving Valentine would prefer a greener gift, check out the WaterSense "What to Plant" page and search for regionally appropriate, native blooms to bring a little beauty to your yard with less water.
Flush Away Water Waste During Fix a Leak Week

With Fix a Leak Week coming in spring, it's time to start thinking about stopping leaks right in their tracks. Wondering where to start? Just follow three simple steps: check, twist, and replace. Since toilets are the main source of residential water use, accounting for nearly 30 percent of what we use at home, they're a likely culprit you can catch during Fix a Leak Week, March 18 through 24, 2019.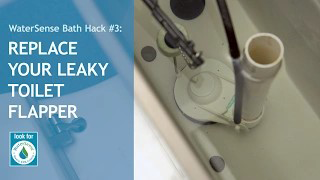 First check if your toilet is leaking by putting a few drops of food coloring into the tank at the back. Wait 10 minutes, and if you see the color in the bowl before flushing, chances are your toilet has a leak and could use a new flapper. You can buy toilet flappers at any hardware store for just a few dollars. Don't forget to twist off the water before you do it yourself!
 
Remove the old flapper, and replace it, following the easy steps in this WaterSense "bath hack" video. And if you find you need to replace an older toilet to really lick that leak, make sure you look for the WaterSense label to ensure your new commode is independently certified to use less water and perform as well or better than a standard model. Check out our rebate finder to see if there are any WaterSense labeled toilet rebates available in your area.
 
For more fun flush facts, visit www.epa.gov/watersense/residential-toilets, or learn more about finding and fixing leaks during Fix a Leak Week.
Cobb County Helps Atlanta Apartment Buildings Save Water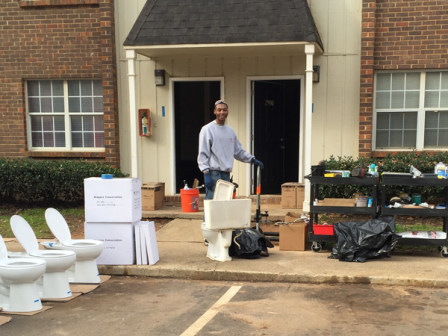 Do you live in an apartment building and wonder how you can save water even when you don't control the fixtures or utilities? Even high-rise buildings can lower their water use with a little planning and creativity. Using WaterSense tools and local resources, one county in Georgia is working to empower multifamily property owners and managers with information and strategies to reduce water use indoors and out.
 
By establishing a partnership with the Atlanta Apartment Association, the Cobb County (Georgia) Water System Exithas expanded its water conservation efforts to apartment buildings and condominiums. At the Association's Manager Forum, Cobb County encouraged multifamily property stakeholders to understand and improve their water use by using the U.S. Environmental Protection Agency's EPA Water Score. The Water Score tool enables property managers to see how their building compares to similar buildings nationwide. Once managers learn their building's score, WaterSense tools and resources are available to discover what changes to the system will save water, energy, and money.
 
Multifamily buildings that invest in efficient hot water distribution systems decrease the time it takes for warm water to reach faucets and showers; coupled with WaterSense labeled plumbing fixtures, that can reduce water and energy bills. The next time you are apartment hunting, ask if the building owner or manager is aware of WaterSense!
 
Learn more about the EPA Water Score and other ways to save water in multifamily homes.
Everything Is Bigger in Texas, Including Water Savings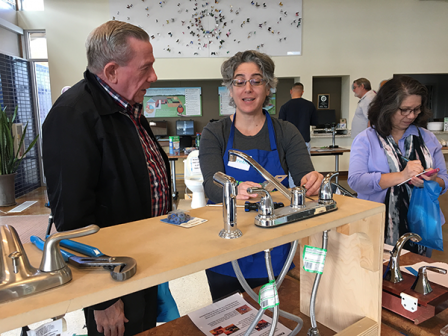 The City of Plano (Texas), a 2018 WaterSense Promotional Partner of the Year Award winner, is making Texas-sized strides toward water conservation and promotion in the city. As part of its commitment to water efficiency education, Plano hosted workshops, courses, and hands-on demonstrations on fixing leaks and repairing sprinklers in conjunction with WaterSense's Fix a Leak Week and Sprinkler Spruce-Up 2017 campaigns. 
The City didn't stop at just educating the Plano residents about the importance of water efficiency. They gave them the tools to make the savings happen, by handing out free showerheads, faucet aerators, and toilet flappers. Through partnerships with both Lowes Home Improvement and The Home Depot, Plano offered its WaterSense labeled toilet rebate program and presented 1,105 toilet rebates to Plano residents in 2017 alone. The City also continued to distribute water-saving tools such as leak detection dyes, shower timers, soil moisture meters, and rain gauges throughout the year at Plano classes and events. All these initiatives equaled big savings in water conservation and in consumers' wallets.
In October, Plano held its annual Water Wise Landscape Tour, Exita free, self-guided tour of six Plano residents' yards and gardens highlighting WaterSense labeled irrigation products, while showcasing native landscapes that thrive in the summer droughts. For visitors interested but unable to attend in person, the City of Plano introduced an interactive GIS story experience featuring photos, landscape descriptions, and downloadable resources, all accessible from the comfort of home. That's just one way Plano helped citizens dig deep in the heart of Texas and come out saving!
Recognizing that education comes in varying formats, Plano developed an online course, "Water, Water Everywhere: A Guide to Sprinkler Repair." ExitOver 6,000 residents accessed the course in 2017 alone, and a post-course survey found 83 percent of those that took the course planned to check their irrigation system.
To read more about the City of Plano and other WaterSense Award winners, visit www.epa.gov/watersense/watersense-awards.