Your Better Bathroom

Bathrooms are by far the largest water users in the home, accounting for more than half of all the water that families use indoors. If you're tired of your bathroom, start dreaming of Your Better Bathroom with WaterSense! The look you've always dreamed about with elegant designs, a spectrum of colors and finishes and a range of price points is within reach from your favorite manufacturer. All this plus the added benefit of water-saving performance. Just look for the WaterSense label to find products at retailers nationwide.
The Big Picture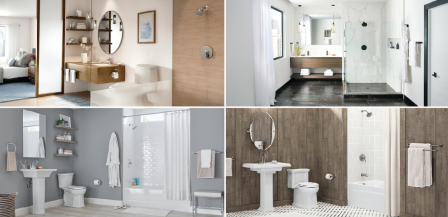 Why save water? Because it's our most precious natural resource, and because at least two-thirds of the U.S. have experienced or are bracing for local, regional, or statewide water shortages. With populations continuing to rise, using water wisely helps save this vital resource for future generations.
Changes we make at home will add up quickly in neighborhoods across the country. If one in every 10 American homes upgrades a full bathroom with WaterSense labeled fixtures, we could save about 93 billion gallons of water and about $1.3 billion on our utility bills nationwide per year.
Your Style. More Savings.
The best thing about a whole or partial bathroom remodel with WaterSense fixtures is you get all the style and you can save nearly 10,000 gallons of water every year, not to mention you save energy and money as well.  A trifecta of savings.