Dealing with Drought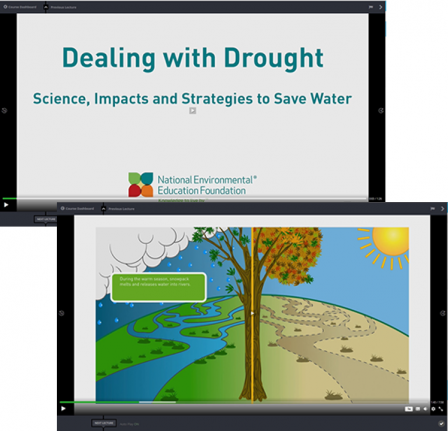 Scientists expect drought to increase significantly in intensity and frequency in many parts of the United States in the coming years, posing major challenges for water resource managers. The National Environmental Education Foundation (NEEF) has developed a free online course on the types, trends, and impacts of droughts. It provides tips on reducing water use through behavior change and more water-efficient homes and landscapes. The course's 30 lectures and more than 2 hours of content cover EPA's WaterSense product-labeling program, the science and history of drought in the United States, how to calculate your water footprint, environmental and societal impacts of drought, and other important topics.
To learn more and get started, click here: http://www.neefusa.org/weather-and-climate/extreme-weather/online-course-dealing-drought Exit
Note: "Dealing with Drought" is hosted on Udemy. It is free and the registration is simple. Closed captioning is provided and you can view the course via iOS and Android, in addition to Windows. A certificate of completion also is available.