Earthquake Resilience for Water and Wastewater Utilities
Watch the Earthquake Resilience Video
This video, Surviving the Quake, introduces you to earthquake resilience and highlights other EPA tools, including the Earthquake Resilience Guide and Earthquake Interactive Maps.
Watch the Earthquake Resilience Video
---
Explore the Earthquake Resilience Guide
Water and wastewater utilities are particularly vulnerable to earthquakes because of the extensive network of above and below ground pipelines, pumps, tanks, administrative and laboratory buildings, reservoirs, chemical storage buildings and treatment facilities. This guide helps water and wastewater utilities to be more resilient to earthquakes. It contains information on the following steps:
Step 1) Understand the Earthquake Threat
Step 2) Identify Vulnerable Assets and Determine Consequences
Step 3) Pursue Mitigation and Funding Options
The guide is based on the experience of actual water utilities that have successfully implemented mitigation measures to address the earthquake threat. 
Explore the Earthquake Resilience Guide.
---
Experience the Earthquake Interactive Maps
More than 143 million Americans, almost half the population of the United States, live in areas that are vulnerable to earthquakes. With thousands of water and wastewater utilities located across the country, there are many utilities located in earthquake hazard areas. Fortunately, there are maps to help you assess the earthquake hazard to your utility. These maps display hazard areas from: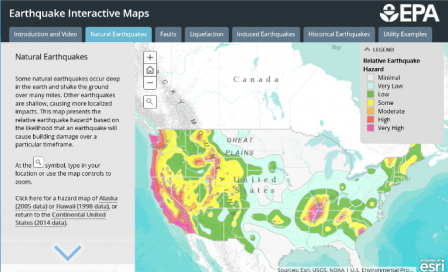 Natural Earthquakes
Faults
Liquefaction
Induced Earthquakes
Historic Earthquakes
The maps are based on the latest data from the U.S. Geological Survey and state agencies. The interactive maps site also contains examples of several water utilities that have taken steps to become more resilient to earthquakes. Click on the map.